Easily folded, carried, stored
Ideal for SUVs, trucks, trailers
Endorsed by vets, groomers, trainers
The unique soft non-slip rubberized walking surface
Great stability and easily support up to 200Lbs large dogs
Low angle of ascent/descent and wide decks eliminates fear
Level platforms instill confidence. The dog instinctively knows how to use it
Return Policy
Free Shipping
Warranty
Return Policy
We Strictly Follow Return & Exchange Policy, Guarantee Your Shopping Experience
Free Shipping
Warranty
RETURN POLICY
We Strictly Follow Return & Exchange Policy, Guarantee Your Shopping Experience
FREE SHIPPING
We Currently Only Ship To Locations Within The United States and It Is Free Shipping (Except Hawaii, Alaska, Guam, and Puerto Rico). We Ship FedEx or UPS
WARRANTY
All Our Products Are Covered Under Warranty Service
The Loobani Folding Dog Ramp can support up to 150 pounds. It helps your pet comfortably get up and down from your car without stressing their muscles and joints.
We update the carabiner safety rope for securing the stairs to the vehicle to offer double protection for your dog.
These doggy stairs are upgraded with an anti-slip paw print surface to prevent the dog from slipping during go up and down.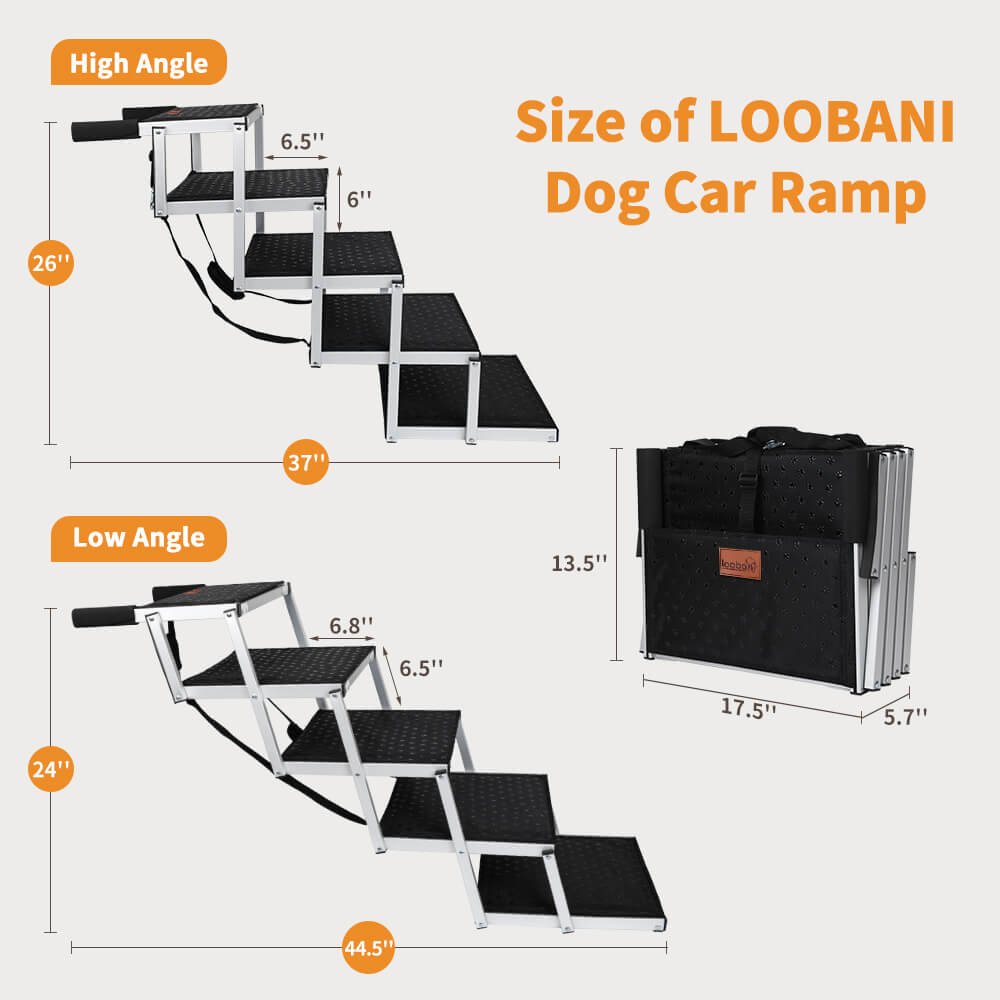 Portable And Easy Storage
The durable, lightweight design weighs only 10 lb. You can fold it with handles and store it in your vehicle when you don't need it, taking up little space.
How To Train Your Pets To Use This Stair For The First Time?
Step 1. For the dog using the ladder for the first time, it can be led by the owner, and snacks are encouraged to go up and down several times so that the dog can reduce timidity. And can go up and down by himself after being proficient.
Step 2. Put some treats on the stairs when your dog is comfortable with leaning on the stairs to get the treat, move the treat onto a higher step.
Step 3. Offer more treats to encourage your dog to go higher on the stairs and reach the top.
Step 4. Practice and use it many times, and eventually, the dog will fall in love and get used to using this ladder.
Buy It For Your Dog Today
Only took a couple of days for him to get used to it.
Easy for the dog!
This is a great product! Our border collie Bo figured it out immediately. It couldn't be more convenient to use!
Great product
I have a 90lbs English Lab, he wouldn't jump into our SUV now he just walks right up the stairs.
East Fast Set-up/Compact for storage
These doggie steps are very convenient for my puppy who still can't jump in and out of my jeep. It is also great for older dogs who struggle to get in and out of the car for those vet visits. It's compact and easy to store in the trunk or even under the seat. I also noticed it has straps, so I can hang it on the back of a seat as well.
The product comes already assembled. The set-up is super easy with just folding it closed and lifting to open. I was able to do it with one hand while holding my dogs leash.
Great quality but wrong height for my SUV
The quality of this product was excellent. It was easy to unfold and I loved how it folded up so compactly. However, it was too short to work for the back of my SUV (Macan) and too wide to work on the side door. Had to return the product.