You probably know how painful walking barefoot on a surface like hot or cold concrete is. It's the equal to your particular family member, your beloved dog. You may ever think about how your dog with paws burned or frozen by hot and cold concrete. In that case, it may lead to many issues with your dog's walking over time. And now that it's getting colder, you should consider investing in some good dog foot protection boots to protect your furry dog's paw pads. Dog safety matters should be vital if you have a puppy or an adult dog.
Maybe you were doing great in dog pad protection for your dog in the summer, but you know there are so many different options with dog foot protection for your dog out there. Protecting dog paws in winter can sometimes be challenging for any breed of dog owner.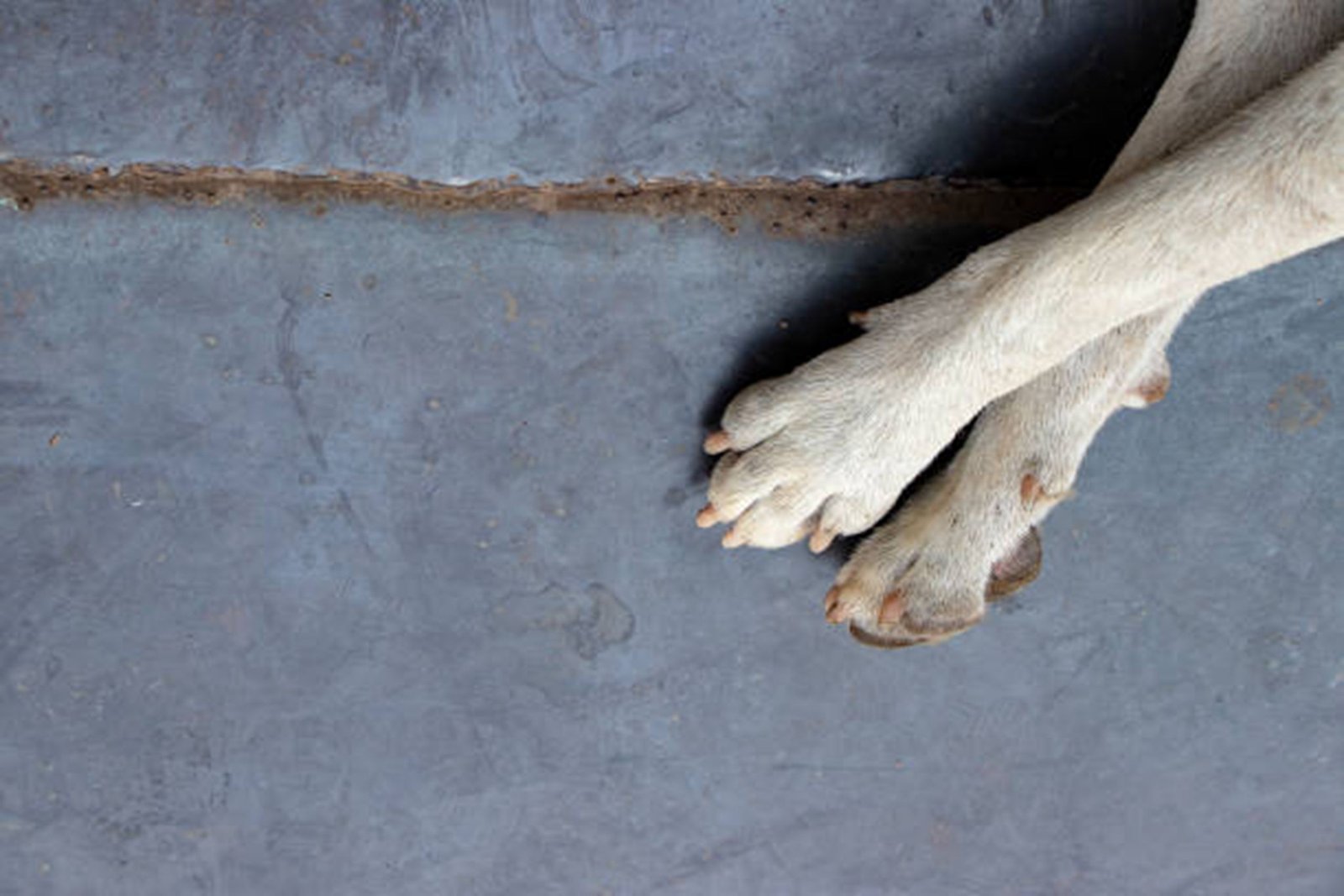 For example, dog paw wax can be helpful for many kinds of dogs. Dog paw gloves may work better if your dog prefers stylish stuff. Puppy and dog shoes can be very protective of you, and your dog lives in a chilly place all year round… If your dog loves to run along the shore's limestone rocks indoors and outdoors all day, you may find out that your dog's paws would be tender and beat up at the end of the day because I can be sure that walking those rocks on the concrete was pretty hard for your dog. Not to mention rough on your dog's dog paw pad covers.
How to protect dogs' paws on concrete?
1. You should try to avoid hot&cold asphalt and concrete
Avoiding hot or cold surfaces should be the easiest and most obvious way to prevent your dog's paws from getting hurt by the concrete. Letting your dog walk in a grassy area or somewhere similar would be shady. In summer, you can walk on those surfaces when it's cooler outside, such as in the morning or evening.
Identical to winter, you can also try to walk on the concrete barefoot to feel the temperature if it's comfortable to walk on before you let your dog walk on. But if you have to walk your dog on a hot or cold surface, limit your dog's time there. And if you are keeping a small puppy, you can always pick them up and then carry them across a parking lot if you want to.
Concrete Surface Temperature

Recommended Actions

Below 10°C

Limit outdoor activities on concrete for prolonged periods.

10°C – 20°C

Monitor your dog's comfort level on concrete.

20°C – 30°C

1. Check concrete temperature before allowing your dog on it.

2. Avoid midday heat when concrete is hottest.

Above 30°C

1. Avoid your dog walking or running on concrete.

2. Provide cool and shaded areas for your dog to rest.
2. You should focus on training and conditioning
Gradually expose your dog to concrete surfaces and build up their paw strength and resilience. This approach helps prevent injuries and discomfort when walking or running on concrete. Training tips and exercises that can help strengthen your dog's paws for concrete surfaces. Short walks on concrete to allow gradual adaptation. Controlled exercises like paw lifts and balancing on various textured surfaces to improve paw stability. Gradual increase in intensity and duration of walks or runs on concrete.
By focusing on the gradual training and conditioning of dogs' paws, along with implementing protective measures and proper paw care, you can help ensure their comfort and safety while walking or running on concrete surfaces.
3. You should use a dog stroller if needed 
Sometimes, you can use a dog stroller if your dog's situation is applicable. I understand many dog parents can't use a stroller if they keep a large or extra-large dog. The stroller is primarily every day among small breeds of dogs in our daily life. But you can do that during the harsher hours because your dog still needs to walk for exercise daily.
A dog stroller may be helpful if you walk your dog to some outdoor dog-friendly events for extended periods, which may present with hot or cold ground surfaces.
4. You should use some dog paw protection cream on your dog's paws
You can need to check with your veterinarian to ensure the entirety is good enough for your dog's paws in case your dog's paw pads got burnt or frozen from on foot on concrete. I've used the protective dog paw cream and protective dog paw balm on my dog's pads before, which may be soothing and helpful for my dog.
I've used DIY anti-slip paw wax on my dog's feet, which worked well. I homemade it by myself. Indeed, it looks better than the dog wax products on the market. But it does smell and feels great. The most important thing is 100% organic and natural with what I've done. How did it go?
5. You should try some dog feet protectors on your dog's paws
If you can't avoid the hot or cold concrete, consider getting a pair of dog paw shoes for your cute dog. Nowadays, plenty of different kinds of protective dog shoes go with additional features available you can choose from. For example, dog paw protection socks can be super cozy if your dog can wear one on chilly days. Dog paw protection boots can add a layer to your dog's paws which were already got socks on in the cold winter…
Recently, my dog tried out LOOBANI dog paw protection pads for the first time, and he likes them so much. I'm ordering another new one soon as I did not pick the right size the first time, and they needed to be more significant. The LOOBANI dog paw pad protection is waterproof and reusable and lets your dog's paw pads keep away from getting burnt on hot concrete on summer days and not get hurt by the frozen surfaces on winter days. And can be used as dog paw wound protection, winter protection, etc.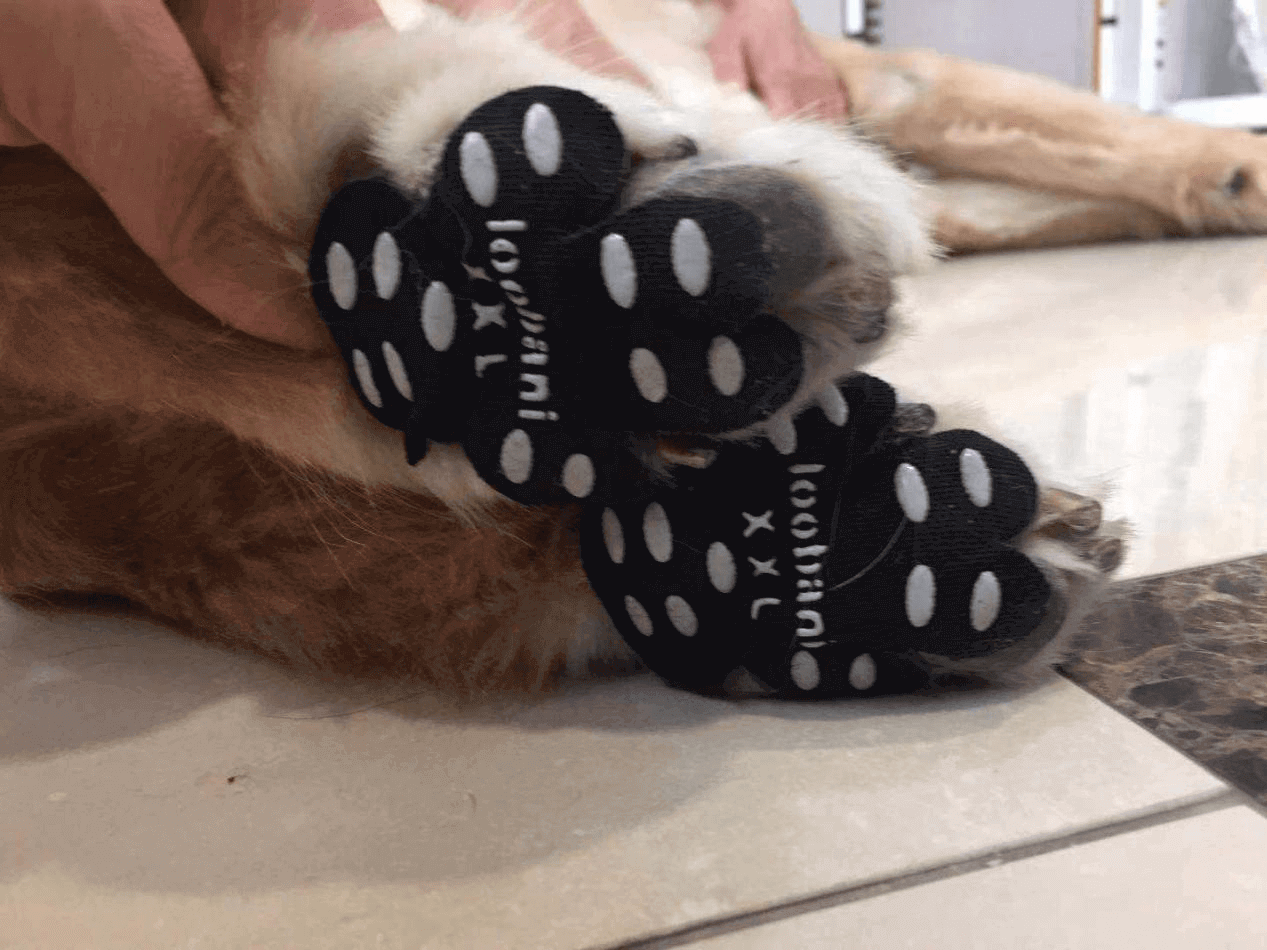 6. You have to test your dog's paws on occasion
Sometimes, most people who are keeping a dog may not consider that the obvious way to care about your dog's paws is to check your dog's paws regularly. Because we all know how important it is to take your dog out on daily walks, protecting your dog's paws on concrete is just as essential as checking their paws regularly to ensure that your dog's paw pads are cracked or abrasion.
Just do it gently but firmly, grasp their paws in your hand, then inspect the dog paw pads for any abnormalities and injuries visually. Secondly, gently press down on your dog's paw pads with your thumb and make notes of any discomfort this action might register on your dog's paws if you have found some. But also remember to check between their toes for any cuts, lumps, stickers, or discoloration at the same time. Just like human beings' checking, the importance of maintaining good dog paw pads health on your dog's paws can not be stressed enough, you know?
7. You can do all you need to do to protect your dog's paws on concrete
It would help if you remembered to keep your beloved dog safe all year round, especially in extreme weather periods like summer and winter. The most important thing is to keep your dog's paw pads away from getting burned or frozen.
I don't know about you, but I would not want to walk around with burnt or frozen footsies, you know? You can spread all these messages by sharing with your dog-lover friends if you wish all dogs in this world to reach as much as a care.
Stay updated with our latest articles and receive complete dog care, health, and training tips.