You may ever be worried about your furry little dog when you are not at home but you have to leave your dog home on her own or his own because he or she was suffering some walking mobility issues. In this case, you may need something very useful stuff to solve this issue, like the portable dog sling or dog lift, which was specially designed to help the dog with back legs walking mobility somehow… For example, when you want to go shopping or go for a daily walk with your beloved dog who just suffered from surgery or just aged, the dog support sling could be very helpful you know? Also, it is very convenient to use and store this dog support harness when you want to use it or you finished using it.
There are so many types of dog sling on the market you can found out. Normally a dog sling is consists of padding and two grips. You may easily found out that the padding part is used for your dog's body, like the belly or the postabdomen, and the gripping part is for you to grip and lift your dog carefully. If your dog does become stressed when he or she was suffering some walking or standing problem, this kind of stuff could help your dog to walk or stand confidently whenever you want to him or her a hand with that. Also could help you and your furry special dog friend spend more joyful time together. Don't you think so?
1.Your dog would walk easier as if lack stamina or energy. You can know this item could come in handy whenever you need to use it, it is so portable and easy to store, and got so many sizes you can choose for your dog. As we all know that we need to lead our dog to go for a walk every single day. Just imagine if your baby puppy grows up day by day, he or she may be not as energetic as before, then your dog may not be so active whatever indoor or outdoors you know? You can try to stimulate your dog with some toys or some snacks he or she likes, if this does not work, maybe your dog just does not have enough stamina and energy. That is great to have a trustworthy furry stayed by your side for such a long time, and getting old is normal for all the creatures in this world, isn't it? 
2.Your dog can walk confidently again as before even got walking issues after some surgery like IVDD / TPLO / ACL / CCL surgery or other debilitating ailments.If your four-legged friend just recovering with his or her legs, at the same time he or she was given a choice to choose between go outside with you and staying at home then I can be 100% sure his or her answer must be the first one. Well, you may see this is the reason why you may need a dog hind leg sling for your dog. This item allows you to help your dog with some mobility issues while getting onto and off vehicles, go upstairs and downstairs, and so on… Then you and your dog can enjoy a wonderful life as usual. Isn't it amazing.
3.Your dog may need some help if he or she has some severe mobility problems. Have you ever wonder that is a genius idea to help your beloved dog out if your dog was suffering some serious mobility issues? Apart from that, if you can imagine how painful that would be to walk when suffering from some issues like weak hind legs, orthopedic injuries, hip dysplasia or arthritis, etc…You know that the dog leg harness could be great with helping your dog to up or go downstairs, get in and out of different kinds of vehicles, get onto or off furniture, stand up, go out for a daily bathroom break, and provide partly assistance when he or she was taking a walk. You will found out how useful is it if you give it a shot, alright?
4.It is very convenient for you to carry with and use for helping your dog. If your dog is a large one or an extra-large one, you can check on the large dog sling. In my opinion, regardless of what size you chose, the dog sling is always portable. You can check on loobani dog sling, which is my dog's favorite dog support strap he's ever tried on. Typically it goes with soft lining with sheepskin-like covering and thickening design and goes with small, medium, large size for choosing. Apart from that, you can see its handle equipped with removable padding which was perfect to protect your beautiful hand, also easy and comfortable to grip on.
So now I assume that you may see the purpose of dog sling which is pretty important for you to get one of your four-legged friends if he or she was one of the situations above. Well, loobani portable dog sling is a very simple but effective solution that I would highly recommend to you. 
How to choose a dog sling?
1.You want to consider its comfortability before purchase. We all know that comfortable is equally important for you and your dog. Sometimes a dog may experience anxiety when walking with some injury painfully through crowds, meanwhile, there might be a possibility of your dog would struggle to get rid of the dog sling, which may hurt himself or herself at the same time you know? 
There's no doubt that the loobani dog sling has very soft and comfortable materials to prevent this from happening. Your dog would fall in love with it even the first time he or she tried this on because of the comfortable touching, and you would found out how useful is it even the first you use this to lift your dog due to the great touching of it grips you know?
2.You want to check if it is a weight limit before purchase. Well here is the reason why many manufacturers doing sling may have the maximum weight if the dog sling could hold. Just think about if your dog exceeds its limit, then the dog sling may causes your dog uncomfortable or even some dangers you know? For both of you don't want that to happen right?
Just need to double-check the recommendation of weight before you proceed to purchase the dog sling. If you can not found the right one on the recommendation that suits your dog, then you can talk to the online customer services or physics store staff for some help. I am sure they would love to help and you can get your dog a perfect dog sling, right?
3.You want to check the materials and qualities before purchase. Given that you need to use the dog sling to assist your dog frequently or even for a very long period, so it is very vital to get one which was consists of good quality and soft materials like the loobani portable dog sling. If you are looking for a dog leg sling technically for a dog's back leg, the loobani portable dog sling for back legs can be a great choice for you.
Apart from that, it's necessary to think ahead and get a long-term using dog sling like the loobani portable dog sling. In that case, you no longer need to spend time on buying another new one or something bad would happen just because of the dog sling's quality, right? As no one of us, dog owners could predict when your dog needs this stuff or when your dog no longer needs it. This move may help you to save many troubles somehow, you know?4.You want to clear if it is portable and easy to store or not before purchase. For the maximum convenience for you to use, you may want to consider if the dog sling is very easy to carry with you whenever you want to be out with your special furry friend to maintain your essentials. If you are a dog owner who takes your special dog out very often, this move of choosing a dog sling can not be missed anyway.
You can tell how portable loobani portable dog sling is from its name, and due to its light but excellent materials, you just need to simply fold and put it back to the dog sling bag after every single time using. The great part of the loobani portable dog sling gift bag is the drawstring bag can be fastened very easy and you don't have to worry about your stuff falling out or something like that you know?
5.You want to know if it is easy to stay clean and if it is easy to clean. I mean if you don't plan to change the dog sling very often, you may need to think about if the dog sling you chose would become dirty easily, or would be not that clean over time. Especially if your dog also prefers to stay clean all the time, you may need to look before you leap, right? And when that happens, I bet you may pray that you chose a machine washable dog sling like the loobani dog sling.
You can see how grateful you are if you pick up a machine washable dog lifter, like loobani dog sling which is completely machine washable and common detergent available. That means it is very convenient to wash that you just need to throw it into the machine after use, let the detergent blend it, and then you can get a brand new one without any effort you know? Just no dryer drying and let its natural drying is okay.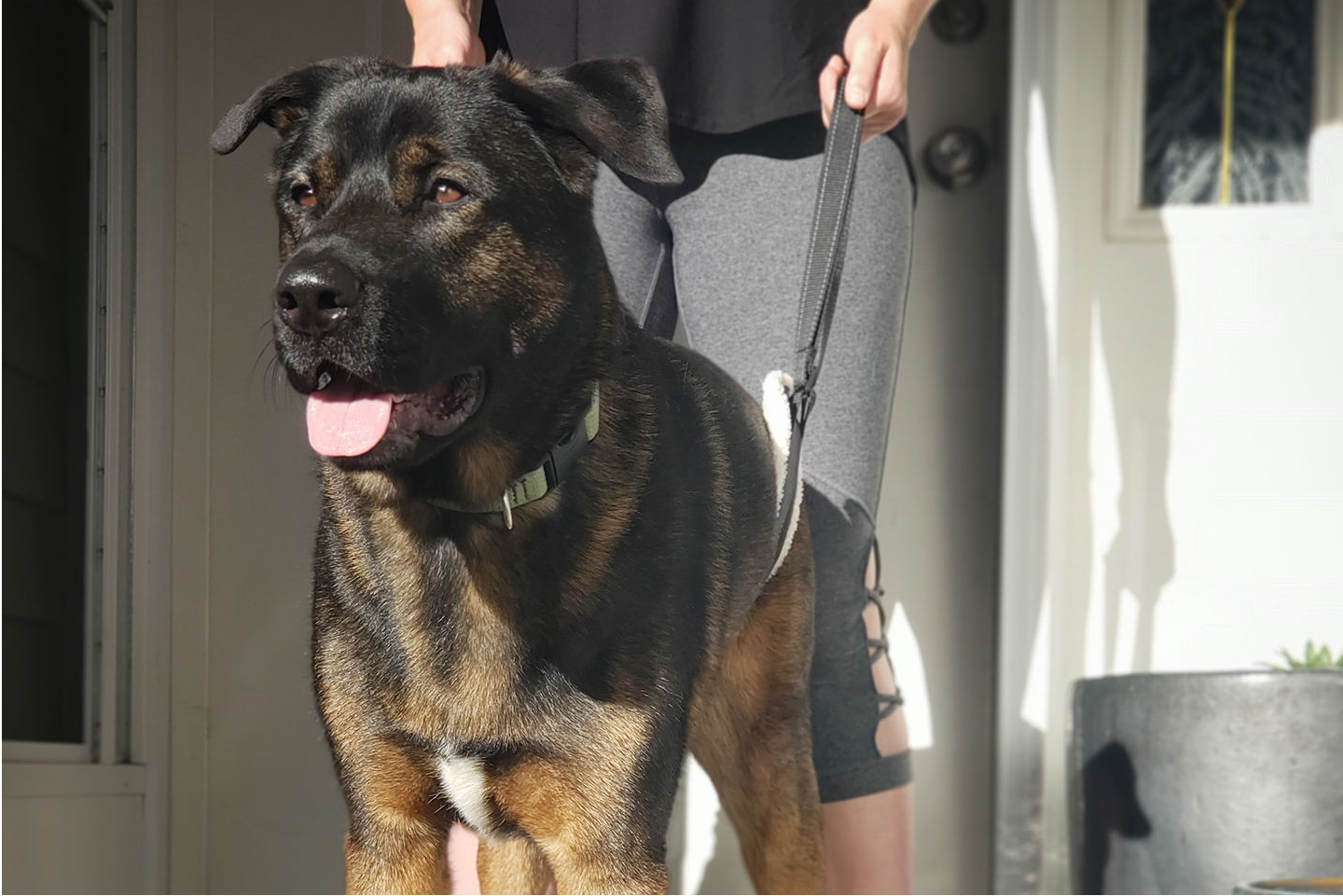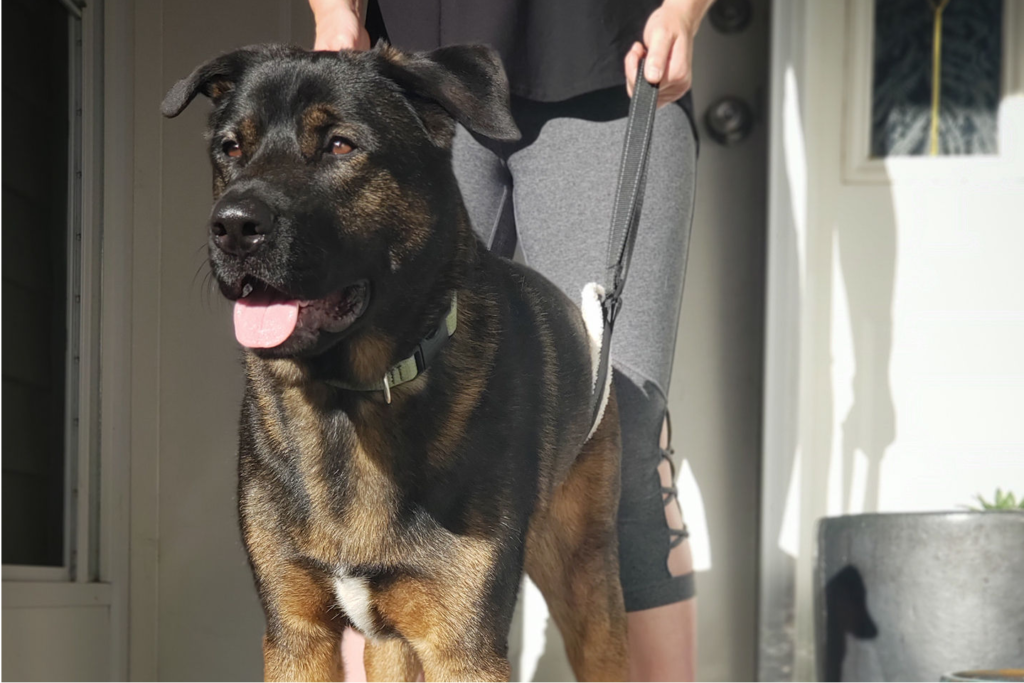 Tips for Using a Dog Sling
1. You want to inspect the dog sling before using it every single time. That's quite normal that to check if your dog sling is normal as before to use, especially the cotton part which use on your dog's belly and the grips which work on your hands. You need to make sure that everything is just right before you use the dog sling on your dog, right?
2. You want to keep your dog clean before using the dog sling on your dog's body. It's necessary to bathe your special friend regularly which could not only help to maintain your dog's sanitary, but also to keep the condition of your dog sling you know? In case you don't like to shower your dog especially on a lazy weekend, then you can consider a waterless dog shampoo for your dog.
3. You want to keep the dog sling clean before using it on your dog's body.No doubt that this move could be very important to you to maintain the sanitary of your lovely dog as well. Just wash the dog sling after using it every single time, or wash it routinely. You know that regardless of which way you choose, that can be a good idea to wash off the bacteria and dirt which may stay on the dog sling you've used on your dog. You must know that your dog must be healthier and happier while surrounded by a clean environment. You can follow the manufacturer's care instructions to make sure that you will not break it.No matter how often you wash the dog sling, just make sure you keep it clean before using is fine, right?
4. You want to use a safe and mild detergent to wash the dog sling. With this move, you can help to reduce the chances of injury as it may damage your dog carrier sling accidentally. You should follow the washing instructions before doing the washing, also consider no dryer using it to minimize the risk of injuries on the dog hip sling. But it depends on the dog sling you choose, sometimes different dog sling goes with different materials, right?
You can take good care of your special dog
Commonly, your dog may suffer from some disease, just like us human beings. And if your dog does has some legs' problem with walking or standing, the dog sling harness can help your dog out up to a point. Don't forget to take action, like taking your dog to the veterinarian as long as you found something wrong with your dog's legs is also important right? With this, you may do the most preparation to avoid something bad happen to your dog's legs and get the best solution to solve the problem your dog got. How do you think?