When it comes to caring for our beloved dogs, their comfort and well-being are of utmost importance. In certain situations, such as after surgery, for elderly or disabled dogs, or during recovery, using a dog sling can provide invaluable support. A dog sling is a specialized accessory designed to assist in lifting and supporting a dog's body, particularly the back legs, allowing them to move with greater ease and comfort.
Importance of Using a Dog Sling for Certain Situations
Post-Surgery or Medical Procedures: Dogs often experience limited mobility and require assistance after surgery or specific medical procedures. A dog carrier sling can provide the necessary support, reducing the strain on the body and facilitating a smoother recovery process.
Elderly or Disabled Dogs: As dog's age or face mobility challenges due to disabilities, a dog sling carrier becomes a valuable aid. It allows them to maintain an active lifestyle, providing support and stability while minimizing discomfort or potential injuries.
Injured or Recovering Dogs: Whether your dog has suffered from an injury or is recovering from an illness, a dog support sling can be a lifeline. It offers stability and prevents further strain on the affected areas, allowing them to heal more effectively.
The Benefits of Using a Dog Sling
A dog sling for back legs or a dog walking sling enables dogs to regain mobility and engage in regular activities with reduced effort.
By redistributing the weight and providing additional support, a dog sling alleviates strain on the dog's body, particularly the back legs, spine, and joints.
A dog carrier sling promotes controlled movement for dogs undergoing rehabilitation, enabling them to regain strength and coordination more efficiently.
The secure fit of a dog sling carrier ensures that your furry friend remains safe during walks or while navigating challenging terrains.
Using a dog sling fosters a closer bond between you and your dog as you provide the support and care they need. It also strengthens the trust and communication between you both.
By understanding the benefits and significance of using a dog sling, you can provide your canine companion with the support they need during various situations. The following sections will delve deeper into understanding dog slings, knowing when and how to use them, and essential tips for a positive experience. So, let's explore the world of dog slings together, ensuring the comfort and well-being of our beloved furry friends.
You need to choose the right Style of dog lift for your dog
Different Types of Dog Slings Available in the Market
Regarding dog slings, there are various types to choose from, each designed to cater to specific needs and preferences. Here are a few common types of dog slings available in the market:
Adjustable Strap Slings: These slings feature elastic straps that allow you to customize the fit and provide optimal support for your dog. They are versatile and can be used for front and back leg support.
Rear-Lift Slings: Rear-lift slings are primarily designed to support a dog's back legs. They feature a padded section or a harness around the abdomen, providing lift and assistance to the hindquarters.
Full-Body Slings: Full-body slings offer comprehensive support to a dog's entire body. They typically consist of a harness or vest with multiple straps, distributing the weight evenly and providing stability for dogs with significant mobility challenges.
Supportive Harness Slings: These slings combine a dog harness's functionality with a sling's support. They feature straps and handles that allow you to comfortably lift and support your dog.
Factors to Consider When Choosing a Dog Sling
Selecting the right dog sling is crucial to ensure optimal comfort and support for your canine companion. Here are some factors to consider when choosing a dog sling:
Size and Weight Capacity: Ensure the sling is appropriately sized for your dog. Consider their weight, breed, and body shape to select a sling that adequately supports them without causing discomfort or strain.
Material and Durability: Look for slings made from sturdy and durable materials that can withstand regular use. Consider the level of padding and support the sling offers to ensure maximum comfort for your dog.
Ease of Use: Opt for an easy dog sling to put on and take off. Adjustable straps, quick-release buckles, and secure closures create a hassle-free experience.
Washability and Maintenance: Check if the dog sling is machine washable or easy to clean, as this will ensure hygiene and longevity.
Proper Sizing for Your Dog
Properly size the dog sling for your furry friend to ensure the best fit and support. Follow these steps for accurate sizing:
Measure Your Dog: Use a flexible tape measure to measure the circumference of your dog's chest, just behind its front legs. This measurement will help determine the appropriate size range for the sling.
Consult the Sizing Chart: Refer to the manufacturer's sizing chart or guidelines to match your dog's measurements with the recommended size. Pay attention to weight limits and breed recommendations, if provided.
Test the Fit: Once you have the sling, carefully put it on your dog and adjust the straps for a snug yet comfortable fit. Ensure the sling is not too tight or loose, allowing your dog to move naturally while providing the necessary support.
By understanding the different types of dog slings, considering key factors when choosing one, and ensuring proper sizing, you can select the ideal sling that meets your dog's specific needs.
How to use a sling to help dog walk?
1. Step-by-Step Instructions for Putting on the Dog Sling
Using a dog sling requires proper technique to ensure your dog's comfort and ease of use. Follow these step-by-step instructions for putting on the dog sling:
Familiarize Yourself with the Sling: Before attempting to use the sling, carefully read the manufacturer's instructions and familiarize yourself with its features and adjustments.
Positioning Your Dog: Gently guide your dog to a standing position or lift them, if necessary, to ensure they are calm and relaxed.
Insert Your Dog's Legs: Identify the leg holes or designated openings in the sling. Lift each leg, one at a time, and carefully guide them through the appropriate spots. The sling should comfortably cradle their belly.
Secure the Sling: Adjust the straps or fasteners to achieve a snug fit around your dog's body. Ensure that the sling is securely positioned and evenly supports their weight.
2. Ensuring Your Dog's Comfort and Safety
When using a dog sling, it is crucial to prioritize your dog's comfort and safety. Here are some essential considerations:
Maintain Proper Support: Ensure that the sling provides adequate support for your dog's body, particularly in areas requiring assistance. The sling should distribute the weight evenly, reducing strain on any specific region.
Monitor Your Dog's Reactions: Pay attention to your dog's behavior and body language while using the sling. Look for signs of discomfort, such as excessive panting, whining, or trying to escape the sling. If you notice any distress, readjust the sling or seek professional guidance.
Avoid Excessive Pressure: Avoid excessive pressure on your dog's body when using the sling. The purpose is to provide support, not to restrict their natural movements or cause discomfort.
3. Adjusting the Sling for the Best Fit
To ensure optimal comfort and effectiveness, it's essential to adjust the dog sling to the right fit for your dog. Consider the following tips:
Check the Straps: Regularly inspect the straps or closures of the sling to ensure they are securely fastened. Loose straps may compromise the support provided, while overly tight straps can cause discomfort.
Proper Weight Distribution: Confirm that the sling distributes your dog's weight evenly across its body. This helps prevent additional strain on specific areas and promotes a balanced support system.
Balance, Comfort, and Security: Aim for a snug fit that allows your dog to move comfortably while maintaining stability. Avoid over-tightening, as it may lead to restricted movement or discomfort.
4. Getting Your Dog Accustomed to the Sling
Introducing your dog to the sling gradually can help them feel more comfortable. Follow these steps to help your dog become accustomed to using the sling:
Positive Associations: Associate the sling with positive experiences by offering treats, praise, or favorite toys while introducing the sling. This helps create a positive association and reduces any anxiety or resistance.
Slow and Gentle Introduction: Start by putting the sling on your dog for short periods in a calm and familiar environment. Gradually increase the duration and engage in activities your dog enjoys, such as gentle walks or playtime, while using the sling.
Patience and Reinforcement: Be patient with your dog and provide consistent positive reinforcement. Celebrate their progress and gradually increase the complexity of activities while using the sling.
By following these steps and considering your dog's comfort and safety, you can effectively use a dog sling to support your canine companion.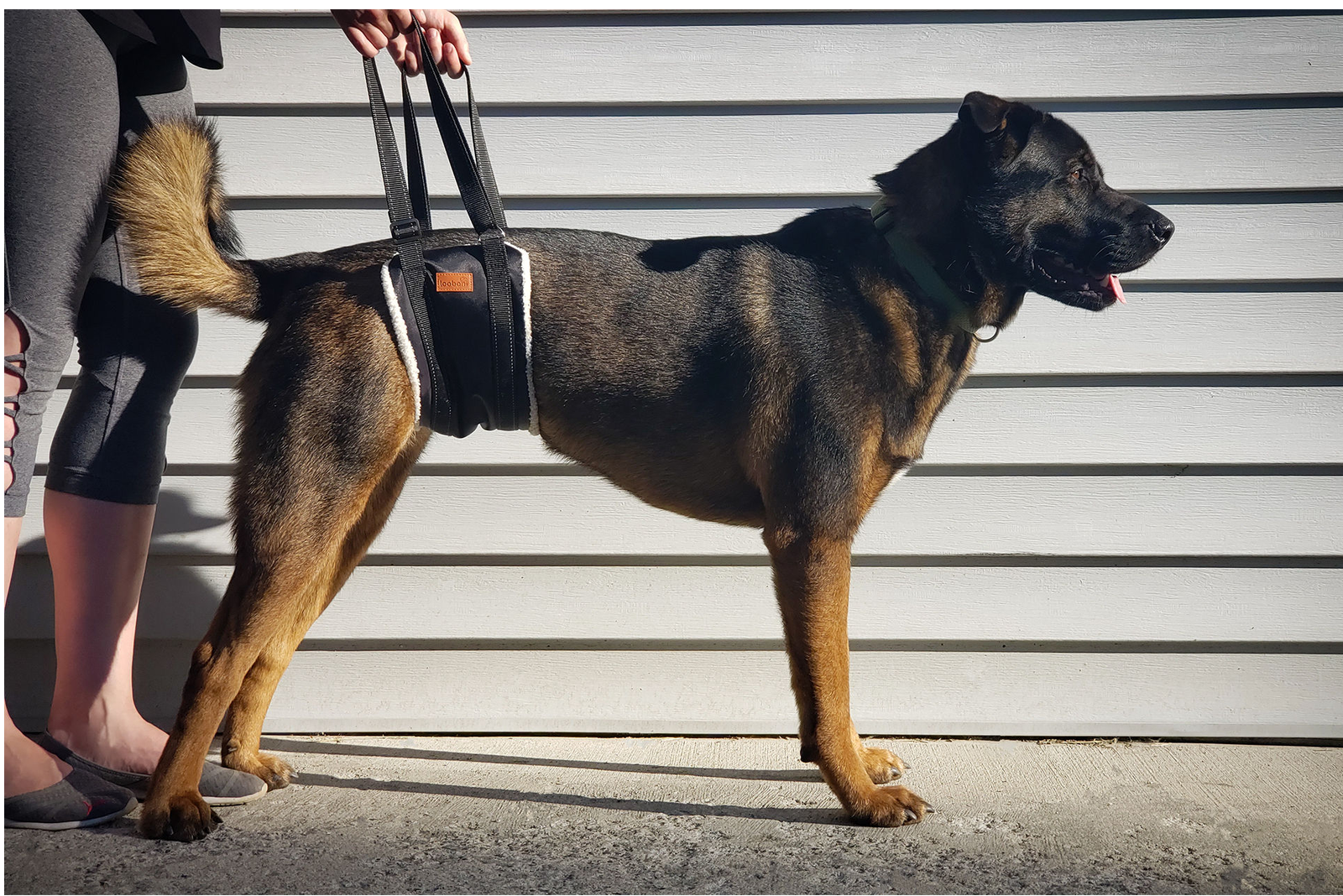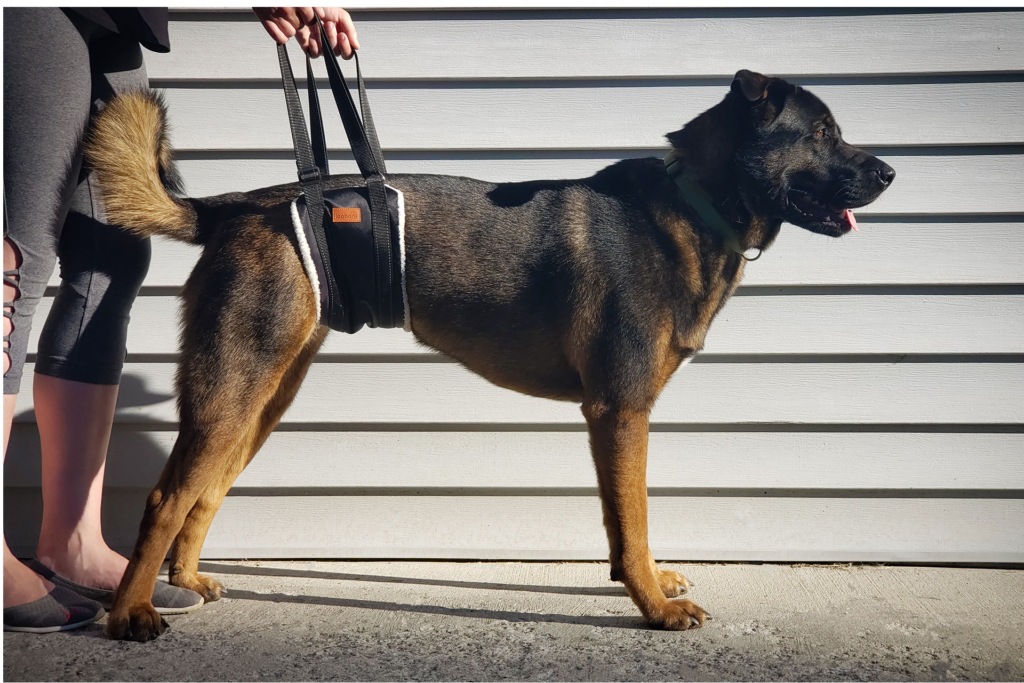 Proper dog sling cleaning and maintenance are vital to ensure longevity and hygiene. Follow these guidelines for keeping the dog sling clean and in good condition:
Keeping the Dog Sling Clean and Odor-Free
Regularly clean the dog sling according to the manufacturer's instructions. Most slings are machine washable or can be spot cleaned with a mild detergent. Ensure thorough rinsing to remove any residue. Additionally, consider using pet-safe deodorizers or fabric sprays to keep the sling smelling fresh.
Checking for Wear and Tear Regularly
Inspect the dog sling periodically for any signs of wear and tear. Check for frayed edges, loose seams, or weakened straps. If you notice any damage, replacing the sling to maintain its integrity and ensure your dog's safety is essential.
Storing the Dog Sling Properly
Store the dog sling in a clean and dry area when not used. Avoid storing it in places with extreme temperatures or exposure to direct sunlight, as this can cause damage to the materials. Proper storage helps prolong the lifespan of the sling and ensures it is ready for future use.
Incorporating a dog sling into your pet care routine can benefit your furry friend's comfort, mobility, and overall well-being. By understanding how to use a dog sling effectively and safely, you can provide the necessary support for your dog during various situations.
Remember to choose the right type of sling for your dog's specific needs, ensure a proper fit, and gradually acclimate your dog to using the sling. Prioritize safety by monitoring your dog's condition, observing any signs of discomfort, and following the provided safety precautions. Regular cleaning and maintenance of the dog sling will ensure its cleanliness and durability, allowing for long-term use.
So, why not give a dog sling a try? Your dog will appreciate the comfort and support, and you'll enjoy the peace of mind of knowing you're providing them the care they deserve.
Subscribe to our newsletter for more pet care tips and updates!