Why do you need a dog sling for your dog?
If you are keeping a dog, maybe someday your dog would suffer something bad like has trouble walking due to some illness or degenerative myelopathy (DM) due to ages… His or her legs would be quite wobbly when ages normally you know? Then you may ask is there anything you can do to help your beloved dog when that happened? Is there any kind of dog leg sling or dog leg harness you can use to help your dog? You need to know that hind end weakness may cause your dog with some issues like degenerative myelopathy (DM) or maybe some other issues like osteosarcoma and hip dysplasia… which may cause your dog with some weakness in this area.
You may know that a dog assists sling to the dog to take steps lots was the common but helpful treatment with a dog's intervertebral disease. There is no reason for your dog not to be able to continue to enjoy the beautiful life if your dog has a moment with him or she staggers or doesn't seem to be able to support the hindquarters, right? But you should remember that your dog always loves to walk, even if he could no longer do this on his own completely. You can let your dog try with a dog rear leg sling to support his or her weight to walk, get onto the sofa, get into a car or a truck, etc… You should always remember that there is no reason that two of you could not enjoy his favorite pastime further you know?
You need to choose the right Style of dog lift for your dog
Have you ever realized that there are so many different types of dog support sling or dog lift harness on the online&offline market that can be used for supporting your lovely dog's hindquarters if he or she does suffering some issues like ages issues, orthopedic injuries, weak hind legs, Arthritis pain, hip dysplasia, IVDD / TPLO / ACL / CCL surgery or other debilitating ailments?
Lots of those dog lifter products are designed with wrapping around your furry friend's rib cage or belly, normally would have handles for you to easily but also comfortably grab onto. If you ever took your dog to visited the veterinarian, I bet you may get some recommendations on some types of the dog back sling based on your beloved dog's specific medical condition right? Each half of that combination harness has its handle so that you can help your dog get up and stabilize your dog easier. When you were applying such a product, you must use both halves of it together just like they are not designed to work independently from each other.
Usually, a dog's hind harness is specifically designed for the hind end using, which is typically more comfortable for your dog to feel also much easier for both of you to use. Just like the loobani dog sling I've ever tried on my dog, those are consist of a band that can wrap under my dog's belly but just below my dog's ribs, and also got grips for you to hold without hurting my hands.
First of all, can help my dog to negotiate stairs. If my dog has any problems while getting up or down the stairs, I will just need to gently lift on the handle of loobani portable dog sling when I were walking beside my dog. And I don't need to lift her off the ground, I just take some of the weight off her legs and hips. I just need to grip those handrails then proceed that slowly with my other hand the I can keep my balance perfectly at the same time you know?
Next, can help my dog hop into the car. Because my dog goes with ailing hips or joints sometimes, so it's hard for her to jump into or out of a car. Since I use this loobani portable dog sling for back legs to lift my dos by the hips or shoulders, she did much better with those moves ever you know?​I mean I can not expect a senior dog could as agile as a young and also strong one could do, then I think she may need a lift to get in or out of the car…However, my dog is too heavy to lift confidently, and also the car is just too far away from the ground at the very time I use this product, the customer services told me that I should deploy a good ramp to allow her to enter and exit the car and I did follow which works pretty well. It turns out that the dog lift sling can be very nice assistance to help.
But thirdly, can help my dog go outside to walk or pee. I do know that every breed of dog has to go outside to take a walk to sniff around to relieve themselves daily, But back in those days my dog did have severe limitations and she need help some help. It did take me some time to figure out this that loobani portable dog sling.That is exactly what I need to make a balance between providing enough support to help my dog to move and stand, don't want to infringe on her ability to assume the position at the same time.
Fourth, it is easy to get the right size for my dog. I just need to follow the leads those shown on the website, to measure the width and length of my dog's body, check the chart which showing us the pad width, strap length and weight of small, medium and large side. Then I got the perfect size for my dog easily. Isn't it awesome?
How to use a sling to help dog walk?
That's a good question. Normally it depends on what kind of sling you choose for your furry dog. Here are a few types of common slings you can easily get on the market nowadays.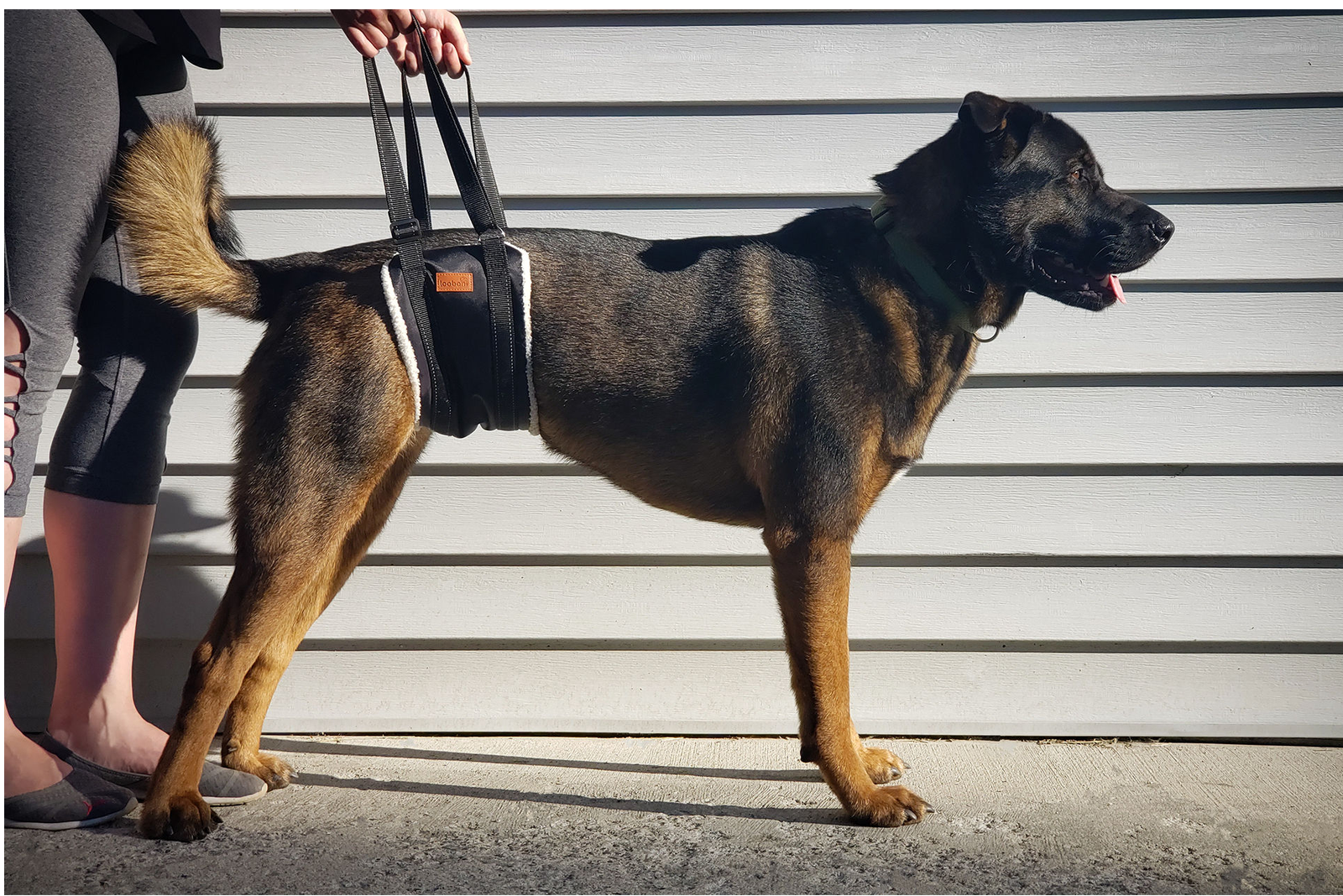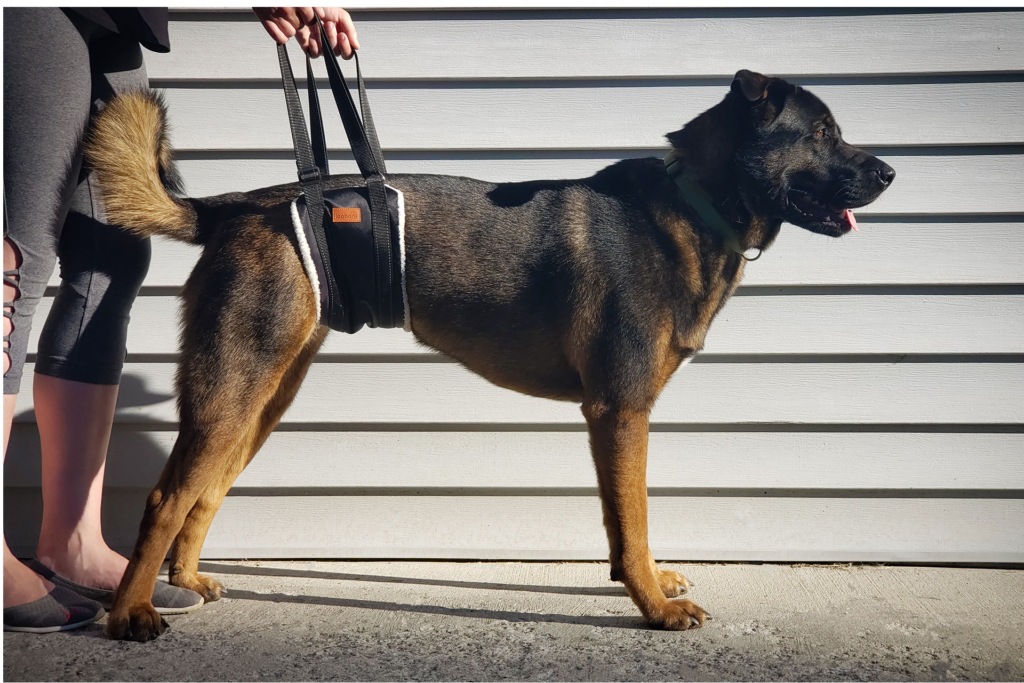 1.Total dog body support. This kind of dog body harness usually could give your dog complete body support for his or her needing balanced for the entire body. This harness solution for your dog is good for supporting him or her on the stairs, a very quick walk outside, or sometimes your dog nee to get in and out of a vehicle. This harness is very easy to get your dog to wear, you may get the ways to do it without looking onto its instructions.
Here we go with some steps about how to make it work normally. Step one is to unfasten the bottom buckles on chest support then slip the neck strap over your dog's head. Step two is to loop girth straps over your canine's body and fasten its buckles, perhaps modify straps a little to in shape better. Step three is to unbuckle the rear support then position it under your dog's hind end in front of the rear legs, and fasten the buckles. Step fourth is to check if it;'s need to adjust to fit snugly. Step fifth is to attach a carrying strap to the D-rings on both chest and hind support on your dog.
2.Sturdy dog hind leg support.This kind of support is particularly for your dog's hind end, which could be used instead to make your dog a more comfortable seat. You can tell from its outfit that it is easy for the dog owner to give the dog extra protection to hop into the cars or trucks, support the dog's hind end when need to go for a daily walk. Those handles could stably stay above the dog's rump for the most efficient lift when the dog was walking, but also those harnesses could be removed easily with no tension on when the dog was resting. 
Here we go with some steps about how to make it work normally. Step one is to lay the dog harness down with the fleece face to you. And there is no front or back on it so you could use whichever side for your dog's anatomy as long as it's the most comfortable for him or her. Step two places your dog's every rear leg through those leg holes, then gently pull the dog harness up your dog's legs same with putting on a pair of shorts. Step three is you need to fasten the clips over your dog's back then tighten tri-glides for the most comfortable fit on your dog.
3.Easy and quick support. This kind of support is the fastest solution to help a dog stand from some position like laying down. Because you just need to easily slip the leash on your dog while he or she is still lying down, then give him or her a very quick but gentle boost up. At the same time, this leash could be removed super easily if your dog has just done needing its support every time.
You can know that easily this rear support leash is super helpful and easy to use for quick daily walks. I can't agree more that a leash is ideal stuff for assisting your dog on the stairs. Also, this is the perfect solution for any breed of dogs recovering from knee injuries or ACL who needs some supports temporarily. Because this leash can help a dog on the rear to help him or her lift if unstable on the legs or struggle with maintaining balance. 
4.Midsection dog body support. This kind of support sling can give your pet a little support when protecting your dog's back from those unnecessary strains. This would be more comfortable for your dog because a support sling like this can provide gentle support for your dog's mid-body which is also easier than using a towel or some other pieces of stuff like that. Especially if a dog starts to lose mobility in his or her rear legs, as his or her owner has to figure something out to lift and assist the dog… This sling offers comfortable assistance for pets recovering post-surgery or after an injury.
Thanks to those adjustable support handle on the dog sling, this could be more comfortable and easier on the dog owner's hands as well. It's good to provide your dog some support lightly and help him or her get around. The way how to use it is also very simple, just wrap around the center of your dog's body to balance the supports in the middle part of your dog's body. And I am pretty you can do it right once without reading and instructions out there.
Helping your dog with any issues anytime is important
That's the truth that difficulty standing usually is the common sign of a dog's mobility loss, especially with aged dogs. We also know that a dog's age begins to lose muscle mass or even the strength a dog needed to get up and off the ground as easily as once can be. But we can notice those signs easily and will not miss any of those signs that our dog's mobility is changing, then take action to fix all of them. Right?