If you keeping a dog, you must be very lucky to have a cute angel to be there by your side that company with you maybe for years. If your cute furry friend already is there with you for years, then he or she may be ages now. And you may need to think about how to take care of your beloved family member more carefully. For example, your senior furry friend may need help with some walking issues then you should consider getting a dog hind leg sling or dog leg harness for him or her. You can also do a leg harness DIY if you want to, right?
Why your dog may need a dog sling for walking?
Sometimes, a rear leg sling for your senior dog may be a necessary part of caring. Or if you are keeping a young dog that just had surgery then he or she may require your help to go upstairs, if you are keeping an aging senior dog needs a little help standing up after a nap, then knowing how to make this simple and easy DIY dog rear leg sling for your dog could come in handy.
I bet you must know that using a dog leg sling can help you support your dog and stabilize your dog's hind end perfectly. You know that some dogs may need the extra support because of degenerative conditions, weakness in the hipster, or may need a little help for a brief period when recovering from an injury, etc…
That's the truth that you can easily buy a dog rear support sling online or offline in the store, At the same time, there are also different ways to save the costs and make one with your own hands you know? Maybe that only takes you a few minutes, and no sewing is required during the whole process. You will find out this sling only durable and easy to clean, but also comfortable for your dog.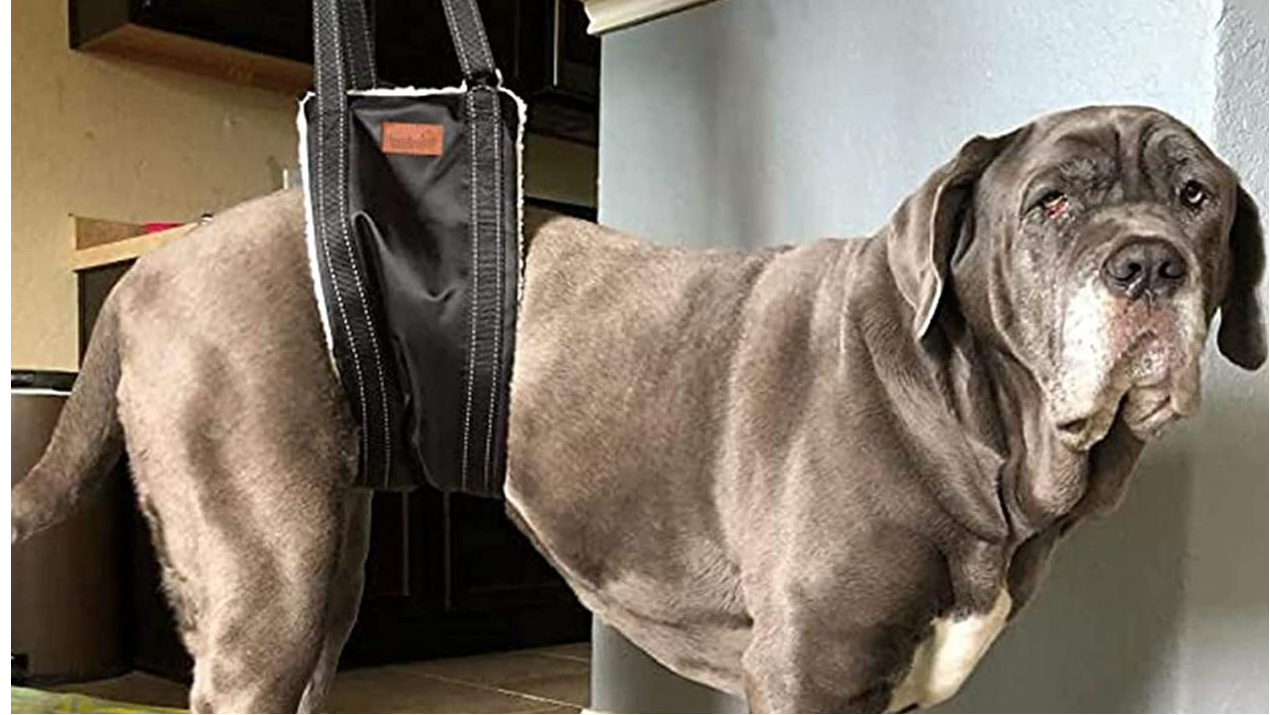 What do you need to do to make a dog hip sling?
Firstly, I need to mention that you may want to take your dog to the veterinarian immediately if found out that your dog does have any types of pain or weakness in his or her hind end. 
Secondly, you may need some supplies like a reusable grocery bag or a soft cotton bag and scissors standby. Sometimes the rough plastic bags would be not very comfortable for your dog, but it depends.
Thirdly, a DIY dog lift harness can get to work after you got yourself a soft, reliable and sturdy reusable grocery bag, which you could easily get in the store or supermarket, and a pair of scissors. Just open the bag you prepared, then cut the two small side panels out slightly. That could make a shape with a "U" sling with long handles you up to, right? You may know that the best part about making a dog support sling for your dog in this way is that those handles can accommodate you pretty well even you are a super tall dog owner. Then no more bending is needed to help to lift your dog.
Finally, now you have to do is slide the dog back sling you just made under your dog's abdomen, then just move it down underneath his or her hips. You also can pull those handles up which will allow you to support your lovely dog's hind end and slowly lift him to try to help him or her with some stairs. Besides, you could try to slide the dog assist sling underneath your dog when he or she was lying down, then you could help him stand up easier.
We all know that this technique of using a dog hind harness may take your dog some getting used to, but I believe that your dog may realize that the sling is helping him eventually. And the sling will not cause your beloved dog any discomfort due to the bag was made of a soft material. You just make sure you do not pull up too aggressively and pressure gently.  
You can choose to buy some rear dog lift products on the market if needed
You can see there are tons of different dog lifts on the market you can purchase if you want. For my dog, he likes loobani portable dog sling for back legs so much, because that helps him a lot when he was recovering from the ACL surgery. You can tell the dog lift can provide ultimate care to different kinds of senior or weak dogs by those soft lining and thickening design, but also with a sheepskin-like covering which you may found on the market. 
Moreover, usually, those handles on the dog lift were equipped with removable padding. So that would be perfect for protecting your hand for easy and comfortable carry. Such as loobani portable dog sling, if you ever have a check on it you may found that the reflective nylon band runs through all the sturdy sling to hold the weight of any breed of dog you can reach. And its adjustable straps were long enough to fit a range of breeds. Sometimes even if your dog were a little short or you are very tall, this carrier still can work pretty well for you and your beloved dog. And after using it, you just need to fold and put it into the portable gift bag. So that portable and machine washable with loobani dog sling that I chose.
However, there are still some things you need to know about when you choosing a dog lift for your dog. For example, you should check if the product can help your dog to stand up, up, and downstairs regardless of indoors or outdoors, get in and out of different kinds of vehicles, get onto some sofa or chairs, being outside for a daily bathroom break, or could provide some assistance when your dog was taking a walk or not. At the same time, the dog lift you choose for your dog should not get in the way when she needs to "go" and can be moved out of the way easily if needed. The dog lift you choose for your dog must be simple and effective pieces of stuff to solve any back legs issues your dog may suffer from. Especially if you are keeping an elderly dog, or with weak hind legs, orthopedic injuries, hip dysplasia, arthritis pain, or just passed through surgery like IVDD, TPLO, ACL, CCL, or other debilitating ailments you can think about.
One more thing, you need to pay attention to the sizes of the dog lift products. We are very clear that there are lots of different breeds and different sizes of dogs in this world. So you need to be careful when you are checking the dog lift you are into, just following the steps on the instructions and measure the width and length of your dog body's proper parts. To check what size is matched with your dog, just ask the customer services if you still have some doubts about sizes choosing out there.
You can find the best dog lift for your dog
If you are very frugal, you may want to create a special dog lift for your dog with your own hands. I hope this article could give you some inspiration with "how to make a dog sling for back legs ", could give you a hand when you dealing with what dog lift you should buy for your dog, etc…