What's your favorite season around a year? Most people would go with summer I assumed. That's true summer vibe is awesome, but autumn has arrived and winter is coming shortly. If you also have a dog like me, you must be facing another winter problem just like what you need to think about in summer… How to protect your dog in winter? What's the best paw protection for dogs in winter? Or how to protect dogs' paws in the snow? 
Taking care of dogs' paws in winter is vital for us dog owners to know, to learn about. Because dog paw pads are very important for our lovely dogs, just like our legs for us human beings, right? If you are confused with a question like "how can I protect my dog's paws in winter?", then you are in the right place. Because I am going to share some of the tips about "protecting dog paws in winter", specifically is "foot protection for dogs in the snow" those may be useful for you. Let's check this article out together, shall we?
Why protecting dogs' paws in cold weather is so important?
As we all know, the winter months can last for months, can be a difficult time for everyone who lives on this planet. Including your dog, you know? Dogs' paws can be freezing if you walk your dog in the super cold winter no matter what breeds of dog or what age of the dog. Especially if you don't let your dog wear some dog paw pad protection like dog paw gloves, dog paw shoes, or dog paw protection pads…That may hurt your dog's paws a lot after the daily walk outside on winter days.
Besides, if your dog is a senior-aged one, which means he or she is between five and ten years old. Then he or she may be even more sensitive to the cold. There are so many ways you can keep your older dog cozy, warm, and healthy by protecting your dog from the elements and also helping your dog stay comfortable at home all the time. Or even you can keep your dog's body in good shape if you want. Both you and your dog can weather the winter with ease with just a little attention. How do you think?
How can we protect dog paws in the snow?
1. You can get clothing for your dog to help him or her to keep warm. This is the most common and easy way to do it, some dogs do not mind if they wearing dog sweaters, dog shoes, or dog booties. However, some dogs would prefer to cruise the streets in their birthday suit you know? If your dog doesn't mind clothing, I think sweaters and puppy shoes can provide awesome added protection against cold weather.For my puppy, he loves loobani dog paw pad protection a lot.
(1)If you are keeping an old dog, let your dog dress in canine clothing for warmer. That would be super helpful to keep an old dog warm on cold days. If your dog is comfortable with that, just give them a dog sweater or jacket. You will found out these garments can be helpful to keep your dog's core warm and keep them comfortable. And this absolutely can be a great option for senior dogs who have trouble staying warm. LOOBANI DOG PAW GRIPS can be a good friend for them.
(2)And please make sure to keep your dog's clothing dry and warm all the time while he or she still wearing on in chilly winter. Because damp jackets or sweaters sometimes actually make your dog colder in winter you know? We know that an additional level of protection is to let your old dog be warmer is wear something protective on your dog's feet. Especially if your dog does not like walking on the cold ground, or if something cracking or even bleeding from your dog's paws. You should know about this kind of discomfort could be quite common with older pets. One more thing, salt, ice, and snow on the ground may all affect your dog's paws on different levels.
2. No one knows your dog better than you in this world, sometimes depends on a dog's genetic makeup and the healthy dogs may require unique care to remain comfortable, healthy, and happy all winter long. You know no matter how thick their fur coat or how healthy your dog is, some products like protective dog paw cream and dog paw protection balm would help your dog enjoy life to the fullest somehow. Maybe you can use the practical but common materials to DIY something for your dog's paws as for cold weather protection, like some wax or some cream..etc.
3. You should walk your dogshorter time when the weather is extremely cold in winter, especially on snow days.Some dogs may be able to tolerate cold weather for a short period, but you'd better not overdo it if you are keeping a senior dog. Just imagine if the temperature is low or the conditions around are icy or wet, how uncomfortable your dog would be if you walk him or her outside normally. At the same time, take a check on the temperature it is also a brilliant idea before walking your dog, you can postpone walking your dog until the weather clears up if your dog can wait for a while. How do you think?
4. Last but not least, you want to learn about your dog's susceptibility to the cold. Normally certain breeds of dogs will be more affected by the cold than others, but you can do some reaches about your dog's breeds. When you determine your dog's susceptibility to the cold so that you can know what precautions you need to take. And for older dogs, they are always a bit more sensitive than younger dogs of the same breed you know?
In general, the better your dog could tolerate the cold if your dog is larger. And the amount of fur your dog has plays an important role as well. As we know that some breeds like chow chows, huskies, malamutes, etc those with thick coats, are particularly well suited for cold winter. But dogs like chihuahuas, those with short hair would be quite sensitive to the cold you know?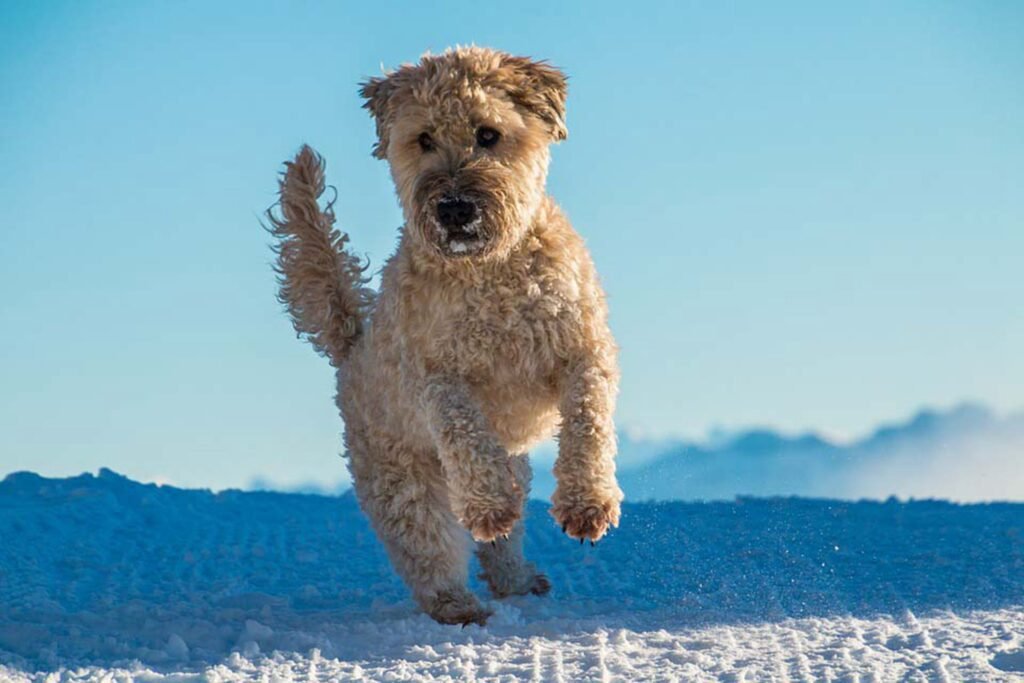 All in all, Your dog's safety in cold weather is an incredibly important topic for you as a dog owner, and you should be up to date if you still wondering how to protect dog paws in winter. Anyway, I have faith in us dog-lovers, who can try our best to protect our adorable dogs in all seasons, especially in freezing winter. Right?