After surgery, dogs require special care and attention to ensure a smooth and successful recovery. One crucial aspect of post-surgery care is protecting their paws. This blog post will explore the importance of paw protection after dog surgery and discuss key strategies to promote optimal healing and comfort. Being proactive in paw care can minimize the risks and challenges dogs may face during their recovery journey.
The importance of paw protection after dog surgery
Common Surgeries Requiring Paw Protection
Orthopedic procedures, such as joint surgeries or bone repairs, often necessitate paw protection. Additionally, wound-related surgeries, including tumor removals or skin grafts, require careful attention to paw care. These surgeries leave the paws vulnerable to infections, injuries, and complications, making paw protection essential.
Vulnerability of Post-Surgery Paws
Post-surgery paws are susceptible to a range of issues. The incision site is delicate and can easily become infected if exposed to dirt, moisture, or contaminants. Dogs may inadvertently scratch or lick the surgical site, leading to irritation or reopening of the wound. Furthermore, the altered gait or limited mobility during recovery can strain the paws, making them more prone to discomfort or injury.
The Role of Paw Protection
Adequate paw protection is vital in promoting faster healing and minimizing discomfort for dogs recovering from surgery. It acts as a barrier against potential infections, prevents self-inflicted injuries, and provides stability and support for proper weight distribution during movement. By prioritizing paw protection, we can enhance recovery and help our furry friends regain mobility sooner.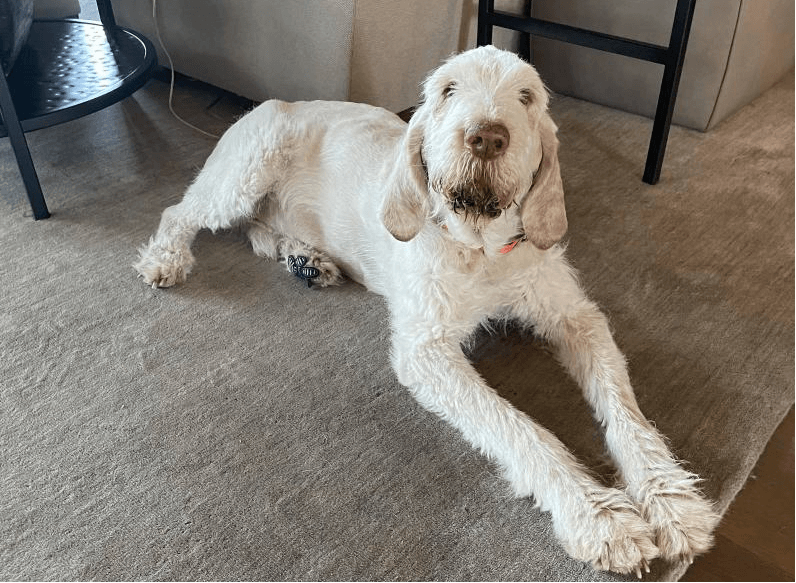 Key Strategies for Dog Paw Protection
Proper Wound Care and Bandaging Techniques
Maintaining clean and dry surgical incisions prevents infections and promotes healing. Start by carefully cleaning the wound with a veterinarian-approved solution and gently patting it dry. Follow the specific instructions provided by your veterinarian for dressing the wound, using appropriate bandages and wraps. Depending on the type of surgery, different bandages or wraps may be recommended to provide optimal protection and support.
1. Keep the surgical incisions clean and dry
Protecting the surgical site from moisture, dirt, and other contaminants is essential. Regularly inspect the area and gently clean it as instructed by your veterinarian. Avoid excessive humidity, and if necessary, use a protective cover to shield the incision from environmental factors.
2. Step-by-step instructions for cleaning and dressing wounds
Clean the wound with a veterinarian-approved solution, careful not to apply excessive pressure. Gently pat the area dry with a clean, sterile cloth or gauze. Apply the recommended dressing materials, ensuring proper coverage and a snug fit to prevent movement or rubbing.
3. Suitable types of bandages and wraps for various surgeries:
Different surgeries may require specific types of applications or wraps. Your veterinarian will guide you in selecting the appropriate materials that offer adequate protection and support. These may include sterile gauze, self-adhesive bandages, or specialized surgical boots.
Utilizing Protective Paw Coverings
Consider utilizing protective paw coverings such as booties or socks to provide an extra layer of defense for your dog's paws. These coverings offer various benefits but also have limitations that should be considered.
1. Introduction to Different Types of Paw Coverings
Different types of paw coverings, including booties and socks, are available in the market. Booties are typically made of durable materials and provide more extensive coverage, while socks offer a lightweight and breathable option.
2. Benefits and Limitations of Each Type
Booties offer superior protection against dirt, moisture, and rough surfaces. They can be particularly beneficial for outdoor activities and during walks. On the other hand, socks provide a comfortable and snug fit, making them suitable for indoor use or in less abrasive environments. LOOBANI Dog Paw Protector is ideal for indoor and outdoor. However, both booties and socks may have limitations in adjustability, durability, or the ability to stay securely in place.
3. Choosing the Right Size and Fit
When selecting the best paw protection for dogs, ensure they fit correctly for optimal safety and comfort. Measure your dog's paw size according to the manufacturer's guidelines and consider any specific instructions from your veterinarian. Choosing coverings that are neither too tight nor loose is essential to prevent discomfort or the risk of slipping off during activity.
| | | |
| --- | --- | --- |
| Paw Type | Advantages | Limitations |
| Boots | Durable, provides comprehensive coverage, protects against dirt and moisture | It may require time for dogs to adapt and proper sizing, and it can be more expensive |
| Socks | Lightweight, comfortable fit, suitable for indoor use | Less durable, prone to slipping off, may not offer extensive protection |
| Paw Pads | Natural, allows for raw paw movement, breathable | limited use |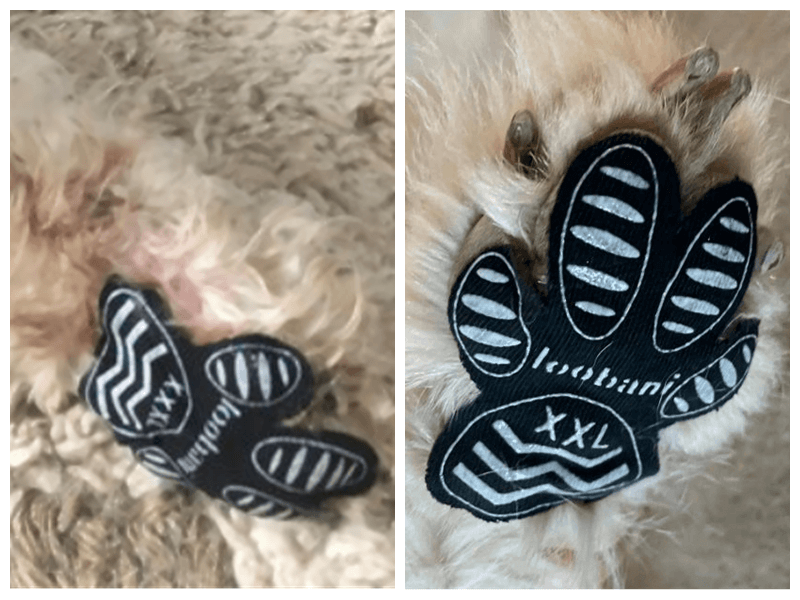 Implementing Preventive Measures
Aside from paw coverings, implementing preventive measures is crucial to ensure your dog's paw protection and overall well-being during recovery.
1. Creating a Safe and Controlled Environment
Designate a safe space where your dog can recover without unnecessary hazards or risks. Remove any objects or substances that could be harmful, and consider using barriers or gates to restrict access to certain areas if needed.
2. Maintaining a Clean Living Space
Keep the living space clean and free from potential sources of infection. Regularly clean and disinfect floors, bedding, and any surfaces your dog may come into contact with. This helps minimize the risk of introducing bacteria or contaminants to the surgical site.
3. Importance of Supervised Activities and Avoiding Rough Terrains
During recovery, ensure that all activities are supervised to prevent excessive strain or accidental injuries. Avoid rough terrains, uneven surfaces, or activities that could impact the paws. Opt for controlled and gentle exercise routines as recommended by your veterinarian.
Managing Potential Challenges
Addressing Discomfort and Anxiety
Addressing any discomfort or anxiety your dog may experience during recovery is essential. Here are some ways to alleviate these issues:
1. Potential Sources of Discomfort and Alleviation Techniques
Identify potential sources of discomfort, such as pain or inflammation, and work closely with your veterinarian to manage them effectively. This may involve administering prescribed pain medication, gentle massage or physical therapy, or warm compresses to soothe the area.
2. Reducing Anxiety and Stress
Dogs may experience anxiety or stress during the recovery period. Create a calm and peaceful environment, maintain a consistent routine, and offer reassurance and positive reinforcement. Consider using calming aids such as pheromone diffusers or natural remedies after consulting your veterinarian.
Monitoring for Complications and Seeking Veterinary Assistance
Regular monitoring and prompt veterinary attention are crucial for detecting and addressing any complications that may arise.
1. Common Signs of Infection or Complications in Paw Wounds
Look for signs of infection, such as excessive redness, swelling, discharge, or foul odor around the surgical site. Additionally, watch for changes in your dog's behavior, such as increased pain, limping, or reluctance to bear weight on the affected paw.
2. Regular Examination of Paws and Surgical Sites
Take the time to inspect your dog's paws and surgical sites regularly. Carefully observe the incision area for any changes or abnormalities, and note any concerns or deviations from the expected healing process.
3. Immediate Veterinary Attention for Concerns
Do not hesitate to contact your veterinarian immediately if you notice any signs of infection, worsening pain, or other problematic symptoms. Early intervention is vital in preventing complications and ensuring a successful recovery.
Following these key strategies and actively protecting your dog's paws can contribute to a smoother recovery process and promote their overall well-being.
Promoting a Successful Recovery
1. Importance of Post-Surgery Rehabilitation and Physiotherapy
Paw protection, post-surgery rehabilitation, and physiotherapy are crucial in helping your dog recover fully. These therapies aim to restore strength, flexibility, and mobility, ensuring a successful recovery and minimizing the risk of future complications. Consult with your veterinarian or a professional rehabilitation therapist to develop a tailored program for your dog.
2. Suitable Exercises and Activities for Recovery
Depending on the type of surgery and your dog's specific needs, various exercises, and activities can aid in their recovery process. Controlled leash walks, gentle range of motion exercises, and low-impact activities such as swimming or hydrotherapy can promote healing without putting excessive strain on the paws. Always follow your veterinarian's guidance and adjust the intensity or duration of exercises as necessary.
3. Need for Patience, Consistency, and Positive Reinforcement
Supporting your dog's recovery requires patience, consistency, and positive reinforcement. Understand that the recovery process may take time, and progress may be gradual. Follow the recommended care instructions, including paw protection measures, wound care, and exercise routines. Celebrate even small milestones, and provide positive reinforcement and rewards to encourage your dog's cooperation and progress.
In conclusion, dog paw protection after surgery is paramount for promoting a smooth and successful recovery. By understanding the vulnerabilities of post-surgery paws and implementing key strategies, such as proper wound care, utilizing protective paw coverings, and implementing preventive measures, we can help prevent infections, injuries, and complications.
Additionally, addressing potential challenges such as discomfort and anxiety through appropriate measures and regularly monitoring for complications are vital aspects of post-surgery care. Remember to seek veterinary assistance promptly if any concerns arise.
Promoting a successful recovery also involves post-surgery rehabilitation, physiotherapy, and suitable exercises and activities tailored to your dog's needs. Patience, consistency, and positive reinforcement are essential throughout the recovery journey.
Recapping the main points discussed in this blog post, we have explored the significance of paw protection, the types of surgeries that require it, and the vulnerabilities of post-surgery paws. We have also delved into critical strategies such as wound care, protective paw coverings, preventive measures, and managing potential challenges.
Dog paw protection after surgery is crucial for facilitating faster healing, minimizing discomfort, and ensuring a successful recovery. By following the strategies and recommendations in this article, you can significantly contribute to your dog's well-being and help them regain mobility and quality of life.
Remember, each dog's recovery journey is unique, so consult your veterinarian for personalized guidance. I wish you and your furry friend a smooth and successful recovery!
Please fill out the form below for questions about dog paw care after surgery. We will reply to your query immediately and provide further help and guidance.