Well, if you are keeping a dog or more than one. You got to know whether you do the house training with your dog or just want to get away to make his or her bathroom breaks easier, I bet a piece of artificial grass dog pee pad could be a very great option. Those artificial grass dog pee pads only have better looking than some traditional dog pee pads, but also can save you lots of hassles which may need you to take your dog to go outside at some inconvenient times. At the same time, those artificial grass puppy pads but not only can be used for puppies but could also save you a of lot cost due to the washable and reusable features you know?
And if you can spend less time walking your dog out, you may get more time for the better brain games for your dog if you like. And all these, could be earned by a piece of dog potty grass pee pad.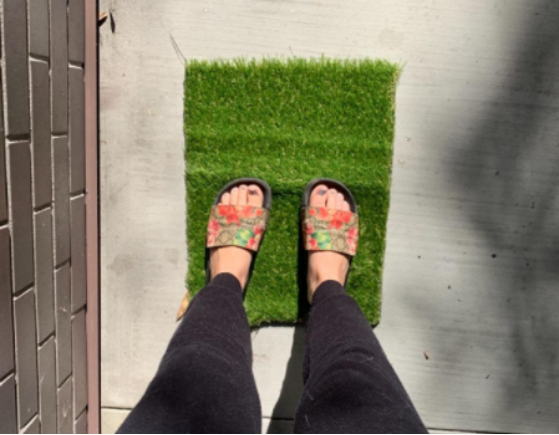 What is the artificial grass dog toilet for a dog?
A piece of the artificial grass dog toilet normally is rectangular-shaped or square patches, which are made of some synthetic materials. The grass potty pad allows your dog to do his or her bathroom breaks on a very soft surface where the urine waste could drain through very quickly, which you can place inside a tray, then could make the collection below. In this case, you can prevent your floors or any surfaces from being damaged. Can you imagine that?
Why a piece of dog grass pad could be that helpful?
Nowadays, you can see that more and more dog owners are getting the fake grass pee pad for dogs like the LOOBANI pet potty training grass their dogs for doing the bathroom breaks easier if they do not have enough time to walk the dogs out. Have you wonder if the dog bathroom grass pad for your dog got these specific advantages like the following:
Eco-friendly materials.The dog synthetic grass pee pads you choose should make of eco-friendly materials, thus they could be composted easily and will not put any strain that we do not want on the surrounding environments right?
Odor-free features.If you have ever pay attention to that, the real grass usually combats some smelly urine odors that we can not stand. And one of the best things you use artificial grass like pee pads for dogs should be you do not need to worry about the stinks too much due to the washable and easy to dry out features. Like the LOOBANI green grass dog pee pad, you can check up on amazon and its website.
Suitable for any breed of dogs.Sometimes a dog can be very particular about the spots where they relieve themselves, if the dogs do not want to go for that indoor dog grass pee pad, maybe you can try different brands of grass pad for dogs to pee. Sometimes, you can consider one with a potty tray. Give a couple of times shot and I am sure you can find the best solution for it.
Easy to maintain sanitarily.You know the best fake grass pee pad for dogs like the LOOBANIartificial grass dog pee pad should be a great option for many owners since that can be rinsed after use simply. So you need to pay attention to the materials before you make your decision on buying the dog synthetic grass pee pads. You could check the details on those product pages or just consult their customer services directly.
With multiple using ranges for any other pets.The dogs' grass pee pad should not only be used with dogs but also can be used with cats and even rabbits up to some points you know? As we know that, there are lots of pets that need to do their bathroom breaks on the green grasses, which were very natural. So, that could be great to have super real grass pee pads for dogs, cats, and rabbits, if you keeping such more pets around you, right? 
Which dog grass pee pad could be the best for your furry friend? 
As we all know, the best dog grass pee pads for your dog usually depend on your situation out there, for example, maybe the best price dog grass pee pad could be your choice if you are a pet owner who was cares about the price…Moreover, different people have different personal preferences and tastes, and you are the one who knows your pets the most, right?
When it comes to doing the purchasing with the artificial dog grass pad for your lovely dog or even more pets, you may want to focus on your pets' size largely. Just double-check the sizes of your pets according to the recommended charts. If your pets need a larger area sniffing around, as what they would do outside as usual. So many artificial grass pee pads could be placed side by side so that you can make a larger pad if you want somehow. Besides, you need to check if it suits the potty tray you already got or not so that you can save lots of effort with dealing with the hassle like returning or changing kinds of stuff after your purchasing, right?
And you need to take a look at your situation. You can go with the lighter and portable pieces if you need to take your furry friend out with the grass pee pads very often, like a two-day trip every weekend, etc…You can also go with the heavier pieces because normally the better quality comes with the heavier weight sometimes. And you would better get check the reviews up there before you do the purchasing. 
Apart from that, you may want to double-check the materials on that artificial grass dog pee pad your eyes are on because you do not want anything bad to happen to your beloved dog after using the artificial grass dog pee pad. So the environment friendly, safe and non-toxic should be very necessary. How do you think?
Last but not least, the qualified artificial grass dog pee pads should allow being used both indoors and outdoors. Such as the bedrooms, living rooms, balconies, and pet carriage, etc… Also, let you place at any places outdoors which you can imagine about. Like the LOOBANI artificial grass dog pee pad, you can use when comes in handy easily. At the same time, the waterproof feature could play a very important part when comes to the artificial grass dog pee pad, which means you can save more time to do anything else you want to perform but do not have enough time before. Right?
Normally the artificial dog grass pads are not only practical but also hygienic for dogs to use daily. And it can be a very useful feature in the household if it could be fitted appropriately. If you were in some situations like those but not so far ago, and the grass pad must be a lifesaver for you then. Moreover, if you are keeping a dog who does not want to do his or her business on some newspapers or anywhere else but the green grasses. As if there is a time when your dog would not go out for a walk, then I think you may want to figure out something to secure your beloved dog a safe and comfortable place where he or she may finish the bathroom breaks. 
So why don't you pick up something which may provide that service right in the comfort of your own comfortable house? And you really should try the LOOBANI artificial grass dog pee pad if you are interested in what we are talking about in this article you know?