LOOBANI Expandable Pet Carrier Airline Approved
Airline & TSA Approved Pet Carrier

Support small cats and dogs up to 14 LBS

Removable Rolling Wheels for Easy Storage

360 Degree Flexible and Smooth Wheels 

4 Side Breathable Mesh Screen

2 Side Expandable Mesh for More Space

Used for airline, travel, outdoor camping, etc.
Return Policy
Free Shipping
Warranty
Return Policy
We Strictly Follow Return & Exchange Policy, Guarantee Your Shopping Experience
Free Shipping
Warranty
Most Airlines And TSA Approved
Our wheeled pet carrier bag is compliant with all relevant airline standards, including Southwest Airlines, American Airlines, United Airlines, Alaska Airlines, and the TSA. The design of our dog carrier/cat carrier has passed all security inspections, and it can be placed under a seat without shaking during take-off or landing, meaning you can travel with your pet wherever you go.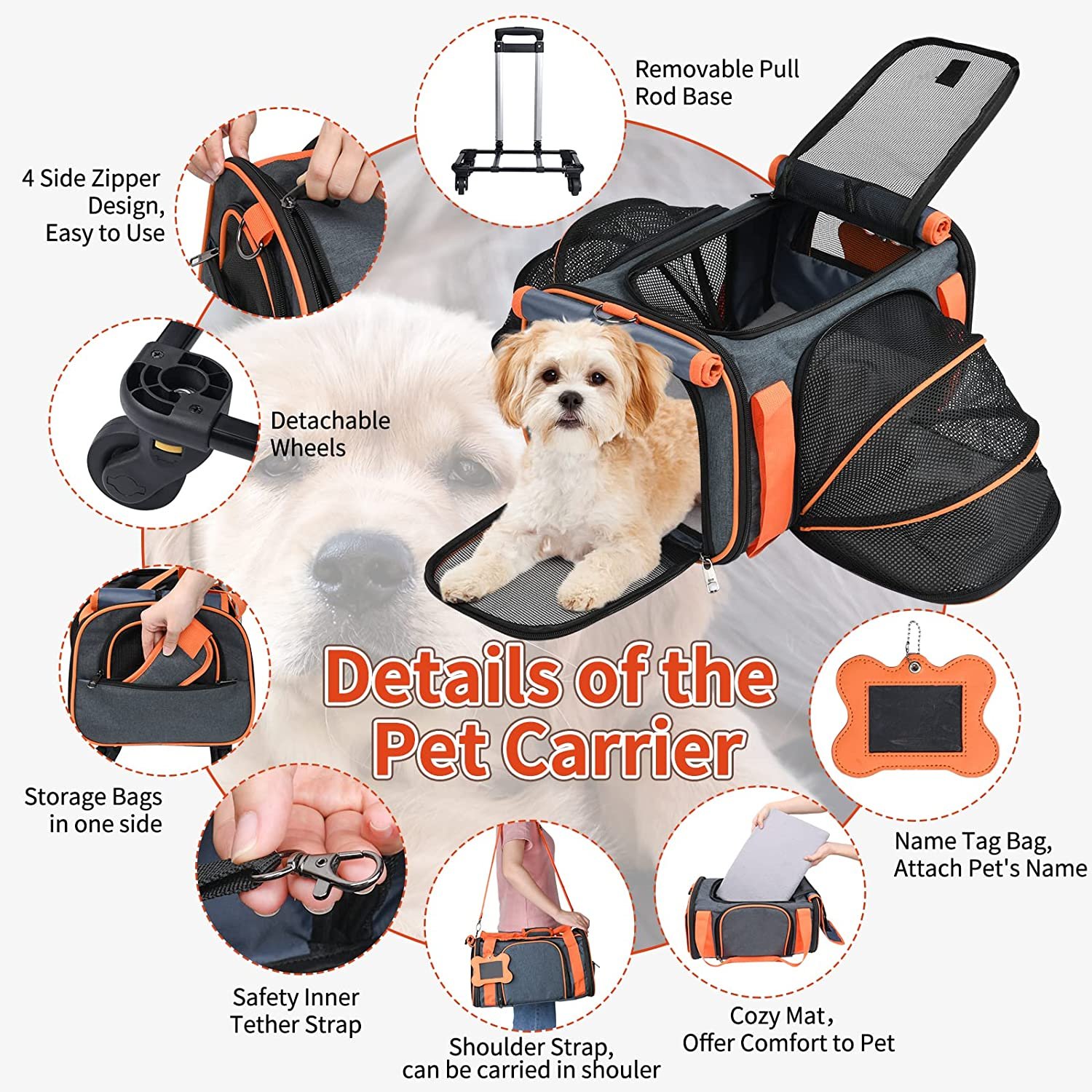 Detachable And Flexible Wheels
Our dog travel carrier features 4 detachable 360° flexible wheels and a multi-stage telescopic pull-handle trolley that can roll smoothly and freely in all directions. It's durable, easy to snap on or come off, and glides great across airport floors and other scenes.
LOOBANI Expandable Pet Carrier Benefits Pets With The Following Conditions:
2 Expandable Side
The expandable pet carrier has expandable mesh on both the front and back sides, providing more space for your pets to roam around comfortably. This gives them a chance to stand or lay down as they please, creating a more comfortable environment overall.
4 Breathable Mesh Screen
This pet carrier bag has 4 breathable mesh entrances and exits on the sides and above, providing the best airflow for your pets while also allowing you to interact with them while they're in the bag.
Removable and Washable Mat
The removable, machine-washable outer lining of the fluffy mat makes it easy to keep clean. You don't need to spend a lot of time washing the entire pet carrier bag anymore.
Buy It For Your Dog Today
Stable trolley handle placement, will buy when different colors are made.
I like that the handle is placed on the long side of the trolley rather than to the short side. This gives it more stability when rolling. And because it has spinner wheels, you can turn it to its narrow side to roll down the constricted aisle of the airplane. What I don't like about it is the color. Not thrilled about orange but that is just my personal preference. I hope this one will be made in the future with a color scheme that I like.
The old cat gave us a scare
The old cat is over 16 years old. He decided to give us a scare by not eating and falling. He hates to travel. I won't lie. We were frantic. We new that more stress would not be good for our aged little family member. We packed him in this carrier and took him to the vet. Did he like the carrier. No way. He hates everything. But we were able to comfortably transport him and he was comfortable. The medicine the vet game him made him drowsy so he slept all the way home in this. We left him and let him get himself out on his when he woke up. We felt it protected him from his brother (who likes the carrier like a cave or his new bed). The wheels actually make it easy to transport the animal. They are pretty quiet and turn easily on smooth floor. I do not fly so have no idea about using this on an airplane. Only in a car and going into the vet's office. For that it has been really nice for us and met our needs.
Used with a cat on delta
I got this because I needed something to transport a cat across country on delta airlines.
It was very easy to assemble and attach/detach from the base. This was a blessing to have traveling through three airports. It fit perfectly under the seat And when I didn't need it for my trip home, the carrier it's self , along with the wheels , fit very well in my suitcase, while I was able to fold up the base/handle and carry it on the flight with me.
The sides open to provide a bit more space for your pet. And the top opens to allow easy loading.
I can't find anything I don't like about this carrier!
Very highly recommend!