Why do you need a piece of dog grass pee pad?
Do you have a dog that lives with you? And do you live in a condo, an apartment, or some places else which not that easy to take your dog for a daily walk, letting your dog do his or her bathroom break?
Or just in case you need to work for long hours then you may not able to get home in time to walk your dog out sometime or even more often. If that happened, I bet you may need a grass potty pad for your dog. The artificial grass dog pee pad is not only very helpful for training your dog to pee in the grass but also a magic tool to let you realize the dream of" walking your dog without going outside", especially when you may not able to let your dog go outside regularly. 
Do you know the differences between a real grass pee pad and an artificial one?
When we talk about artificial grass pee pads, the first that came to your mind maybe they are usually made of some unnatural materials. For instance, plastic is one of the most typical materials we can think about. And if you do not keep an eye on your dog constantly while your dog is using the artificial grass dog pee pad, then he or she may eat through that plastic. That could be a piece of bad news because plastic could be harmful to ingest you know?
Otherwise, if you are doing the purchasing with the best dog pee grass pad, it is quite necessary to check out the reviews on those products up to some points.
On the other hand, the real grass pads are made of natural grasses normally. Which type of grasses were used on the natural grass pads for dogs was up to the manufacturers. But the good news is that regardless of which kinds of real grass pads you get, you could bet that it features the real grasses at all.
Well, that should be the most obvious difference between the artificial grass pee pads and those real grass pee pads. However, not all artificial grass pee mats are indeed bad for our dogs, likewise not all real grass pee pads are perfect as we wish. Then I guess that is the reason why you should take your time to get through the reviews on the products before purchasing any indoor grass pee pad for dogs. Do you agree?

Have you ever consider some reasons like the following?
I think there are a few reasons that you may need a dog grass pad for your beloved dog, then the first reason that came into my mind is your dog may need a indoor bathroom to pee on. At the same time, a dog bathroom grass pad for your dog to pee on which also means your dog would no longer wee all over the floors at your house. Such as the furniture or any other surfaces we do not want a dog to do the bathroom break in general. What I want is your dog would be more willing to pee on those artificial grass pee pads for dogs than on any other surfaces around, to keep the surfaces in your place as clean and with no odor as possible.
Next, other than dog diapers, the indoor dog grass pads could be one of the most practical items to train a dog to behave his or her bathroom breaks properly. By using those fake grass pee pads for dogs, I am pretty sure that your lovely dog could be potty trained in a very short term. Apart from that, A piece of dog potty grass for a dog is quite convenient and easy to use due to its lightweight, portable, and could be placed almost any place you can reach you know?
The reason number three that you may need a piece of dog grass pee pad is you can use that pet potty grass inside your house without worries. If you want to take care of your belongings while you were out and leave your beloved dog at home alone, the pet potty grass can give you a hand with providing a nature scene for your dog to spend time with you know? What's more, I think you may not willing to leave your beloved furry friend in a cage when you are not at home, and not willing him or her to do the business everywhere… Then a piece of dog pee patch is exactly what I would strongly recommend you to have, which you can also place inside the cage for your beloved dog to use anytime you know?
In the end, I would like to suggest you get a piece of dog potty grass pee pad if you are suffering some issues like odor control. Because we all know that the pee smells of a dog could be very bad somehow, also can be very difficult to get rid of up to a point. Do you know that a piece of good quality indoor pet turf should allow absorbing odor, with no foul smell lingering at the same time you know?

What should you consider when you looking for a piece of dog grass pee pad?
Honestly, there are several things that you need to think about when you are having a decision about which piece of green grass dog pee pad you should choose for your beloved dog. The first thing you may want to think about is the materials that were used to create that grass pad for dogs to pee on. It is quite important to choose one which was made of non-toxic materials. And if a product does not mention if it is non-toxic materials or not specifically, then I suggest you think twice about you perform the purchasing.
The second thing you need to consider should be durability. The synthetic grass which was built to last, because surely you do not want that artificial grass dog toilet you brought end up with holes real soon or just become worn out in a very short term if your dog just uses it for several times, right? That could be better for you if the dog synthetic grass pee pads are as durable as they could be. Because that also means you do not have to replace them constantly or even need to worry about if they may leak through to damage your places. Right?
But thirdly, the price is important as well, but for most of us, that would not be the most important part to think about somehow. Normally you could see the dog pee mat grass that was priced accordingly to its value. For instance, if you found out a piece of amazing dog pee mat grass that has rave reviews, then it is probably worth that price they were asking for.
At the same time, different pads may have different sorts of odor control sometimes. The best dog pee grass pad usually can do a very good job at absorbing odor if you very care about the odor absorbing. I bet the last thing you are looking for is not to make your home smelling like dog pee so that is important that if the dog grass pee pad you choose can do a good job at absorbing the uncomfortable smelling or not. How do you think?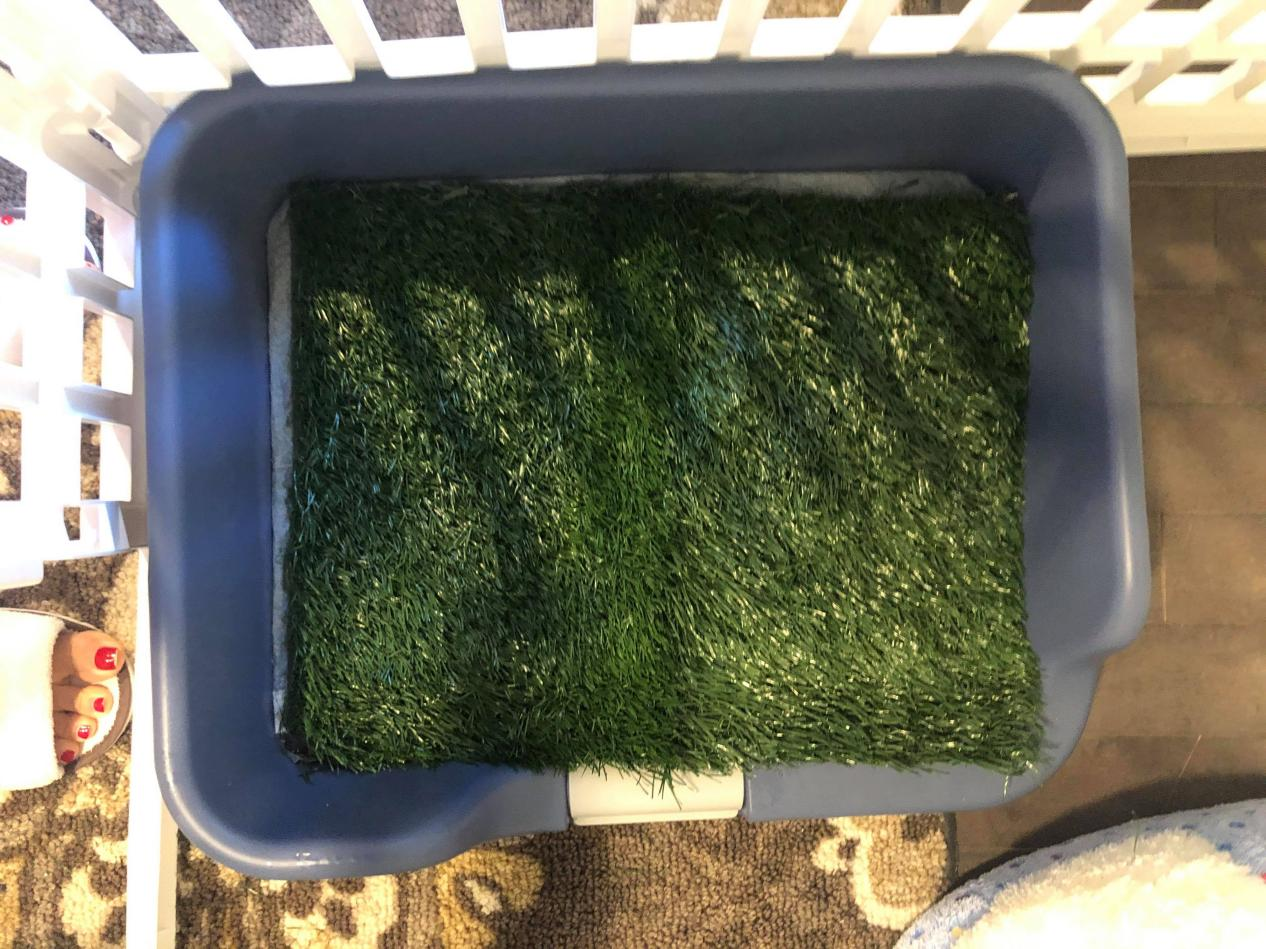 Generally speaking, it would be fine for a dog to pee on the artificial grass dog pee pad mostly as long as you choose a quality one.
Because there are so many low-quality products which use those grasses made of some harmful materials, then you may need to steer clear of those all the time. You can take a look at the LOOBANI artificial grass mats, then maybe you will have no problems in finding the best artificial grass pee pads for your beloved dog to do his or her bathroom breaks.