We know that a fake dog grass patch usually is an indoor dog grass pee pad used for potty training with dogs, which comes with great drainage and some other good places we may looking for. But we are also very clear that there are so many different types of fake grass pee pads on the market nowadays, so that could be a little bit harsh to select the best fake grass pee pads for your dog.
Why do you need the best grass pee pad for your dog?
Observing your dog with some healthy changes in his or her senility should be quite natural, and you may know that your dog is not any exception. In case you are keeping an older dog or your dog is getting old, then you may have noticed about your dog does not have that kind of endurance when your dog was a little younger to exercise or to walk for a long time… Some dogs may even not find toys, games, or even food that could be much interesting in senior ages you know? Well, if you are familiar with the situations above, I guess you may need to get the  best dog pee pad grass for your beloved dog as soon as possible.
How to get the best dog grass pee pads for your dog?
The grass potty pad for dogs is alike to some highly absorbent diapers as we awarded. Normally the indoor dog grass pee pad would not leak due to the special designs like waterproof bottom if your dog does the business above. The artificial grass dog pee pad normally comes with a few layers available in diverse sizes. Down are a few things that may come in handy while you selecting the best dog pee turf for your lovely dog, particularly an older dog.
A few things to consider before purchasing the indoor dog grass pads for your dog
1.Good leaking functions. The bottom of the indoor dog grass pads should go with good leaking so that you can wash it very easily and use the brand new dog potty grass pee pad after it let dry. Or you can select one with the potty tray in case the urine may get through on the floors or carpets in your hose. It is quite essential of having a easy to clean&no odor green grass dog pee pad. Like the LOOBANI dog potty trainer grass pee pad, should be a good selection for you to consider about.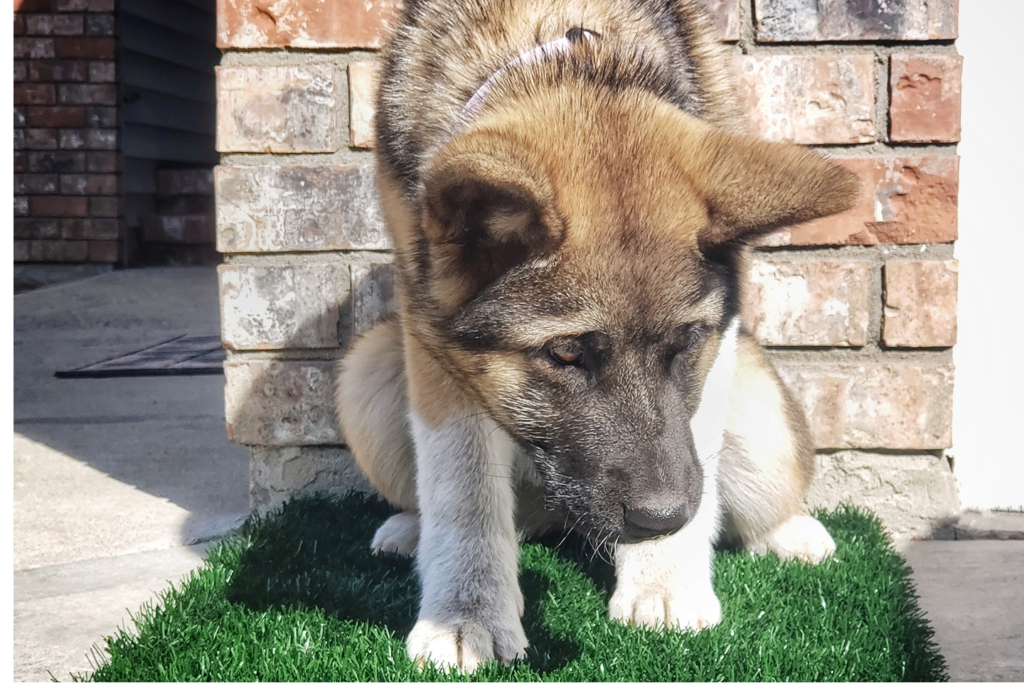 2.Easy & quick-drying materials. That is a vital requirement of the best fake grass pee pad for dogs, which must dry out instantly after totally wash. If you are a pet owner who does not have enough time to do the cleaning job very often, then you can try with the dog pee pads fake grass with potty tray, which can hold the waste from your dog until you get to clean it. Like the LOOBANI extra-large grass porch potty tray, could be helpful for you. At the same time, I think you should know that the best fake grass pee pad should have the minimum time of getting dry completely. That is also a way to measure the quality of indoor grass pee pads for dogs, which is the person testing you can do it easily.
3.Realistic appearance
If your dog does not use the artificial grass turf pee pads for dogs you chose at the very first time, maybe just because what you got was not the best grass pad for dogs to pee. So you may realize what should the best for a dog to pee on regardless of inside or outside is what looks and feels exactly super alike to the real grass in our real life. Which may be greatly helpful if you are getting plans to transition your dog's potty training to those real grass outdoors you know? With this feature, I would highly recommend you all the LOOBANI large grass pee pad for dogs.
4.Strong absorption: The best price dog grass pee pad for dogs maybe would be the best one for your dog, which should be okay with or with no potty tray while using depends on personal situations normally. This means making the high-quality materials, should come with some features like, absorbent bottoms that catch and also holds liquid waste at the same time. Or if you have a larger dog, then two or more units should allow you to connect to create a bigger area for you. Besides, if you are seeking the artificial dog grass pee pad that comes with the odor eliminator, then you ought to go with natural deodorizers to make sure your dog's safe.
5.Potty training: This is crucial for you during the process you are choosing the best fake grass pee pads if you are a dog owner who is living in a condo or an apartment, can not take dog artificial grass pad is perfect for some senior or injured dogs since they may not ability walk too far when need to go or to climb too high under some situations. In my opinion, the best fake grass pee pad for your dog ought to be very durable, with a high quality of absorbent and perfect for potty training both indoors and outdoors as you wish.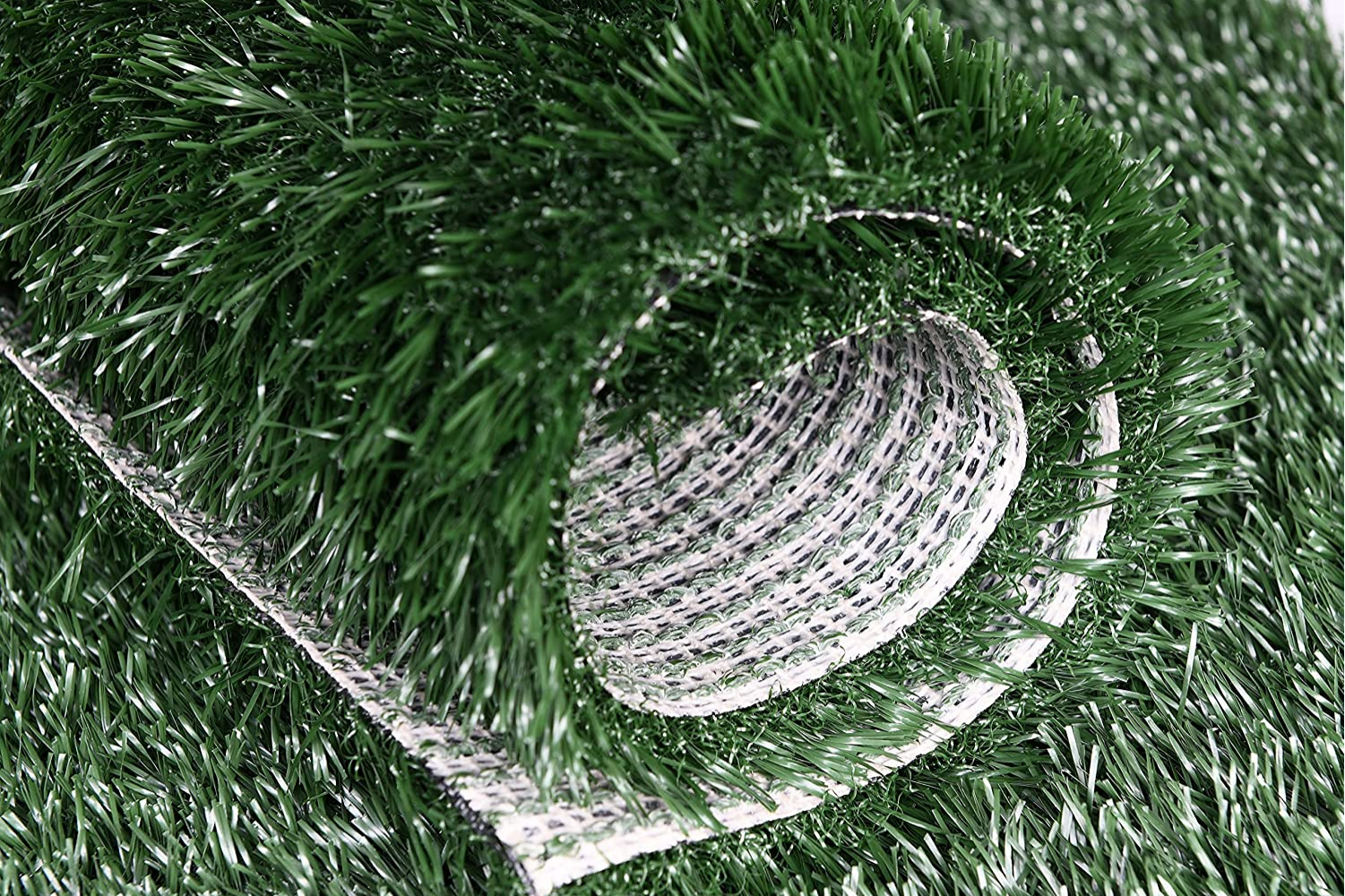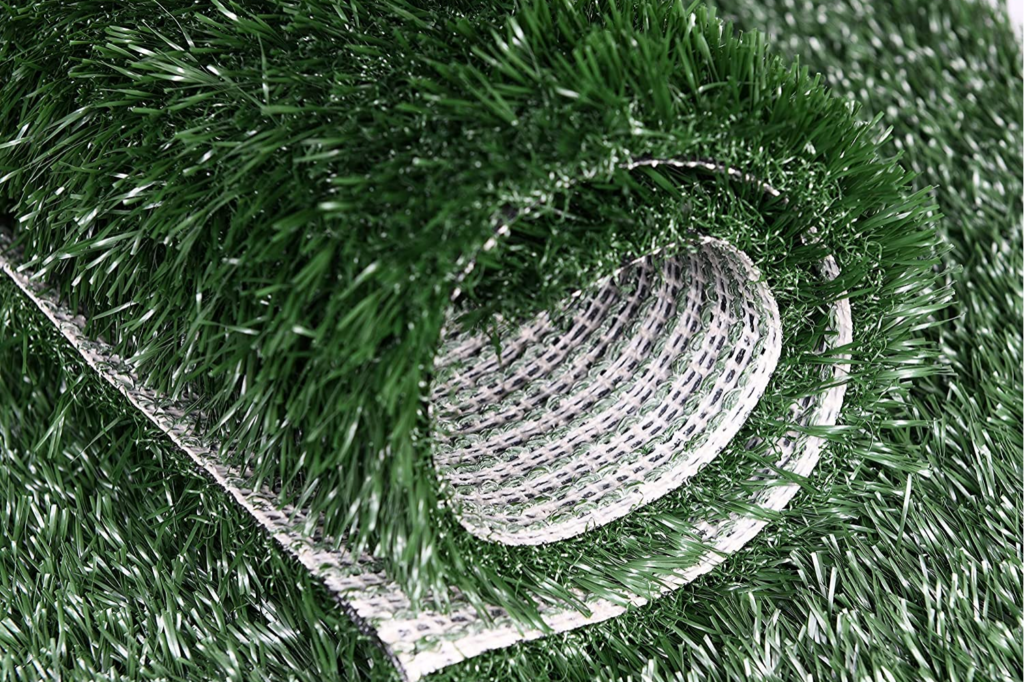 How long should the best fake grass pee pad be used?
The best fake grass pee pad for dogs ought to be used for no more than 4 to 6 months because that should be the sum of time needed to do the potty train on a puppy or a dog properly. But it depends on the personal situations, like different dogs, different dog owners may have different requirements right?
Apart from that, if using the best fake grass dog pee pad you chose for your dog, for less than 4 months or more than 6 months may cause ineffective potty training in result, which means that your beloved dog may not learn to relieve himself or herself only within the designated areas.
Therefore, that ought to be the best for using the fake grass dog pee pad for the 4 to 6 months if you do the potty training period on your dog, which for no longer or shorter in that duration should be great. How do you think? 
Will your dog pee on the fake grass pee pad you chose for him or her? 
That is a good question if you ever want to ask. And the answer is yes, regardless the pet you are keeping is a puppy or a dog, he or she should willing to pee on the beat fake grass pee pad you chose, as long as you follow the leads to guide him or her to it. Sometimes, your dog may be a little bit shy about it initially as the unclear materials might confuse him or her, but your dog would come to figure out the purpose of that fake grass pee pad and use it for the intended purposes over time you know?
This process may take you a bit of time with understanding what your dog needs to pee on the artificial grass pee pads, but it can be done provided that you teach your dog properly to associate the best fake grass pee pad with the daily bathroom activities. Thus, you need to be patient and pay more effort on the whole process, which including leading your dog to use the grass pee pads, helping your dog to get used to doing the bathroom breaks indoors if needed, and also picking up the best fake grass pee pad for your dog at the very first beginning. One more time, the LOOBANI artificial grass pee pad for potty training is a good choice for you to consider if you are looking for the best artificial grass pee pad for your lovely furry family member right this moment. 
All in all, I hope all these make sense and may inspire you up to some points. Good luck to you all.