LOOBANI Indoor Dog Potty Systems
● Portable and lightweight, easy to clean with hose wash
● Come with 2 grass pads for use in turns
● Ideal for homes and high-rise apartments that have no yard.
● 3-layer design with a grass mat, water isolation mat, and collection tray
● Water isolation mat keeps your pet's paws dry from her urine
● Leakproof base tray, collect urine without the mess
Return Policy
Free Shipping
Warranty
Return Policy
We Strictly Follow Return & Exchange Policy, Guarantee Your Shopping Experience
Free Shipping
Warranty
RETURN POLICY
We Strictly Follow Return & Exchange Policy, Guarantee Your Shopping Experience
FREE SHIPPING
We Currently Only Ship To Locations Within The United States and It Is Free Shipping (Except Hawaii, Alaska, Guam, and Puerto Rico). We Ship FedEx or UPS
WARRANTY
All Our Products Are Covered Under Warranty Service
The grass pee pad is easy to clean. Spray it off with a hose, wash it with warm soapy water, and you're good to go! Or, if you want to clean the whole thing – that's easy, too – bring it to your bathroom or backyard, and use a hose to wash it.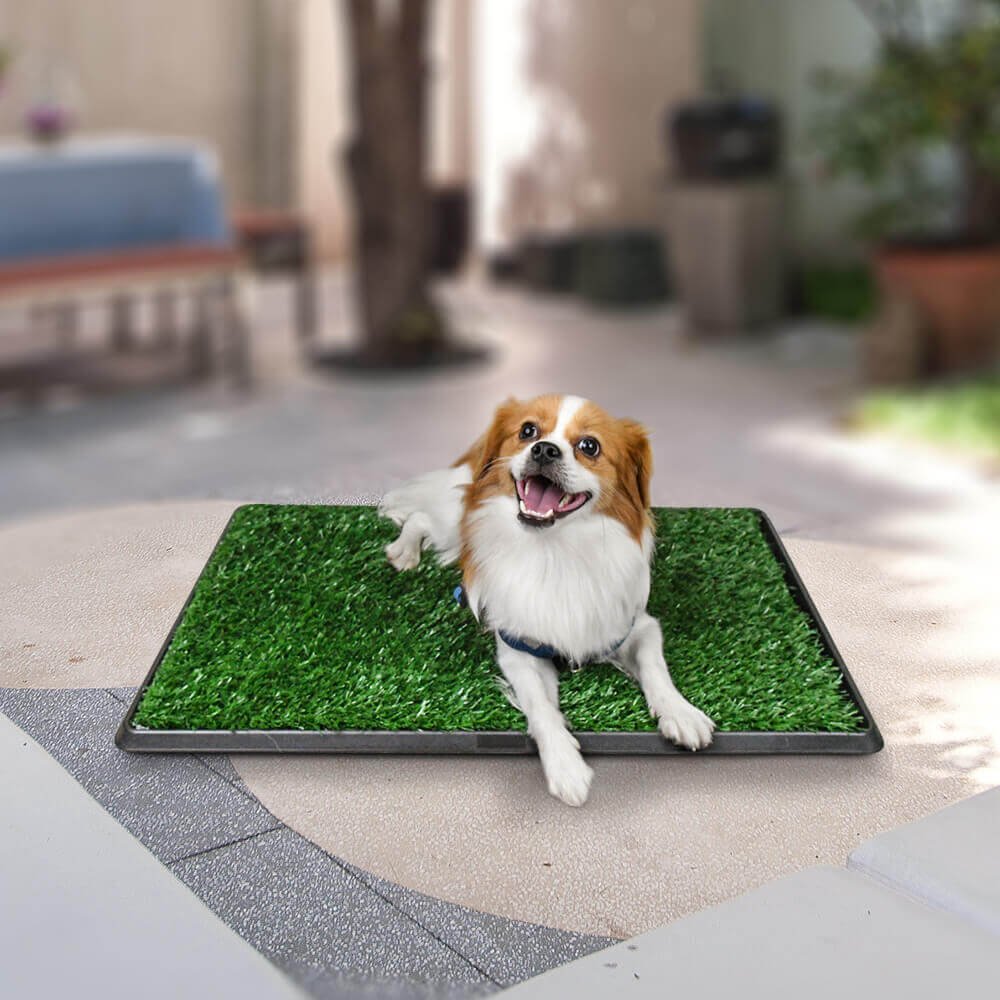 The Loobani Dog Turf Potty is perfect for an apartment or outdoor use. If you have to work extra long hours, an indoor dog potty could be your best solution. The portable design sets it up for indoor and outdoor usage, so even if you are on the road with your dog, this Loobani Dog Potty would be very handy.
What The Condition Of This Product
Come with 2 grass mats.
Loobani dog indoor potty comes with two artificial grass mats. This way, you can easily replace the mat you are washing and have a dry one ready to go.
4 Size Available
Our potty training trays fit any size dog, from minor to extra large. And our grass mats are available in four sizes to perfectly match the trays. So if your old mat starts to wear out, you can easily replace it with a new one.
Buy It For Your Dog Today
Easy to clean absorbency so so
I was surprised how easy it was to clean and it also came with an extra pad which was helpful. My puppy likes and uses it has helped on those cold nights and training.
Grass sheds and frays
I like this product overall. My puppy took to it right away. It holds a lot of urine. I'd say it's easy to clean *except* the grass sheds and the edges fray and long strings come off of it. Every time I rinse it, there's pieces of plastic grass everywhere. Couldn't love the rest of the system more, but I'll probably look for higher quality replacement grass soon.
Easy to use & clean
Easy to use & clean. I use it indoor on rainy days! Works great!
A lifesaver for condos or apartments!
I live in a condo and recently acquired a mini schnauzer puppy. Having no yard space with the exception of a patio this system has been a lifesafer! My little pup took up potty training easily with this system - grass like astro turf with a catch tray that is easy to clean. Two pieces of turf are provided so when one gets washed there is another to replace it while drying. Perfect set up for dogs in training and for those rainy days when its impossible to walk them. Can be used indoor or outdoor.
My dog has yet to use it for its intended purpose
My dog has yet to use it for its intended purpose but finally did scratch on it this morning and I've got it outside not inside. I had to give a neutral rating of the three because number one I haven't had tried to clean it the rain did it yesterday if she's used it she did scratch on it so hopefully when I throw her out when it's 20° she'll get the hint so we don't have to both go out and freeze