● More Secure – Full-cover dog car barrier
● Prevent dogs from entering the front seat
● Easy to install without any tool
● 410D anti-scratch durable oxford cloth
● 2 Sizes available for both cars and trucks
● 4 Storage bag to keep things organized
Return Policy
Free Shipping
Warranty
Return Policy
We Strictly Follow Return & Exchange Policy, Guarantee Your Shopping Experience
Free Shipping
Warranty
RETURN POLICY
We Strictly Follow Return & Exchange Policy, Guarantee Your Shopping Experience
FREE SHIPPING
We Currently Only Ship To Locations Within The United States and It Is Free Shipping (Except Hawaii, Alaska, Guam, and Puerto Rico). We Ship FedEx or UPS
WARRANTY
All Our Products Are Covered Under Warranty Service
Easy Installation Without Any Tool
Our car barriers are easy to install and remove and can be done without needing any tools – perfect for when you're on the go! Just put the mesh head cover over the car headrest, adjust the tightness of the strap below to your preference, and then fix the rope at the bottom onto the seat, and you're all set! You won't need any screws or a hammer.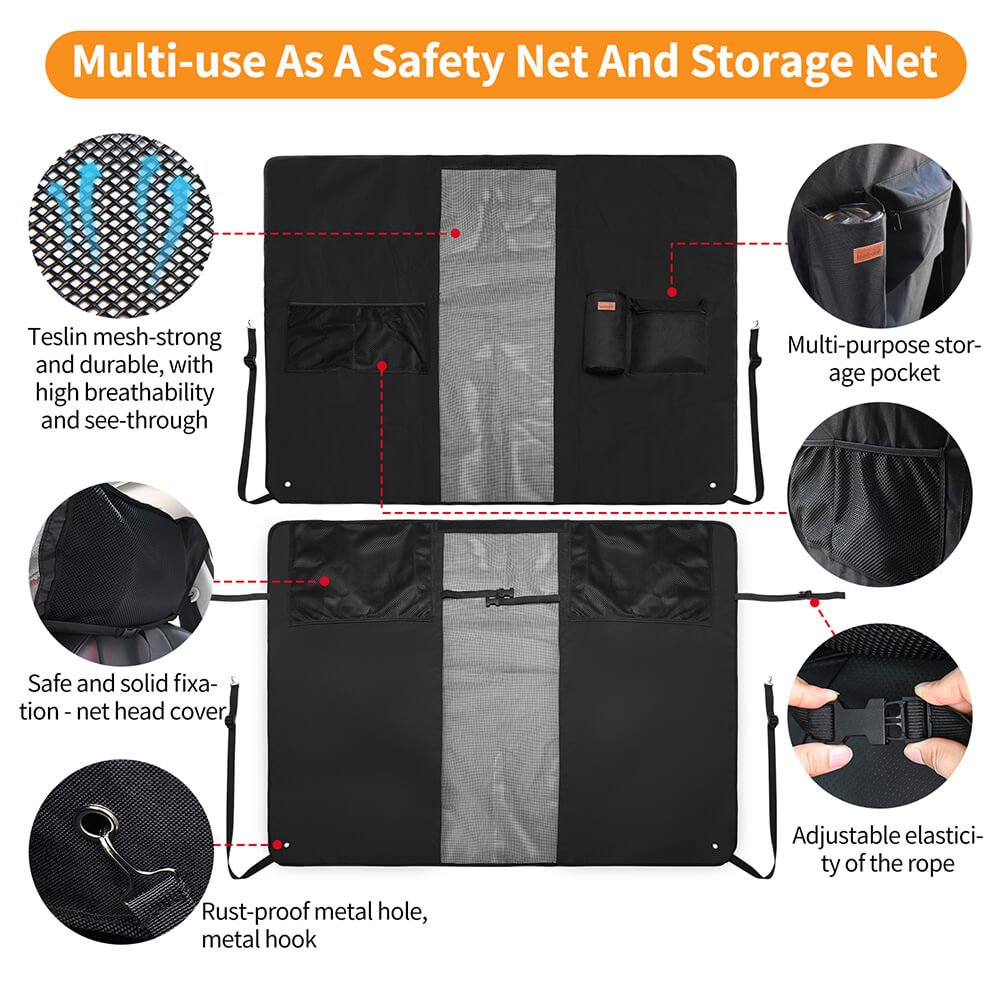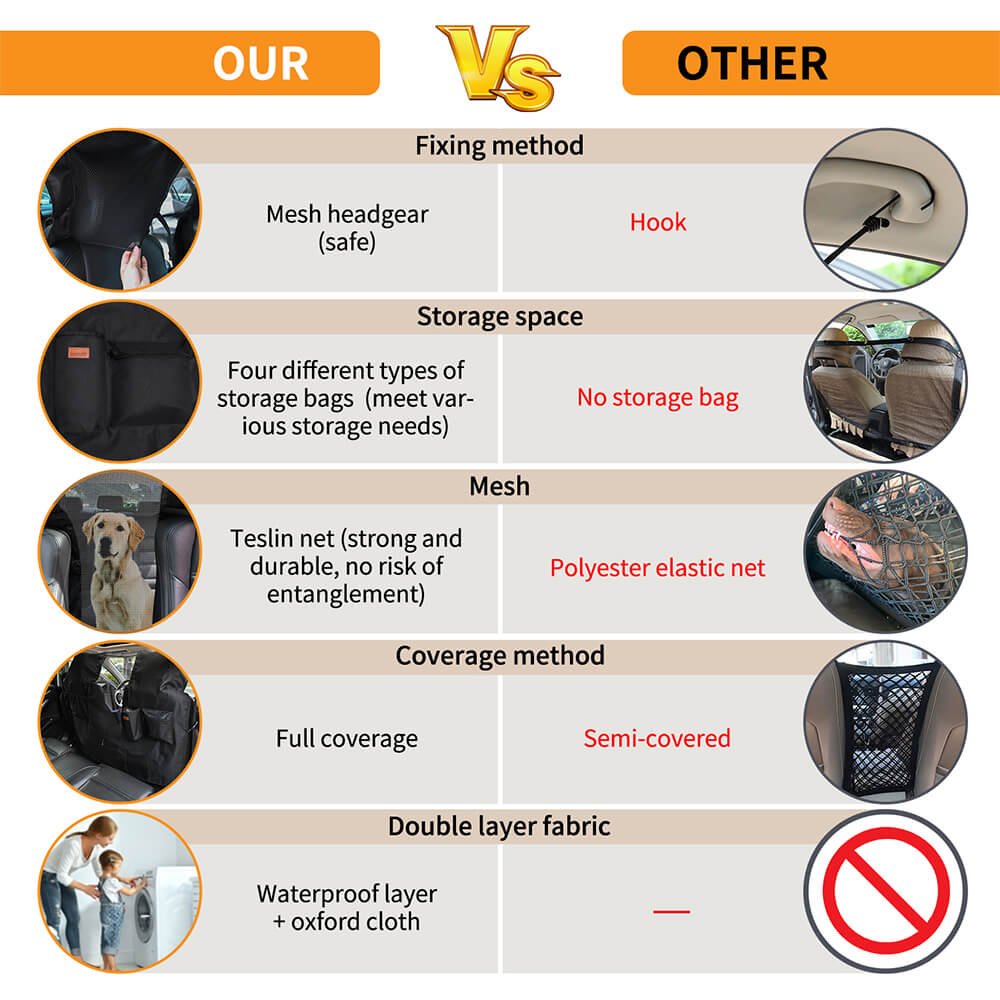 Breakable And Durable Material
Anti-Scratch Oxford Cloth
Our car dog barrier is made of durable Oxford cloth that is scratch and tear-resistant. Unlike other soft mesh car barriers that tear easily, our dog car barrier is tough to scratch or break and keeps your dog safely behind your front seat. Plus, it will keep the back of your front car seat away from scratches.
Air Breathable Mesh
The top and middle of the pet barrier fence for SUVs are made of a durable, breathable Textilene mesh that will allow rear AC/heater vents to flow through, so your dog can enjoy fresh and cool air in the backseat. The mesh buckles are reinforced to avoid tangling around your pet.
Dog Barrier Compatible With
RAV4/Camry/Tacoma
Grand Cherokee
Outback/Forester
Edge/Escape
Terrain
There are two sizes options for our dog car barrier. The small one is suitable for most vehicles, small to medium SUVs. The large one is specially designed for Large SUVs and Trucks. So no matter what size your car is, you can also find a suitable size.
➢ Before purchasing, please measure the space between the back of the headrests of the front seats of your car
➢ Please measure the height and width of the front seats.
Buy It For Your Dog Today
Does the job!
It was quick to install, and did what it was supposed to do. I like being able to see them through the mesh and my daughter has really enjoyed all the pockets. My smallest dog did manage to get under the net to climb into the front seat, but she only did it once so I'm still happy!
It's well made and strong feeling
It feels strong and fit was good but my 30 pound border collie just jumps on top of it and over she goes. There's no way to make it higher in the middle.
Loose fitting in Subaru Impreza and determined dog is not stopped by this.
Good product. I like the pockets but it's not working as well as I'd hopped. If the seats were a few inches farther apart I think the cover would fit snug and then my dog couldn't use the slack to jump over still. Better than before and safer but not perfect for me.
Just what we needed!
This car net barrier with pockets is very handy. It fits our 2022 Nissan Pathfinder perfectly. It is made well and nicer than we had expected. We needed something easy to take in and out. This barrier is very easy to install, only takes seconds to put in and take out. Thank you for this product!
Useful
We purchased this net barrier to help keep our two dogs comfortably in the backseat while on a cross country road trip. The wiley dog could still jump through the space between the roof and the top of the net. It should be very useful for most dogs though. We appreciated the built in pockets for easy access to dog items (bags, brushes, etc…)