Has your older dog barrier lost its strength? Is it flimsy, and your cunning canine can easily squeeze through it? It's the right time to get a better dog barrier.
Every year, thousands of road accidents happen because of the distraction caused by dogs sitting in the front. For a safe journey, you must restrict your four-pawed furry companion to the back of the car. For that, you need a dog barrier. It's a prerequisite for a safe trip. Installing it in your car prevents the pet from jumping on the front seat, putting many lives in danger.
But how can you get one? Well! You don't have to do much. Just read the article and find the proper pet barrier for your car.
Why Do You Need a Dog Barrier?
When someone suggests you get a dog barrier, what's your first thought? Do you start thinking, why? If you haven't had a pet but are considering having one soon, you must read this!
Here's why you must have a  safety net.
1.
An Amazing Tool to Avoid Distractions During Drives
Driving with total concentration is impossible when your dog is beside you. After all, how can the pet bear not get your attention?
You'll notice the puppy licking your face, sitting in your lap, and wanting you to play with him. All this is not possible while driving a car. And when you order the pet to behave, it can offend him.
All these distractions put you, your pet, and others' lives at risk. That's why making your pet sit in the front is never a good idea. But the good news is that a car pet barrier safety net suits you.
Limit it to a specific space when you are on a long drive with the pet. The cargo area is the best chilling area for the pet during the drive. Make it comfortable for the canine by placing a dog mat, food, pet car window net, and pet cargo nets for cars.
2.
Less Chaos In the Car
When your furry companion is in the front, and you meet an unexpected incident, it triggers the pet. No matter how disciplined or trained the furry is, it can create chaos.
You prevent chaos by restricting the pet to the cargo section or back seat. At least you won't have to calm the pet upon minor incidents.
3.
You Don't Have to Clean the Entire Area
When your dog can move in the entire car or the house, it will shed fur everywhere. But by restricting the dog to a specific area using a barrier, you can avoid the mess. Hence, it saves you time and energy for other chores.
4.
Restricts the Dog from Attacking the Guests
Not everyone coming to your home feels comfortable around a giant dog. And when your dog starts jumping or barking after seeing the guests, it can scare the bejeezus out of them. Restricting the furry with a barrier keeps them calm and prevents the pet from causing them any harm too.
5.
Blocks Access to Undesirable Places
In your home, you have to protect many places from pets, for instance, the expensive furniture of your guest house, the carpeted floor, and the shelf where you place chemical cleaners. You can't leave the pet alone to ruin the furniture, carpets, or other expensive pieces. Neither do you want him to drink the cleaners and put himself in trouble? Of course, no one is free 24/7 to keep an eye on the furries. A barrier helps you to block access to these places. Hence, save your property and pets too.
What Are the Different Types of Car Dog Barriers?
If you have a dog, a dog safety barrier is necessary then. If you love staying home, you can block the pet's access to certain areas. But if you are a travel enthusiast and want to take the canine, you need a dog barrier for your car. Before getting one, here's a brief overview of the types.
1.
Car's Front Seat Barriers
The front seat barriers contain fury to the backseat. They come as a grid-like metallic cage and mesh car netting barrier for pets. 
2.
Hammock Dog Barriers
The hammock barriers are appreciable options to limit dogs to one row of seats only. They cover the back area of the front seats and the front of the back sides. They are made of water-resistant material.
3.
Car Cargo Barriers for Dogs
Cargo barriers are the best option to give your pet enough space to chill. They come as a mesh and metal cage too.
4.
Car Cargo Liners for Dogs
Like the hammock barriers, cargo liners are also large and cover the back of the front seats. They are water-resistant and provide ample space for your pup.
Do you still need clarification about what dog barrier to getting for your canine companion? No problem, guys! Keep reading to learn about some impressive dog barriers.
9 Amazing Dog Barriers for Your Pet Passenger
If you are a dog owner, a dog barrier is a must to have tool. It makes your life a lot easier. Here are nine substantial dog barriers that you won't regret buying.
1.Dog Car Net Barrier by Loobani 
When you're about to buy a net barrier, what's the most important thing you'll look for? The durability of the net. Right?
The Loobani car net for pets is made of Oxford cloth. It's highly durable, anti-scratch, and tear-resistant. It prevents your furry companion from coming over the front seat and saves the back of the seat from scratches. The pet car net barrier also has four storage pockets/ bags. Organize all your pets' stuff in them and enjoy the drive.
The best thing about the barrier is that it's easy to install. You have to fit the mesh head cover over the seat headrest. Tighten it with the elastic strap. At the bottom is an anti-rust metallic hoop and hole. You can fix the pet net car barrier on the seat by quickly putting the hook in the hole. You see, no tools are needed!
The net protection windows of pet car barriers are made of textilene mesh and are see-through. It's breathable and allows the air to pass through. Hence, your pet enjoys fresh air and views without any disruption.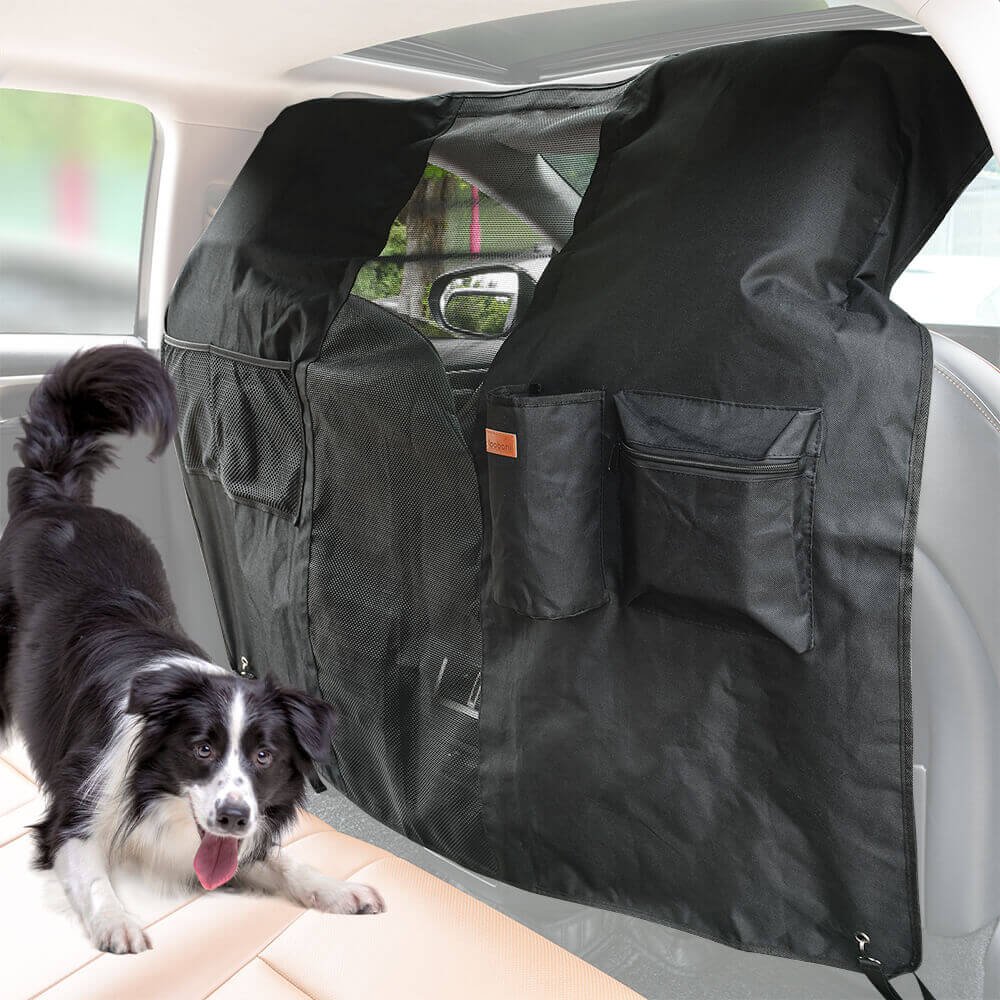 Size: Available for vehicles of all sizes
Price: $ 28.99 – $ 32.99
| | |
| --- | --- |
| Pros | Cons |
| The car pet net barrier doesn't block air. | The Loobani's car barrier safety pet net barrier is a perfect option for small and medium dogs, not for giants. |
| It has four storage bags to keep your car seat clean. | Too much head force by bigger dogs can rip it off. |
| It's easy to install hence lift your cars net pet care games. |   |
2.DYKESON Dog Car Pet Barrier Net
Does your canine companion disturb you while driving from the gap between the front seats? It can put you in serious trouble. But don't worry, guys! DYKESON dog car net barrier is the right thing for you.
The car pet safety net has a four-sided elastic dual mesh that fits perfectly in every car. It's highly stretchable, reliable, and durable. Besides, it has four hooks. The upper two hooks help you clip the mesh to the headrest rods facing each other. You can fix the lower ones with the seat rails or the bottom grooves. With the DYKESON car barrier, say no to screw, hammer, or tape. Its hooks are enough to make the installation easy.
Inside the dual mesh, you can store everything from your purse, grocery list, and tissue box to your kid's feeder and toys. You can also put your dog's food, toys, or other traveling essentials in the mesh.
Though the DYKESON mesh has many plus points, do you know its outstanding feature? It's not just a perfect fit for a dog. Yes! It works best for your kid as well. And if you don't have a naughty kid or any pet, you can use the mesh as a front seat back pocket. A multi-purpose product!
Size: 11.7 inches X 11.7 inches
Price: $ 15.8
| | |
| --- | --- |
| Pros | Cons |
| DYKESON pet net for cars is easy to install. | The mesh doesn't cover the front seat back, so it can't prevent scratches. |
| The mesh stitching is sturdy. | The pet safe car net barrier is not suitable for oversized vehicles. |
| It's space-saving as you can put small items in the mesh. | It's not suitable for giant dogs. |
Are you looking for a barrier to restrict your dog's entry into certain areas of your house? Malydyox Dog Mesh/ dog gate is the right choice for you.
The mesh is polyethylene fabric that can endure your pet's claws. It's durable and see-through. Besides, installing it is also super easy. You must stretch the rods to the entire length and insert them into the mesh tunnel.  
Next, put four hooks in the four corners of the mesh. Fit it at the entrance of your kitchen, bedroom, doorways, stair, or anywhere you don't want the canine to go. Now you can enjoy safe cooking in the kitchen or keep your bedroom mess-free. Malydyox Dog Mesh is best for indoor use. Besides, you can also use it for kids. Aren't net pet car barriers must to have parenting aid?
Size: 43 inches X 29 inches
Price: $11.99-19.99
| | |
| --- | --- |
| Pros | Cons |
| The hooks make it easy to fix on walls. | Energetic dogs can pull it off. |
| It's durable. | Small dogs can sneak from the open areas. |
| It's best for indoor use. |   |
4.Pawple SUV Dog Barrier – Universal Fit
Are you looking for the best car pet net barrier for honda civic 2013? Why don't you try Pawple SUV dog barrier? It's a universal fit. You don't need to worry about its size. From your honda civic to truck hatchbacks, it's the right product. The barrier is of solid steel wires. It comes with three panels. The central panel is 35.5 inches long and 16.5 inches high. The adjustable side panels are 12 inches long and 10.5 inches tall. Depending on your car, you can easily adjust them using bolts. It's a perfect tool to restrict your energetic canines to the cargo area.
Upon hearing about steel wires, you worry about your car's interior. Right? Worry no more! Because you don't need tools, tape, or glue to fix it. With the durable strap and buckle, setting the barrier to the headrest is easy.
The best part about it is that it comes with a lifetime warranty. Then, what are you waiting for? Get it now and make the drive safe for yourself, the passengers, and your naughty pet.
Size:  Main panel (35.5 inches X 16.5 inches), side panels (12 inches X 10.5 inches)
Price: $ 47.99
| | |
| --- | --- |
| Pros | Cons |
| Setting it up is relatively easy. | You've to zip-tie the barrier, so the bolt does slide out of the nuts. |
| It's sturdy. | It's not suitable for jeeps. |
| The barrier is bigger dogs too. |   |
5.K & H Pet Safety Net Car Barrier
How can you forget about the K & H safety barrier when buying a pet safety car barrier? K & H has outstanding pet nets that go between your car seats, preventing the pet from disturbing you while driving. It's not only for dogs but also an excellent barrier for your naughty kiddo.
The safety barrier has holes and elastic straps with hooks at the end. You must roll the upper straps around the headrest and put the clips in the metallic hole. The bottom straps help you fix the barrier to the bottom of the seat. And taa daa! You have done the installation without using any tool.
The upper section of the barrier has a big storage pocket. Place your canine's leash, treats, or other necessary things in it. The bottom has a mesh. It allows air conditioning to flow freely, keeping your pup cool. Besides, it comes in three colors, allowing you to choose a pet net mesh car barrier for dogsp that gives your car an excellent look.
Size: 23 inches X 24 inches
Price: $ 25.99
| | |
| --- | --- |
| Pros | Cons |
| You can use it for your kids too. | Excessive force can break the hooks. |
| Installation takes less time. | It's only suitable for some types of vehicles. |
| It makes your car look tidier by providing a storage pocket to keep your pet's necessities. |   |
6.PetSafe Happy Ride Metal Dog Barrier
With less distraction and more focus, you do yourself, the pet, and others on the road, a great favor. And Solvit pet car seat net barrier is an excellent aid in it. It keeps your furry companion at the backside of the car so that you can experience a safe and distraction-free ride.
The Solvit pet car cargo net barrier comes in an unassembled form, and you can easily set it without using any tool. The horizontal rods have a telescopic design for maximum coverage, and you can also slide them on the vertical rods by losing the side wing nut. Depending on your car, you can also adjust the length and width of the barrier from the supporting legs.
Both ends of the vertical bars have rubberized caps that keep the barrier in place. The metal is sturdy, and the fence doesn't block your vision when you want to see the back view. The best thing about the product is that it has a storage bag. Once used, disassemble it and store it in the bag. Hence, it's easy to handle too.
Size: 32 inches to 49 inches in length and 33 inches to 57 inches wide
Price: $ 64.95
| | |
| --- | --- |
| Pros | Cons |
| You can assemble it without using any tool. | The rubberized car leaves a mark on the top and floor of the vehicle. |
| The barrier doesn't rattle during the trips. | Assembling the product is time-consuming. |
| It's affordable. | The crossbars are insufficient to resist small dogs from coming to the front seat. |
Are you tired of searching for a pet car divider net for jeeps? Look no further because the Rabbitgoo dog car barrier is a universal fit. It fits most vehicles, including SUVs, vans, hatchbacks, and jeeps. The divider is of premium quality steel that is sturdy and rust-proof. It makes the tool serve you with the same capacity for a long time.
Installation of the dog car barrier is also pretty straightforward. The product comes with two nylon straps having a metal grip. You have to mount the divider with the headrest using the straps. Unlike other fences, it comes with two sets of nuts, screws, and fixed plates to adjust the side panels with the main panel. Its see-through design also eliminates blindfolds for the driver. Indeed, it's the best option for giant dogs.
Size: The central panel is 35.8 inches X 15.9 inches, and the side panels are 16.5 inches X 11.8 inches
Price: $44.98
| | |
| --- | --- |
| Pros | Cons |
| The sturdy pet car divider can withstand dog pulls. | It only works for some cars. |
| It's a universal fit. | Small dogs can easily squeeze through the gaps near the ceiling. |
| Assembling it is easy. | The straps can't hold the barrier firmly. |
8.Kurgo Backseat Dog Barrier For Cars and SUVs
The Kurgo pet net for cars blocks the gap between the driver and the passenger seat. In this way, it keeps your dog at the back so that you can experience a nice drive. The barrier has a low-profile design that doesn't obstruct the view of the pet.
The upper and lower end of the dog carrier has a sturdy mesh that allows the air to flow through it. Moreover, it has adjustable straps that make the installation easy. It also has a small storage pocket. And do you know that Kurgo's dog barrier is a universal fit?
Size: 3 inches X 22 inches X 27 inches
Price: $ 40.12
| | |
| --- | --- |
| Pros | Cons |
| The barrier is sturdy. | It only works for small vehicles. |
| It's easy to assemble. | Bigger dogs can jump over it. |
| It's an affordable product. | As it has a lot of straps, installing it can sometimes be tricky. |
9.MidWest Pet Barrier Wire Mesh Car Barrier
Do you want an adjustable wire mesh for your furry? Look no further when the MidWest pet barrier is here!
The pet net dog barrier for cars has rubber molding that protects the pet from injuries and your interior. It confines the pet to the cargo area.
Moreover, it's adjustable, and the versatile design helps you install it in minivans, SUVs, wagons, and crossover vehicles. The mesh is glazed with a black electro-coated epoxy finish that cuts glare and gives clear visibility.
Size: 31 inches – 50 inches high X 31 inches – 70 inches wide
Price: $ 87.97
| | |
| --- | --- |
| Pros | Cons |
| It's easy to assemble. | You need extra padding at the top to avoid damaging the car. |
| It doesn't rattle. | It has nothing to fasten it with the car. |
| The mesh is durable. |   |
Things to Consider Before Buying a Dog Barrier
Now that you have ample knowledge about dog barriers, you must know a few considerations to fetch pet care net worth your budget. Here are some for you to make the selection of the product easy.
1.
The Area of the Car You Want Your Dog to Stay In
The prime thing you must figure out before purchasing a dog barrier is where you want to confine the canine. If you wish to block its passenger or driver seat access, use a front seat barrier.
Opt for a hammock if the intent is to confine the canine to just a single row. Likewise, a cargo dog barrier is suitable for wagons or SUVs.
2.
What You Want from the Product
Some dog barriers block your dog from reaching the front seat, while others act as a seat cover. They protect the back side of the seat from scratches. If you already have anti-scratch covers over the seat, you don't need to pay extra for another cover. Just get a barrier to block the gap between the seats of the car. In short, choose a car dog divider that matches your needs.
3.
The Dog Barrier's Strength
Not all barriers suit your pup. The quality and longevity of the tools depend on their material. Your pet can especially tear some of the pet car net barriers apart. Apart from that, some grid-like steel dividers can't handle the force with which the pet pulls it. So strength matters a lot. Pick a barrier that can bear the pull of your dog without getting loose or tearing and will serve you longer.
4.
Size of Your Vehicle You Own
Buy a barrier according to the size of your car. Whether you require a barrier for the gap between the front seats, an SUV, or a hatchback, it's better to take measurements. It'll help you get the right product.
5.
Storage Pockets
A barrier with compartments or pockets to keep all your pet's accessories in is a plus. Organizing the accessories in the storage bags means you don't have to find them when required. You would know where to look for them precisely. Besides, it makes the area clean for the dog too.
6.
Ease of Assembling and Installing
The metallic barriers mostly come unassembled, and you must assemble them. Pick a dog barrier that's easy to make and doesn't require tools. Likewise, go for one that is easy to install and doesn't cause any damage to the car's interior.
Considering the points mentioned above is necessary to have a safe and distraction-free drive.
Do You Need a Dog Barrier in a Car?
The answer depends on whether you take your dog on drives or not. If you love traveling with your furry companion, you must have a solid protective barrier. It will prevent the dog from distracting you and make the drive safer. You don't need a dog barrier if you don't have a pet or avoid taking it out in the car. But we suggest you get one for emergency traveling.
How to Install a Net Pet Barrier for Cars?
The installation of pet netting for cars depends on the type of barrier you have. Some have hooks to fix them at the headrest and bottom of the front seat. Others have nylon straps or adjustable support legs with rubberized ends for a firm hold.
Do Pet Car Safety Net/ Barriers Work in All Cars?
The answer is it depends. Some barriers are adjustable, while others are not. If you've got the adjustable one, it works for most cars. You have to adjust it with screws and clamps. But it's better to take measurements of the car before buying the barriers.
Are Car Seat Pet Barriers Safe?
Pet barriers are safe if you use them properly and follow the manufacturer's instructions. As long as they are keeping your canine in the back seat, they are the best. But remember, you can't replace them with crash-tested crates and seat belts. They are safer than the barrier.  
The Bottom Line
Dog barriers or pet nets for cars restrict your naughty canine from jumping on the front seat and distracting you while driving. Having them is necessary to avoid road accidents. They are of different types and designs. Their construction material varies depending on the quality and durability. Finding suitable netting for car to keep pets back often takes a lot of work. But you can quickly get the best pet safety net for cars from Loobani at a reasonable price.