Dogs, like people, require mental and physical stimulation to remain healthy and content. Dogs' innate inclinations can be satisfied by interactive good toys for dogs, which also assist in keeping dogs from getting bored and exhibiting destructive behavior. 
For dogs alone at home, dog toys that move, encourage chewing, or make eating fun are ideal. Kids can engage in entertainingly training their dogs by using these toys. These dog squeaky toys can occupy your dog for hours; keep your dog busy with them, which will help tire out overly active pets. 
There is no one-size-fits-all best dog toy, just as there are different dog breeds that are best matched to various human personalities; it all depends on your dog and how much they enjoy chewing. 
If you have a lovely friend and are thinking of purchasing the best interactive toy for it, this guide is for you. You will get all the information to choose the best dog puzzle toys. Let's start with the basics!
So, keep reading to reach out for the best product.
What Are Interactive Dog Toys?
Interactive dog toys keep your pet fully stimulated. Dogs need a lot of interaction and playtime because they are gregarious and energetic. Your pet will typically receive enough social interaction and play in a home with other animals and many people to suit its demands.
Dogs may become bored and act destructively as a result. Dog toys with interactive features can prevent boredom. Some interactive toys engage your dog by offering a randomly generated play experience that keeps your dog guessing what will happen next. 
Other interactive toys include miniature plastic sliders, doors, or levers with compartments for hiding goodies or kibble. To get the food reward inside, your dog must figure out how to work the sliders or plastic covers. 
What Is Your Dog's Favorite Toy?
All of these toys would probably be picked by your dog, but you get to decide which the best is. Only you are aware of your dog's preferences and destructive tendencies.
You won't go wrong with any dog toy selection if you keep your dog's preferences in mind. For instance, a Loobani interactive dog toy won't do the trick if your dog enjoys playing with all kinds of toys. These toys are very attractive and enjoyable for all kind of dogs. However, if your dog enjoys plush toys but tends to overindulge, the ZippyPaws dog chew toys might be the best option for you.
Dogs need their toys; they are not a luxury. Dogs are highly spirited animals that enjoy playing as much as possible. To survive, dogs require exciting toys to play with, whether chew, cuddle, tug, or fetch.
But how can you tell which dog toy is best for your puppy? And do you even know how many distinct kinds there are? To help you start on the right paw, we put together this guide to the many types of dog toys.
Dog chew toys aren't just adorable and frequently squeaky—they also have a handy function! Dogs love to chew and will use any opportunity to do so.
Some of the most adaptable dog toys available are made of rope. Play fetch or play a game of tug-of-war. They can be utilized indoors or outside in a dog park or your backyard for play. You can't go wrong by giving your dog a high-quality rope toy.
A squeaky toy is a dog's favorite! Dog toys that squeak are enjoyable and stimulating. Your pet will sense the need for play with only one squeeze. Additionally, squeaking toys positively stimulate dogs' aural senses. What is superior to that?
Dogs frequently require cerebral stimulation and entertainment to keep them from getting into trouble. Interactive dog toys can help with that. Puzzles and strategy games teach dogs important traits like persistence, patience, and reasoning.
A ball is the most traditional dog toy of all! Simple, yet incredibly entertaining, are dog ball toys. Dog balls are available in a wide range of sizes and materials. They can be noisy, plush, robust, and long-lasting. Some float while others bounce! Some dog ball toys have compartments where you can store your pet's favorite treat! Ball dog toys are a great option, no matter what.
Best Interactive Dog Toys
With such a wide selection of the most fantastic puppy toys available, it might be challenging to know where to start. Don't worry; we completed the research for you and have selected our top recommendations for the finest interactive dog toys in 2022 that can quickly lift your dog's spirits. We chose 10 of our favorites after trying a lot of products.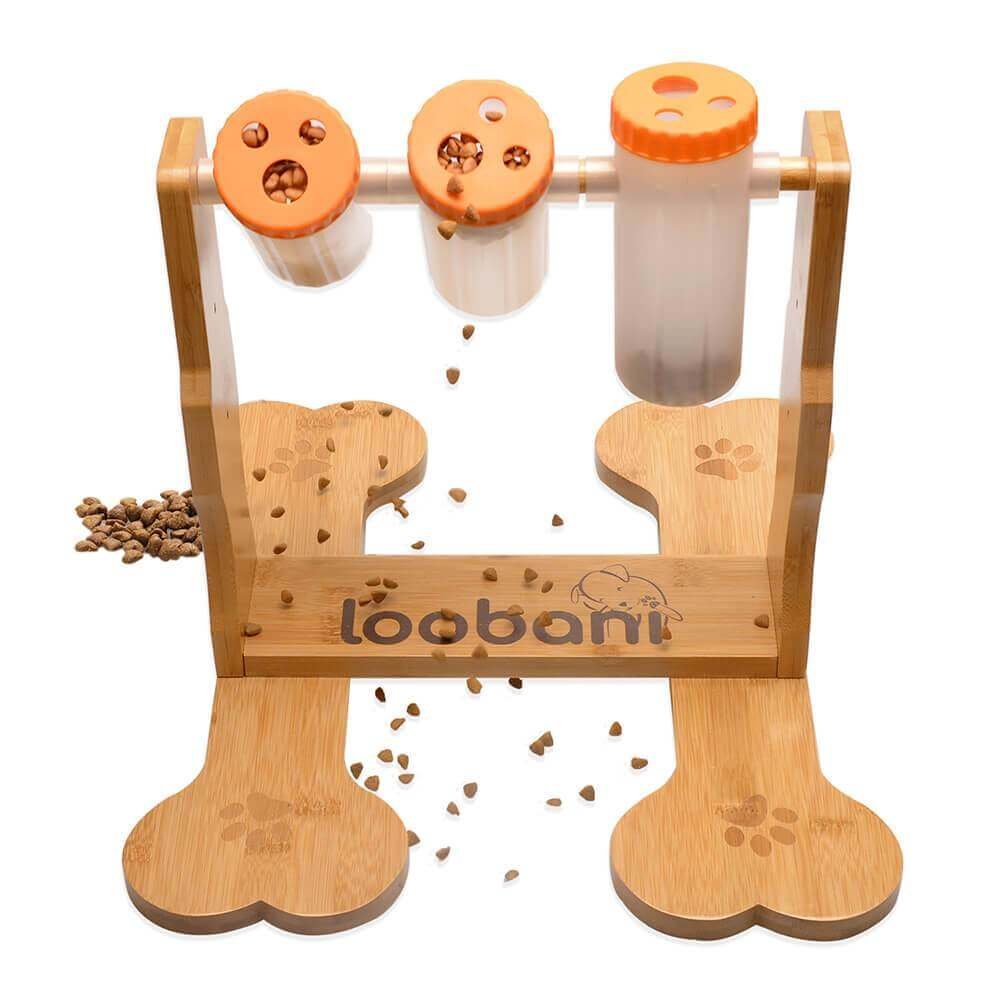 WHY DOG FOOD PUZZLE TOY – Dogs are designed to spend hours each day working for their food.

Anxiety Relief: Your Lab whimpers, paces, whines and then howls when you leave.

Slow Feeder: If your dog is bored all day, she may get so excited when dinnertime comes that she literally inhales and then throws up her dinner.

Stable Base & Adjustable Height: The heavy base of this intelligent toy is designed as H shape so this interactive feeder will not be knocked over.
The purpose of the food puzzle toy is to challenge your pet and keep them on their toes. The slot machine is an intelligent toy that is helpful for the intellectual development of puppies. The mental stimulation toys for senior stuffed dog, keep your dog alert over the years and lower the danger of cognitive decline.
You probably have a busy daily schedule and don't have the energy or time to play with your pets, but for most of them, this can lead to loneliness and boredom. While you are at work, your dog may keep busy with the tough toys. This food dispenser may provide hours of fun, exercise, and entertainment for both cats and dogs.
Although this puzzle feeder toy by LOOBANI is a bit more expensive than the others, its distinctive design makes it worthwhile to spend the extra money. It promotes early brain growth and mental stimulation to lower the chance of decline over time, making it an excellent choice for dogs of all ages, from puppies to elderly dogs.
Three tubes make up this toy, which is attached to a sturdy base so it won't topple over while your dog attempts to get the treats. For dogs who prefer to inhale their food rather than properly eat and chew it, best chew toys for dogs is an excellent option for daily feeding.
The bungee toy by Loobani encourages your dog to play by pulling, tugging and swinging. The elastic provides a slingshot effect, encouraging your dog to chase and play in the yard, making it an excellent best puppy toys for young puppies and large breeds who enjoy chewing.
Reasons to Buy
Variable height
Tough bungee cord
Simple to install
Reasons to Avoid
Less adaptable for large dogs

MENTALLY STIMULATE YOUR DOG: This food-dispensing dog toy keeps dogs mentally and physically active while they play. Available in two sizes – 3 inches for smaller dogs and 4 inches for larger dogs.

CUSTOMIZABLE IQ TREAT BALL: Your furry friend gets smarter as they play with this interactive dog toy dog ball, learning how to roll the ball to get dog treats to fall out. Adjust the desired difficulty level using the ball's adjustable interior disc.

EASY TO USE AND CLEAN: Our interactive treat dispensing dog toys conveniently uses your dog's favorite dry dog treats or kibble. It is made from hard plastic that disassembles for easy cleaning. Rinse in warm soapy water and dry after use.
This Pet Zone IQ Treat peppy pet ball might be better if you have a smaller dog. This food or treat-dispensing dog toy, which resembles a hamster workout ball in appearance, releases food or treats one piece at a time as your dog rolls and pushes it around.
The 3-inch size is ideal for tiny dogs, while toy breeds weighing less than 10 pounds are not advised. Although it doesn't roll as smoothly on hard surfaces as on carpets or rugs, it may keep active dogs entertained for hours.
You may use this demanding but entertaining toy to help your dog figure out how to acquire treats at varying levels of difficulty. To keep your dog entertained, interested, and stimulated, start with the more manageable groups and progress to the more challenging ones.
Your dog won't ever get bored, thanks to the varied stages! This toy can also slow mealtimes for dogs who tend to eat too quickly.
Reasons to Buy
Many levels of increased difficulty
Can make mealtimes more leisurely
Simple to clean
Reasons to Avoid
Requires more little snacks or pellets
Some found it difficult to disassemble and reassemble, while some had trouble understanding how to change levels.
Adjustable treat dispensing toy

Large chamber fits whole meals

Weighted bottom wobbles. New adjustment gate on the bottom accommodates a larger kibble size and is easier to adjust

The Package Width Of The Product Is 5.4 Inches
This interactive dog toy is essentially a sizable chamber that you can fill with treats; as your pet rolls it around and plays with it, the charms drop out of a hole on the bottom (kind of like a Weeble-Wobble for dogs).
The Starmark Bob-A-Lot Interactive Dog Toy product is best to keep your friend engaging with it due to its interesting puzzles.
Treat distribution is difficult, which keeps the dog's mind active rather than adding to its waistline. You may also use the Bob-A-Lot during feeding time if your dog scarfs down meals to slow him down and lower the possibility of bloat.
Although the apertures can be adjusted to alter the toy's complexity, they aren't very effective, and some dogs will quickly find out how to get all the rewards. Lazy dogs will give up easily.
Reasons to Buy
A soft material puppy teething toys is used, which is mild on teeth.
Maintains a cup of food
Able to hold bigger treats and kibble
Helpful for overweight dogs by decreasing food consumption
Reasons to Avoid
Instinctual Needs: The KONG Classic red rubber toy helps satisfy dogs' instinctual needs while providing mental stimulation. 

Fetch Toy: The KONG Classic's unpredictable bounce makes for exciting games of fetch and other interactive play with your pet. 

Great For Stuffing: The stuffable KONG Classic is even more enticing when treat filled with bits of kibble, peanut butter, KONG Easy Treat, Snacks or Ziggies.

Vet Recommended: Veterinarians and trainers worldwide recommend the KONG Classic as one of the best durable dog toys available
This one is known as the "Kong Classic" because you have probably seen it in every home that allows dogs. It's a large, dense rubber chunk in the shape of a cone that is quite difficult to demolish (but don't tell your dog; he'll see it as a challenge).
Although it doesn't have kong ball for dogs and whistles, the holes on either side give it its adaptability. It may be filled with kibble, the brand's unique treat sticks, or even peanut butter and frozen to give your dog a cool treat on a warm day.
They can also be thrown since the unpredictable bounce may entice certain dogs to run after them, but we don't think they have much use as fetch cute dog toys. In conclusion, realize that your dog will be fascinated for as long as there is food inside, but they will probably lose interest after that.
The dog toys for aggressive chewers are best for aggressive chewers and shredders will quickly destroy the popcorn balls, so you'll need to replace them or buy a new chew toy from time to time, which isn't very inexpensive.
Reasons to Buy
Super cute, best teething toys for puppies, best teething toys for puppies
A plus for puppies who are teething
Safe for dishwasher
Reasons to Avoid
Unpleasant chemical odour
Large dogs could struggle to fit their tongues inside the toy, which could prove very messy.
A challenge to clean
INTERMEDIATE LEVEL FUN: The Dog Hide N' Slide level 2 intermediate dog puzzle is a fun hide-and-seek challenge.

CHALLENGE YOUR DOG'S MIND: The Dog Hide N' Slide is an interactive treat puzzle game.

NON-REMOVABLE PARTS & DURABLE COMPOSITE WOOD DESIGN.

PLAY IT SAFE: No toy is indestructible. 
Like humans, many puppies appreciate an excellent brainteaser, and this puzzle toy will entertain your dog for hours on end. You may conceal treats inside the puzzle's tiny compartments; your dog can only get them by sliding the latches open. Even though it seems straightforward, dogs find it incredibly rewarding and challenging.
Furthermore, the toy is composed of a simple composite material to clean, so you won't have to worry about your dog becoming sick or smelling the lingering scent of weeks' worth of caked-on cookies.
Outward hound hide-and-seek puzzle dog toy asks your dog to press illuminated buttons to obtain rewards intended to keep his mind active while you're gone.
Overall, we think this is the best interactive dog toy on the market. It may keep Fido busy for a while when completely loaded because it has seven distinct treat chambers. There are few components to provide a potential choking hazard because they are all attached to the toy itself (assuming your dog doesn't rip it to pieces, of course).
The best dog toys of Outward Hounds are available on amazon. New games are frequently published to keep your dog challenged and minimize boredom, in this way Outward Hound dog puzzle toys are the best.
Reasons to Buy
Interesting dog puzzles
Varying degrees of difficulty between divisions
Capable of withstanding light chewing
Can contain kibble to be used for meals.
Reasons to Avoid
Difficult to set up for owners
Not saved for dish washing

DURABLE DOG CHEW TOYS FOR MODERATE CHEWERS: Keep your friendly Fido busy and entertained with this dog chew toy from West Paw that features hidden treats or kibble he must discover during play.

INTERACTIVE CHEW TOYS FOR DOGS: If you have dog or playful pup who loves to gnaw and chew at home, safeguard your furniture by giving him this brightly-colored dog or puppy chew toy that will occupy pets for hours.

STIMULATING DOG CHEW TOYS: Prolong play with this mentally stimulating dog chew toy that can be filled with kibble or treats.

EASY TO GRASP DOG CHEW TOY: The durable, treat-dispensing design of these dog chew toys poses a challenge to engage and intrigue your canine companion. Great for freezing chicken broth inside.
The dog instantly adopted the Westpaw Zogoflex Toppl treat dispenser puzzle toy as one of the favorite puppy chew toys among all toy puppies. He isn't particularly interested in the Westpac other products, such as bones that we also have. We began with simple snacks like carrots, dental chews, and 3 to 4-inch strips of homemade chicken jerky.
The toy was unharmed by these specific snacks, lasting 5 to 10 minutes. He disliked the carrot, and it got trapped in the dog treat puzzles. It is a relatively durable toy and, most importantly, safe for teeth. We appreciate that it can be placed in the dishwasher after a game of catch in the backyard.
This toy isn't necessarily intended to be used with food, in contrast to many other choices on this list. Instead, there are three soft, squeaky and plush dog toys in the form of popcorn that you can conceal in the included bucket so that your dog will have to get them to play with them.
While that's great for restricting your dog's food consumption, it makes the toy useless unless you rely on flimsy noisy balls. Aggressive chewers and shredders will quickly destroy the popcorn balls, so you'll need to replace them or buy a new toy from time to time, which isn't very inexpensive.
Reasons to Buy
A creative design that will increase brain activation
Soft for teeth
Extremely cute
Reasons to Avoid
Stuff accumulates everywhere.
Some dogs could be wary of sticking their noses in a popcorn bucket.
Costly considering what you receive
MENTALLY STIMULATE YOUR DOG: These dog food & dog treat dispensing dog toys keep dogs mentally and physically stimulated while they play.

CUSTOMIZABLE IQ TREAT BALL: Your furry pal gets smarter as they play with this interactive dog toy & dog puzzle dog ball.

EASY TO USE AND CLEAN DOG PUZZLE DOG TOYS: This interactive treat dispensing dog toys conveniently use your dog's favorite dry dog treats or kibble.

INTERACTIVE DOG TOYS FOR PROLONGED PLAY: This dog treat dispensing ball is designed to limit the number of treats your dog gets while encouraging more extended playtime with their new favorite dog puzzle toys.
This reward ball is created with an adjustable difficulty degree of dispensing treats, making food dispensing even more arduous. For the challenging level, your dogs must work harder if they want the pleasure to come out. You can choose to put treats or kibble inside. Playing with the ball while rolling it around can encourage your dog to live a healthy lifestyle. With the help of this toy, you can teach your dogs to feed themselves actively by having them play while they exercise. 
This ball is dishwasher-safe and straightforward to clean. The toy can be twisted to make cleaning each section simple. You can hand wash it or put each component in the dishwasher. It is constructed from sturdy materials that can resist rough play as our animal friends become overly thrilled and joyful. The treat ball is safe for them because it is non-toxic. Only tiny and medium-sized dogs should use this toy because larger ones could easily damage it.
Reasons to Buy
Well designated
More Enjoyable
long-lasting distraction for dogs
non-toxic substances
duration: 4 hours
Reasons to Avoid
Little bit noisy
Not for big chewers
Easily destroyable
Excellent for tough chewers.

Refillable with Premier Gnawhide or Cornstarch Rings.

Comes with 4 Free Gnawhide Rings.

Durable treat holding chew toy for dogs
Nylon knobs and rubber sprockets firmly grip Busy Buddy treat rings to keep dogs motivated to play longer
For dogs over 50 lbs. and over 6 months
An interactive dog toy that offers multi-sensory stimulation to keep your pet interested for longer is the Petsafe premier buddy jack pet toy. You may load this toy with your dog's kibble to provide a challenge for dogs who eat too rapidly.
Your dog will be mentally stimulated by the novel tug rope design while working and playing to eat it. This toy is made of tough, non-toxic materials and can withstand aggressive chewers. As your dog chews, the rough rope and rubber also helps to clean their teeth.
It is also simple to wash by hand. You may choose the ideal size for your dog by choosing one of the three sizes available for this jack pet toy. This classic toy for dogs keep your pet busy due to its interesting design and puzzle.
Its really excellent for those who have trouble in chewing. It is refillable with cornstarch rings. It has 4 Free Gnawhide Rings. The interesting and durable dog chew toys hold treats that keep your pup busy.
Rubber sprockets and nylon knobs provide a solid grip. Busy Buddy treat rings to encourage dogs to play for longer. If you are finding the most durable option for your puppy, Petsafe premier buddy jack pet toy is the best option for you. For dogs who weigh more than 50 pounds and are older than 6 months, this option is perfect. It helps turn potentially damaging chewing behavior into joyful fun.
Reasons to Buy
Safe for dishwasher
Promote dental health
Long lasting
Reasons to Avoid
Unpleasant chemical odor
A challenge to clean
Set includes a base with frame and 3 beakers and 2 sets of patterned lids

Step 1: place treats in beakers

Step 2: leave lids off until flipping and then balancing beakers is mastered

Step 3: place lids with patterned holes on beakers
Step 4: mix and match lids for an added challenge
Dental textures help reduce plaque and tartar buildup as puppies chew
This Mad Scientist Puzzle, a favourite of many dog parents, demands your dog to become an expert at flipping each beaker over and making sure they balance right to release the treats. You may alter the level of difficulty or switch up the lids for an additional challenge because it comes with two different types of lids.
You can promote healthy chewing behaviors with this puppy chew toys from Trixie dog activity toy. Dogs also need to expend mental energy. This activity flip board serves as an engaging puzzle toy for your pet. As your dog learns to unlock various compartments to acquire dog goodies that you can set in advance, it will use problem-solving skills.
The circular exercise board is kept from sliding around too much while your dog is playing, thanks to the non-slip rubber feet on the bottom. Additionally, this toy is dishwasher-safe for quick and straightforward cleanup.
Reasons to Buy
Great for mental stimulation 
Good for engagement of dog
Reasons to Avoid
Not suitable for extreme chewers
Difficult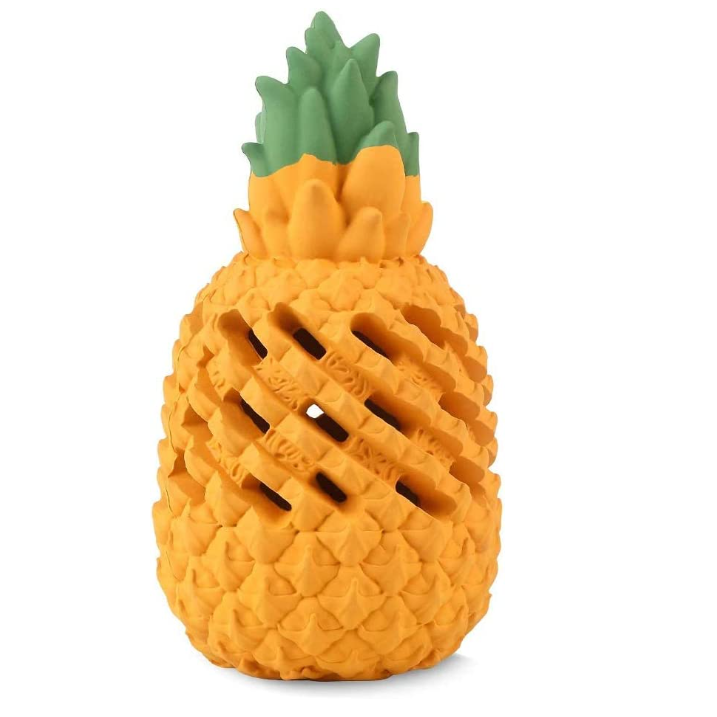 Instinctual Needs: This cool shaped pineapple dog chew toy helps satisfy dogs' instinctual needs and provides mental stimulation.

Safe to chew: Our dog chew toy is extra firm and durable would not be brittle into pieces or broke into halves when chewed on.

Improves Dental Hygiene: Help improve your dog's dental hygiene to keep them healthy and save money on your dog's dental bills.

Great For Stuffing: This chew toy is even more enticing when stuffed with kibble, peanut butter, Easy Treat, Snacks or Ziggies.
This entertaining and unique dog toys for kids is perfect for fusing playtime with snack time. To keep them interested, you can bury food in the toy's bottom or add more sweets, such as peanut butter. An excellent suggestion is to freeze the toy after filling it with peanut butter to extend its shelf life. Fortunately, cleaning the pet toys is simple, something you'll need to do frequently if you're stuffing it with treats. Additionally, it can be put in the dishwasher, saving you the trouble of reaching every crevice.
It will take a while for your puppy to finish all the treats within the toy, so it's suitable for those who tend to wolf down their dinner. You could also use this toy to train your puppy to eat more slowly.
When your puppy is playing with toys toys, it's important to watch them closely at first, but once you know how destructive they are, you can leave it with them if you need to leave your puppy alone for a short time. The distraction of trying to get the treats out can help to ease problems with separation anxiety. The toy should last a long time because it is sturdy rubber. It is intended to be especially firm.
Reasons to Buy
It can be used to feed treats
Durable material
Guarantee
Reasons to Avoid
Very destructive dogs may quickly destroy

Things to Look in the Best Interactive Dog Toys
Not all interactive dog toys are created such that your pet may play with them safely unattended. When selecting toys, be cautious and consider your dog's individual tendencies.
Despite some claims to the contrary, your dog may be the one dog with 'gator jaws who destroy the toy. Never leave your dog unattended with a new toy until it is safe.
Longevity and resistance to chewing (unless edible)
Pet-safe materials, such as plastics devoid of phthalates, vinyl, latex, or BPA are the best materials. Materials You should value the materials to guarantee your dog's safety. Think about using BPA-free plastic, non-toxic components, and anything your dog could ingest without ragged corners.
Although you can consider many more variables, the preceding list should help. Don't lose hope if your pet has specific needs; some interactive toys feature blinking lights for dogs who cannot hear or emit sounds to aid blind canines in finding them.
It would help if you cleaned interactive toys after a few weeks because many are used with meals. If not, the food inside can spoil and make your dog sick, as well as you if you unintentionally catch a scent.
Your dog should find an interactive dog toy challenging, but, as with durability, you don't want to overdo it. Your dog will most likely quit on a toy if it is too challenging. You want to strike a balance between being straightforward and difficult.
However, remember that your dog is intelligent and will ultimately figure it out.
If your dog is a destructive chewer, consider your dog's habits and behavior while choosing a toy. If you purchase a dog toy without considering how much your dog can chew, you can anticipate that the item won't last as long.
When looking for outdoor small dog toys, durability is an important feature to consider because these toys will be used in various conditions. Remember that a waterproof coating and double stitching can significantly improve the durability of your outdoor dog toy.
Your dog's enjoyment of the new toy will depend on its size because you want them to be able to pick it up, toss it around, and move it around without difficulty. To ensure a comfortable fit, compare the various sizes offered to your dog's requirements.
Interactive dog toys not only address behavioral problems like boredom, anxiety, sadness, and separation anxiety but also prevent your furry buddy from destroying household goods. They may even aid in reducing excessive chewing and barking.
Spruce Pets conducts in-depth market research and puts the top goods to the test on our animals to uncover the best chew toys for puppies on the market. Due to its plush nature and endless hours of hide-and-seek entertainment, the Loobani dog puzzle feeder is the most acceptable interactive dog toy overall.