Where will you make it pee when it rains outside, and you don't want your doggy to pee? Or are you tired of the random dog accidents and daily cleanup? The solution is " dog  pads for pee and potty."
As you know, potty training is an essential part of pet grooming. Any negligence in this crucial process can cause many accidents, and most of the time, you'll be busy cleaning the excreta up. With the ease of potty training, many pads are available. But how would you know which is the best among so many products? Okay! Don't stress your mind so much. In this article, we've got you covered. So keep reading!
Is it the first time you've heard the word puppy pad or do you know what it is? Let's see what they are.
Puppy pads are also known as dog pee pads, potty pads, or puppy training pads. They are absorbent sheets or mats for your pet to excrete on. Several pet shops are selling a variety of pads ranging from cotton pee pads to real or artificial grass pee pads for dogs. You can also get dog pee pads, reusable and disposable ones, from online and offline stores. Undoubtedly, puppy pads are a must to have if you are a pet lover.
How'll you know about the best puppy pee pads? Of course, by testing different pads. But wait! Why waste so much money buying different test pads? Through rigorous testing and research, we've already got you covered. Below are the seven best pee pads for dogs in 2023 for you guys! Could you give them a read?
The 7 Best Puppy Pads of 2023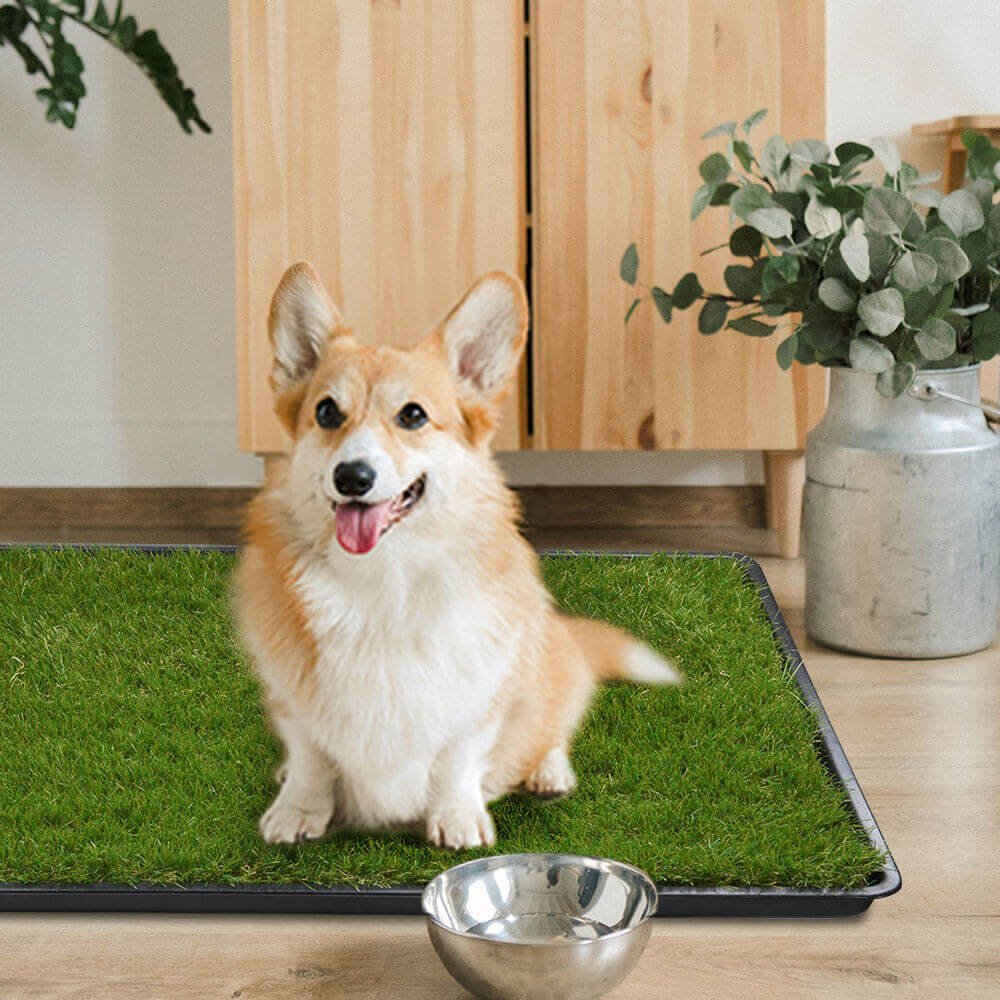 1.LOOBANI Dog Grass Pee Pad For Dogs

Do you live in an apartment or have a senior dog with mobility issues? Congratulations!
Loobani dog grass pee pad is a perfect solution for you.
The grass pee pads for dogs by Loobani are made of artificial grass turf that gives a real look. Besides, the edges of the pads are also hemmed. Place it on your balcony or porch. Not only will your dog excrete on it, but the pad itself adds beauty to the spot with the fresh look of green grass.
City dwellers often face the issue of taking their pets out to excrete on grass. But by bringing the grass pee pad at home, you can solve the problem. They come in a pack of two. If you've washed one, replace it with the other one.
Additionally, the pad has an incredible drainage system. With a lot of holes, urine doesn't stay on the pad. Rather it drains immediately. Moreover, cleaning it is easy and takes less than 10 minutes. You only need soap and warm water. That's it, and it's cleaned! Let it dry in the air. It also dries super quickly.
Do you know that the Loobani grass pee pad comes with special agents? The benefit? They minimize bad odors and prevent bacteria and fungal growth. Hence, it saves your pet from infections.
Price: $24.99 – $60.99
Size: 14 X 18 inches ( Grass pee pads for large dogs are also available)
Pros

Cons

 The pad comes in a pack of two.

 

You need a dog pee pad tray or potty pads underneath.

It can be used as an indoor and outdoor dog pee pad.

 

The artificial grass sheds with time.

The grass pee pad drains perfectly.

 

Newly opened pads have a plastic smell.

 

It's a good option for puppies and smaller breeds.

 

The pad is not suitable for giant canines.

Cleaning the pad is super easy.

 
2.Pet Parents Pawtect Pads — Best Washable Dog Pee Pads

Do you want the best pee pads for senior dogs who leak while sleeping? Try pet parents Pawtect washable pee pads for dogs. Among the category of reusable dog pee pads, pet parents' Pawtect pee pads are the best.  From now, say no to daily cleanup because you have a quick wick fabric pad that absorbs moisture. These pads lock many folds more moisture than the competitors without stinking or dripping.
Many other pee pee pads for dogs available in the market don't stay in one place. They keep on slipping, which causes the excreta to spread all over, creating a lot of mess you need to clean. But with Pawtect pee pads, you can prevent the mess. How? Let's explain!
The pads have sticky paw technology that keeps the product fixed in place. Your canine companion can easily relieve itself by not creating a mess. Besides, the bottom waterproof and leakproof layer retains moisture inside the pad. This way, it prevents the floor or other items from getting wet.
Furthermore, the pee pads have triple stitching and top-quality fabric. They bear daily accidents without any harm to the fabric. Also, they are machine dog-washable pee pads. Unlike many other pads, you don't need to throw them away after only a single use. Save money by reusing them. Their quality is intact even after repeated washes.
Wait, guys! The pet parents also have a surprise for you. The pads come in a pack of two, i.e., grey and tan. Whenever one goes in the washing machine, replace it with the other. And you know what? You can use the pads for
House training
Whelping dogs
Under the litter boxes
Crate lining
Under food bowls
As post-surgery pads
Protecting your furniture or car seats
Price: Check on Amazon
Size: 41 X 41 inches with a thickness of 0.5 inches
| | |
| --- | --- |
| Pros | Cons |
| You can wash it in a machine. | The pads don't dry well after washing. |
| They are good pee pads for older dogs. | The smell doesn't go away even after repeated washes. |
| The pet parent pad is leakproof. | They are a bit leaky. |
| The absorbance of the pad is also good. |   |
3.Bulldogology Premium Puppy Pee Pads — Best Overall

When considering a dog's indoor pee pad, what comes to mind? Of course, the one and only Bulldogology premium puppy pads. What has made these pads the best overall? Let's figure it out! The Bulldogology pee pads are available in two varieties, i.e., the standard and carbon-activated.
The pads consist of 6-layer technology. The first one is of non-woven fabric that seeps in the liquid. The second layer comprises more than 5 grams of super absorbent polymer that locks the pee odor. The third layer of Bullsorbent polymer technology. Beneath it is an ultra-sorbent layer that absorbs the liquid and turns it into the gel. Two leakproof layers at the end prevent the liquid from reaching the floor.
Besides, the pads also come with sticky tapes to keep them fixed on the floor. The built-in attractants force the dog to pee on them. The carbon-activated Bulldogology pads also have the same features with more absorbance and smell-locking potential. So, next time you want a pee pad with exceptional absorbance, go for Bulldogology premium puppy pads. Make your money worth it!;
Price: $28.99
Size: 24 X 24 inches ( Also available in other sizes with varying pads per pack)
| | |
| --- | --- |
| Pros | Cons |
| The Bulldogology premium pee pads have good absorbance. | The tape leaves marks on the floor. |
| You don't need to clean them up. | Both sides are white, so differentiating between the top and bottom gets hard. |
| The pads eliminate the bad odor. |   |
| You can use them as indoor and outdoor pee pads for dogs. |   |
4.Glad for Pets Activated Carbon Training Pads — Best Affordable

In the process of finding the right pee pad for canines, a lot of money gets wasted. We understand how bad it feels when you spend your savings on a product and it turns out bad. That's why after a lot of research, we've come up with a budget-friendly Glad for pets activated carbon training pad.
The pads have 5-layers of protection. The polymer layer makes them super absorbent, and the top quilted layer prevents the liquid from spreading. It locks the liquid immediately in place, keeping the floor dry. As the liquid doesn't move, the sides also remain dry. Hence, making it easy to handle the pad. Also, the bottom layer is leakproof.
As you know, the Glad pet pads have an activated charcoal layer. It effectively eliminates the smell and yellow spots from the pads. The pads also have a layer of pheromone attractant, making potty training easy. The edges of the pads are folded and prevent the liquid from leaking.
The best thing about Glad pee pads is that you can use them for other pets. Go for glad if you have a pet cat, guinea pig, or any other pet. They are multi-purpose pads. You can use them as crate liners, inside dog kennels, or any other way. The pads will not let you down! So be glad that you found Glad!
Price: $29.98
Size: 23 X 23 inches
| | |
| --- | --- |
| Pros | Cons |
| The pads are affordable. | Liquid takes some time to absorb. |
| They have good absorbance. | You can't reuse them. |
| The Glad pee pads are leakproof. | When pressed, the gel oozes out of the used pad. |
5.Four Paws Wee-Wee Pee Pads — Best Large Dogs Pee Pads

Do you know, on average, a normal healthy canine pees 10-20 ml of urine per day for each pound of body weight? It would be best if you got high-absorbent and extra-large pee pads for dogs to absorb that much urine. We've added four paws wee-wee pee pads to the list.
The pads have 6-layer technology and a quilted top layer. It instantly absorbs the liquid without puddling in the middle and eliminates the pee smell—besides, your dog returns from the call completely dry. The pad gives your dog and the floor 24-hour protection from wetness. And yes! Another amazing thing about the four-paws pee pad is that it's a built-in attractant. It drives your dog to the pad to relieve. Hence, making your home look cleaner and brighter.
Do you know that you are giving back to the environment using a four-paws pee pad? Here's how you are doing that:
The pee pads packaging is compact, which causes less pollution.
As they are made of partially renewable resources, so produce less waste.
Sustainable materials are used in the four paws pee pads.
Now, the four paws wee wee pads for dogs are also available in grass scent and attractant. Also, the pads are available in multiple sizes and many pieces per pack. Therefore, get the pack that best suits your needs.
Price: $61.58
Size: 28 x 34 inches
| | |
| --- | --- |
| Pros | Cons |
| The pee pads have 6-layer technology for pee absorption of the liquid. | These pads are expensive. |
| They are leakproof. | With time, the pad becomes thin. |
| They are eco-friendly. |   |
6.Barkbox Charcoal Training Pads — The Best Charcoal Pads

Charcoal is magical. When used in dog pee pads, it neutralizes the pee odor. Keeping this in consideration, we've also included the charcoal training pads by Barkbox in the list of the seven best dog pee pads for 2023. Let's explore together what makes them the best!
The pee pad by Barkbox has gel technology. The liquid instantly becomes a gel when your canine pees on the pad. Like all the products mentioned above, these pads also have high absorbance and come in regular and large sizes.
The regular one absorbs 5 cups of liquids without leaking.
Similarly, the large one can hold 7 cups of liquid.
Isn't it amazing?
The barkbox training pads also have sticky adhesive. The purpose? It keeps the pad in place and doesn't allow your pet to slip and break its bones or furniture. Also, it prevents the mess created by slippery mats. Putting the pad in a dog pee pad holder is also a good option for anti-slip.
Some canines play with the pads and tear them while playing. Considering this, Barkbox has created tear-resistant pads. Yes! Barkbox charcoal training pads are resistant to tear by your furry's scratches and bite. Additionally, They also have built-in attractants to ease the training sessions.
The pads serve multiple purposes. You can use them for
Crate and carrier lining
Potty training
Post-surgery dogs
Pets with bladder issues
Under food bowls for messy dogs.
They are the best option for senior dogs. Besides, you can also potty train other pets like cats and guinea pigs on them.
These pads dry quickly so that you can use them the entire day. It saves you time by not replacing the pad after every 3-4 hours. Additionally, inside each bark pee pad box, you'll find a complete guide telling how to train a dog to pee on pads.
Price: Check on Amazon
Size: 22 x 22 inches
| | |
| --- | --- |
| Pros | Cons |
| The pads serve multiple purposes. | The pads leak. |
| They dry quickly. | In some cases, the adhesive doesn't work. |
| The box comes with a potty training guide. |   |
| Built-in attractants aid the training process. |   |
7.Frisco Premium Potty Training And Pee Pads

Do you want a perfect apartment balcony pee pad for your tiny furry companion? Choose Frisco pee pads, then. They are super absorbent and keep your house clean.
Dogs have to go to the toilet after every 3-4 hours. You can easily guess how much liquid they would release in a day. But with the Frisco premium pad, liquid absorption is not an issue. Also, the pad dries quickly, leaving behind clean paws. Having the Frisco pads is a blessing. You have to clean the mess your kids have made in the house, not of your canine companion. Hence, in this way, you save a lot of time.
Besides, the pads are available in scented and unscented versions. They are also available in different sizes, each with different pads per pack. Also, the pads have built-in attractants that drive your dog toward them. These pads are specially designed for dogs of smaller breeds. Try them and share your experience!
Price: $13.19 – $30.74
Size: 22 X 23 inches large pads
| | |
| --- | --- |
| Pros | Cons |
| The pads are comfortable. | The pad slips on the floor. |
| They have built-in attractants to drive dogs toward them. | The absorbance could be better. |
| The pads are leakproof. |   |
What Are The Benefits Of Dog Pee Pee Pads?
Undoubtedly, pee pads are a must-to-have if you are a pet owner. They are extremely valuable dog grooming items that you can't replace with anything else. Let's look at the benefits of this incredibly useful item!
1.
Easy To Clean
Unlike cloth pieces or towels, dogs' pee pads are designed to support quick cleanup. You don't need to spend hours mopping or washing the floor. The pads absorb all the liquid leaving the floor clean. Apart from that, you can go with washable pee pads. Dog pee is easy to clean from them too.
2.
The Dog Pee Pads Don't Stink
The best part of the pee pads is that they have a layer of absorbent material. It locks the moisture. At the same time, the smell elimination technology neutralizes the odor. Hence, keeping your house smell-free.
3.
Dog Pee Pads Stay For Longer Times
Most people use towels for dogs to pee. It's a bad idea because of their less absorbency and more chances of bacterial and fungal growth. When the pet sits on the towel, it gets wet and can also get infections. A wet dog creates a mess in the entire house. To avoid such a situation, you have to change the towels frequently.
On the other hand, good quality pee pads absorb 7-9 or even more liquid without wetting the pet. Hence, they serve you for long hours.
4.
A Great Help For City Dwellers
In cities, people mostly live in apartments. If they have pets, the biggest challenge is to take them out when nature calls. Indoor pee pads for dogs have solved this problem. Apart from indoor, dog outdoor pee pads are also available. Yahoo! You can even go on long drives with your doggy.
5.
The Potty Pads Are More Comfortable.
Sometimes the floor in quite cold for your pet to pee on. In such a case, pee pads are a good option. Your pet will comfortably ease on a warm surface without even getting wet and catching a cold. Also, the liquid will be absorbed rather than flowing irregularly on the floor.
How To Get A Dog To Pee On A Pad?
Many dog owners complain about their dogs not getting used to pee pads. All such pet owners have common questions, "how to attract a dog to a pee pad? How to get the dog to pee on a pad? Or how to train a male dog to use pee pads? " Let's kick-off with the answer!
1.
Choose A Comfortable Pee Pad For Your Dog
Comfort is the primary thing to consider while buying a pee pad. Your pet will not do business on an uncomfortable pee mat. As a result, your furniture, carpet, or floor will be its indoor toilet. So, go for a soft and good-quality pad.
2.
Familiarize The Pet With Its New Indoor Toilet.
How to make your dog pee on pads? First, you have to familiarise the pet with the pad. Spread the potty pad in the right spot. Then bring your pet to the area. Allow it to sniff and walk over the pad.
3.
Take The Pet To The Potty Area.
How would you know that your pet wants to excrete? Well! Dogs usually feel this need after eating, drinking, sleeping, and playing. If you notice that your pet suddenly started sniffing the ground, it's a call. Yes, A call from NATURE!
Take the dog to the potty area immediately to avoid an accident inside the house.
4.
Treats Help A Lot.
Do you offer treats to your dog when it excretes at the right place? If not, it isn't good! Give your dogs treats. Positive reinforcement is crucial to develop good habits in animals. So always take advantage of treats.
Bonus Tips
If your dog is stubborn, try pee pads with ingrained attractants/scents. Dogs are more attracted to such pads as compared to unscented ones.
Use pee pad holders for dogsfor extra protection.
Things To Consider Before Buying Dogs Pee Pads
Now that you have ample knowledge about dog pee pads let's discuss a  few necessary things you must consider before buying the pads.
1.
Absorbance Of The Pee Pad
The prime purpose of a pee pad is to lock the liquid in the first place: the more absorbent layers, the more liquid-absorbing capacity of the pad. If you choose a thin pad, it will not hold moisture. As a result, the floor will get wet. Therefore, get a pad with high absorbance.
2.
Odor Elimination Potential
A pee pad with so many layers to absorb urine but nothing to eliminate the bad smell is not worth it. Go for a puppy mat with activated charcoal powder, which locks the odor and keeps your house smell-free.
3.
Considering The Size Of The Pads Is Also Necessary.
While buying pee pads for dogs, consider size first. The small size works best for puppies but not for larger dogs. Likewise, buying extra large dog pee pads for tiny pups is also not worth it. Save the money and buy more but right-sized pads!
4.
No Compromise On Quality
Some pads are of terribly awful quality. Even puppies can tear them apart. Don't buy such cheap pee pads for your dogs. Rather spend some extra money but buy durable and excellent quality products.
5.
Attractants In The Dog Pee Pads
Attractants are synthetic pheromones added to the pee pads during production. The purpose is to attract dogs to pee on the pad and make potty training less challenging.
At What Age Do You Stop Using Puppy Pads?
There's no specific age limit. Dogs of all ages can use the puppy pads. Some dogs can hold their bladder and go outside the house to excrete. You can stop putting the pad on them, no matter their age.
Where Is The Best Place For Puppy Pads?
A place that is easily reachable is the best for puppy pads. Most people place the dog pee pads on the balcony so the house doesn't smell or look dull. But make sure the balcony door is open.
On the other hand, it's best to place the pad inside the crate at night. In this way, your pet's sleep will not be compromised.
Do Pee Pads Confuse Dogs?
Yes, Sometimes dogs get confused between pee pads and carpets or sofas. As both are soft, the dogs often pee on sofas instead of pads. That's why you must place the pee pads in a separate space.
Can Dogs Use Pee Pads Forever?
Though dogs can safely use pee pads for their entire life, it can be a problem for the owner. It costs a lot of money. Therefore, we suggest you not just stick to the pee pads.
What Is The Best Dog Pee Pad For Balcony?
Loobani grass pads are the best balcony pee pads for dogs. They have excellent drainage capacity, so the pee directly goes down them. You can place them as it is, too, if cleaning the balcony is easy. Or else go for an underneath tray to collect the liquid. They are the best dog outdoor pee pads without trays; with a tray, you can use them as indoor dog pee grass pads.
The Bottom Line
Peeing pads for dogs have become a vital part of potty training sessions. If you are looking for a pad with a real lawn feel, go for the Loobani dog grass pee pad. It drains wonderfully. You can also go for Bulldogology premium puppy pee pads. They are the best pads, with excellent absorption and smell lock features. Glad for pets, activated carbon training pads are also a good option to opt for if you can't afford expensive pads. For reusable pee pads for dogs, go for Pet Parents' pee pads.