LOOBANI New Dogs Puzzle Feeder Toys
Develop Intelligence
Manage Fast Eating
Keep Dog Engaged
Avoide Destructive Behavior
Return Policy
Free Shipping
Warranty
Return Policy
We Strictly Follow Return & Exchange Policy, Guarantee Your Shopping Experience
Free Shipping
Warranty
RETURN POLICY
We Strictly Follow Return & Exchange Policy, Guarantee Your Shopping Experience
FREE SHIPPING
We Currently Only Ship To Locations Within The United States and It Is Free Shipping (Except Hawaii, Alaska, Guam, and Puerto Rico). We Ship FedEx or UPS
WARRANTY
All Our Products Are Covered Under Warranty Service
Nonslip Base & Adjustable Heigh
The heavy base of this intelligent toy is designed as H shape so this interactive feeder will not be knocked over. The educational dog toy has 3 height to adjust to fit both small and large breeds. And the canister is large enough for your dog whose day eating. The dog activity toys can be played indoor or take it to play outside when go on a trip, camping…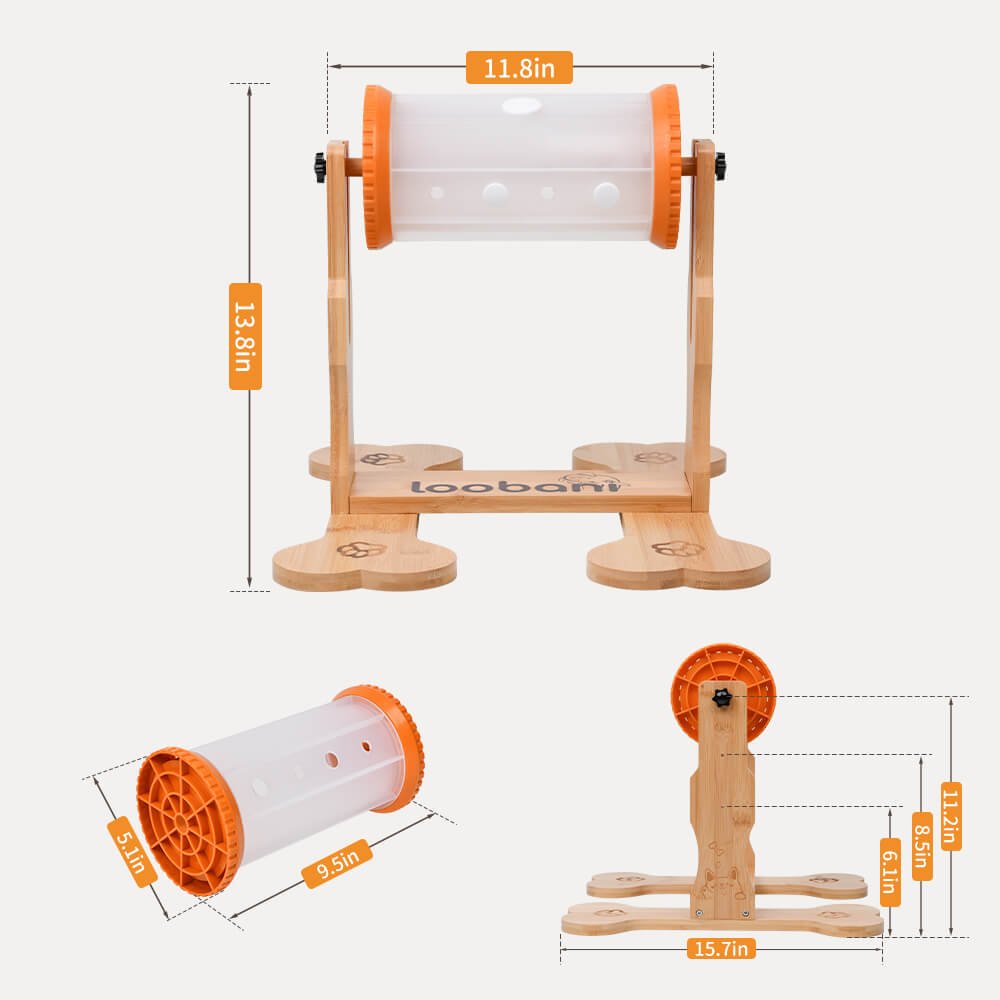 The  anti-gulp and dog slower feeder toy is a great way to manage fast eating, ensure your pet takes time to digest their food and doesn't suffer stomach pains of discomfort after eating. Spinning tubes to control the dog's eating speed get kibble from the leakage holes. The treat dispensing toy for dogs can force her to slow down, which may also help prophylaxis your dog from suffering from GDV/Bloat.
Dog Puzzle Feeder Toy Conditions
Keep the doy busy while you are work;
IQ training to reduce senior dog risk of metal decline;
Slow feeder to reduce the risk of bloat , avoids vomiting;
Dimensions (approximate) : 13.8″x11.8″x15.7″
Adjustable: 3 different high for adjusting
Buy It For Your Dog Today
Must have for a Lab!
Terrific products!! My pup 🐶 loves them and it helps to slow her down at food time. After a few sniffs, she was two paw chopping for some treats! Thank you!!
Dog loves it, but chewed caps
My dog is obsessed with this toy. We usually fill it with cheerios and they come out pretty easily.
The down side is that the tubes can't come off to clean, and my dog has chewed the caps and finally got them off which is a choking hazard.
Great feeder keeps my dog busy and entertained.
Very entertaining for humans too!
The first day one of my 64# mutts couldn't get it. He kept coming to me to spin the bottles for the treats. I moved his paw to spin them several times in a few different sessions, but mostly frustrated me! The next morning, he got it! It was so funny to watch him spin those things! Everytime it comes back at him and bumps him in the head (gently) it is hysterical. He absolutely loves it! It will keep him busy for hours. I used Milk Bone Trail mix and it worked really well. He works so hard for the treats, he is huffing like he went on a walk. The other mutt is a little shy, and hasn't tried it yet as it is being monopolized, but she is smarter and will enjoy it too! It will give the humans here hours of entertainment as well!
This is a great puzzle for my border collie pup.
The puzzle is fantastic. I use it in conjunction with multiple puzzles at different feeding times. The adjustable bar makes it the perfect height for my 9w pup and it will move up as he grows into adulthood. It's a little pricey compared to some other puzzles out there.