Dog Food Puzzle Feeder Toy
WHY DOG FOOD PUZZLE TOY – Dogs are designed to spend hours each day working for their food. We essentially take this job away from them when we provide them with food in bowls. Along with a rise in obesity owing to overeating and less exercise, taking away the mental stimulation of hunting can cause behavioral issues that stem from boredom and separation anxiety.
Return Policy
Free Shipping
Warranty
Return Policy
We Strictly Follow Return & Exchange Policy, Guarantee Your Shopping Experience
Free Shipping
Warranty
Made of durable bamboo, the LOOBANI dog enrichment toys have three bottles connected to a heavy-duty base that won't tip over as your dog tries to access the treats.
Nonslip Base & Adjustable Height: The heavy base of this intelligent toy is designed as H shape so this interactive feeder will not be knocked over. The educational dog toy has 3 height to adjust to fit both small and large breeds. And the canister is large enough for your dog whose day eating. The dog activity toys can be played indoor or take it to play outside when go on a trip, camping…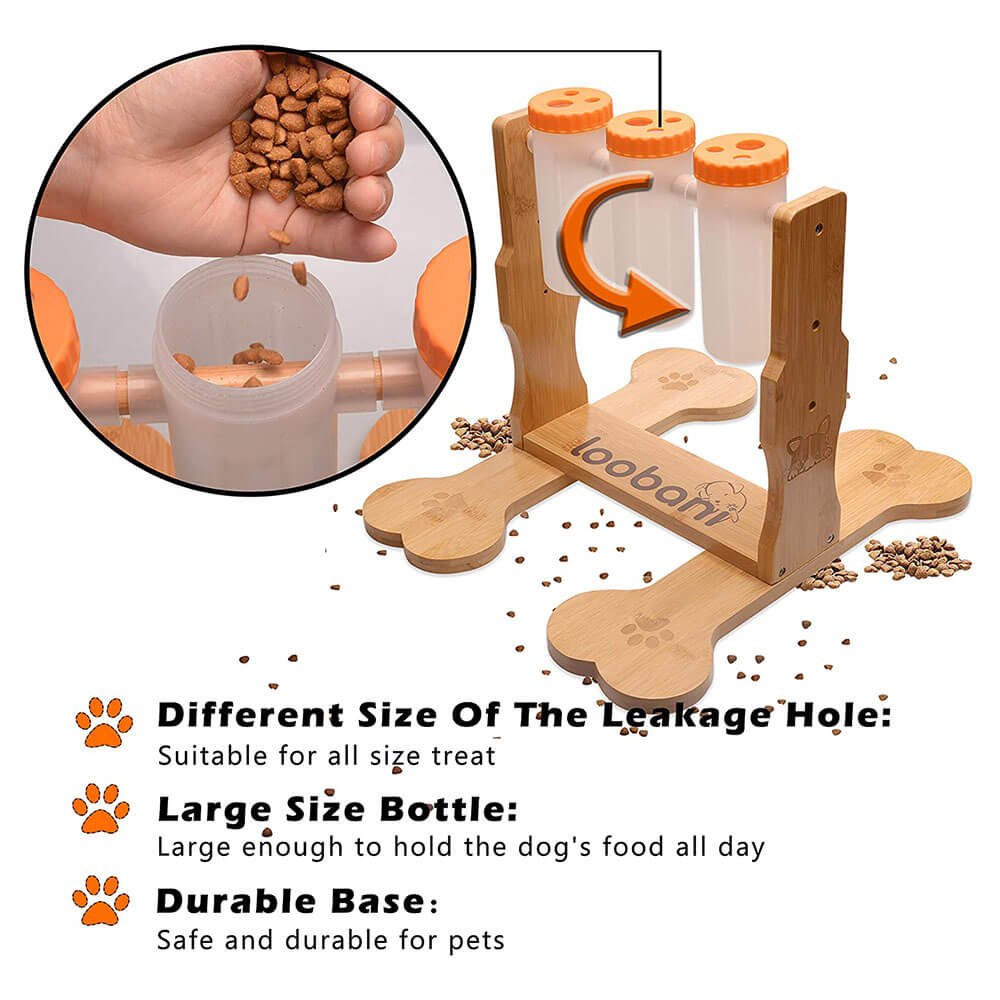 The food puzzle toy is designed to provide a challenge to keep your pets thinking. For puppies, puzzle toys are a good intellectual development toy, which is a smart toy for puppy brain development. For senior dogs, the mental stimulation toys help to keep your dog sharp through the years and reduce the risk of mental decline.
Dog Puzzle Feeder Toy Benefits:
Keep the doy busy while you are working
IQ training to reduce senior dog risk of metal decline
Slow feeder to reduce the risk of bloat , avoids vomiting
Buy It For Your Dog Today
Great
I ordered the dog puzzle feeder from Germany, because it's not available here.
Materials are very fine, it's worth it's cost. Just our Labrador couldn't figure out how it works and he can get his treats…he is waiting before until I come and make the work for him…. 😂
It's an ok toy
Our dog just couldn't figure it all out. Ended up chewing the covers off and chewed the cylinders up. Had the toy for two weeks. Bummer, not the companies fault.
Great toy of feeder
Great for treats or for meals. Good enrichment toy. My dog loves it so much so that he whines when there's nothing inside. The only down side to this toy are the two bottom pieces which gets in the way
Dog loves it, but chewed caps
My dog is obsessed with this toy. We usually fill it with cheerios and they come out pretty easily.
The down side is that the tubes can't come off to clean, and my dog has chewed the caps and finally got them off which is a choking hazard.
Great feeder keeps my dog busy and entertained.