Dog Food Puzzle Feeder Toy
WHY DOG FOOD PUZZLE TOY – Dogs are designed to spend hours each day working for their food. We essentially take this job away from them when we provide them with food in bowls. Along with a rise in obesity owing to overeating and less exercise, taking away the mental stimulation of hunting can cause behavioral issues that stem from boredom and separation anxiety.
Return Policy
Free Shipping
Warranty
Return Policy
We Strictly Follow Return & Exchange Policy, Guarantee Your Shopping Experience
Free Shipping
Warranty
Made of durable bamboo, the LOOBANI dog enrichment toys have three bottles connected to a heavy-duty base that won't tip over as your dog tries to access the treats.
Nonslip Base & Adjustable Height: The heavy base of this intelligent toy is designed as H shape so this interactive feeder will not be knocked over. The educational dog toy has 3 height to adjust to fit both small and large breeds. And the canister is large enough for your dog whose day eating. The dog activity toys can be played indoor or take it to play outside when go on a trip, camping…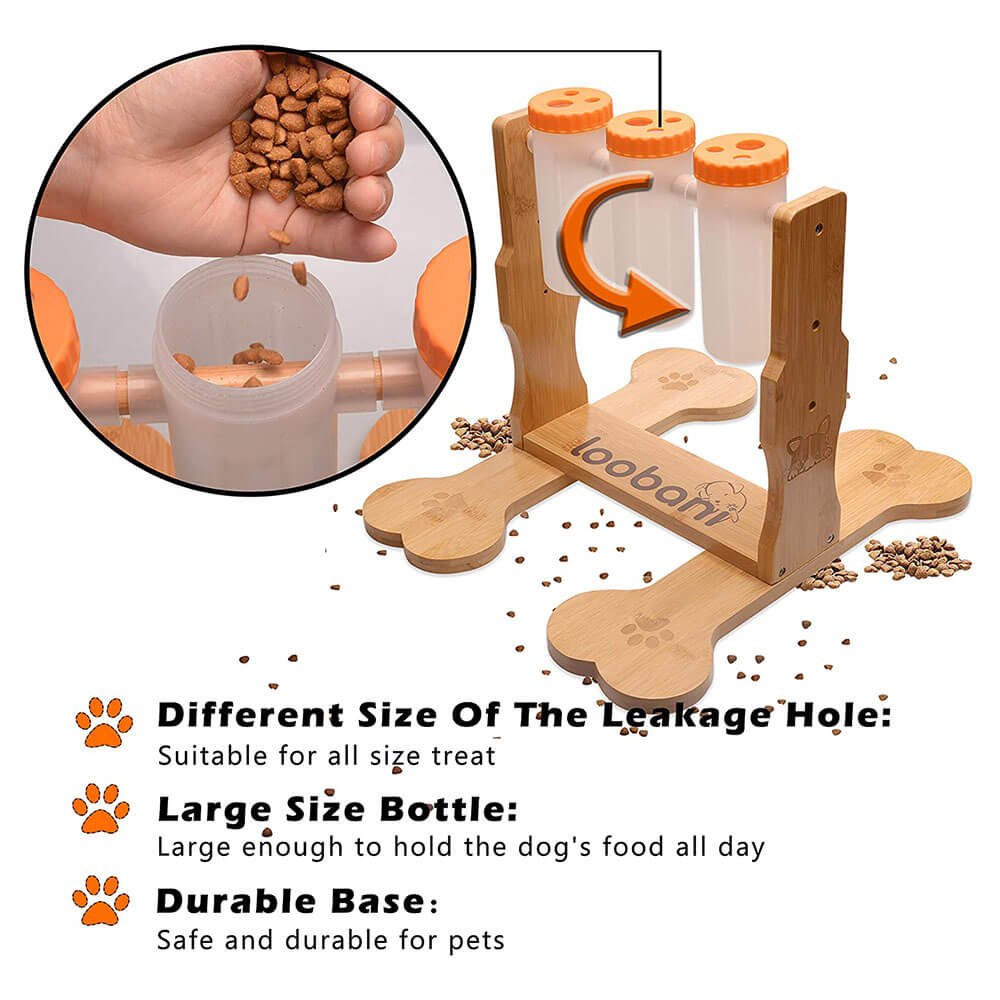 The food puzzle toy is designed to provide a challenge to keep your pets thinking. For puppies, puzzle toys are a good intellectual development toy, which is a smart toy for puppy brain development. For senior dogs, the mental stimulation toys help to keep your dog sharp through the years and reduce the risk of mental decline.
Dog Puzzle Feeder Toy Benefits:
Keep the doy busy while you are working
IQ training to reduce senior dog risk of metal decline
Slow feeder to reduce the risk of bloat , avoids vomiting
Buy It For Your Dog Today
Golden Approved
our 10 month old golden loves it. but she has managed to pop the tops off a few times and knock it over. would be ideal for a less destructive, smaller dog. hopefully it lasts her awhile, $40 is much more than i'd typically spend on a dog toy.
This is a great puzzle for my border collie pup.
The puzzle is fantastic. I use it in conjunction with multiple puzzles at different feeding times. The adjustable bar makes it the perfect height for my 9w pup and it will move up as he grows into adulthood. It's a little pricey compared to some other puzzles out there.
Quality product
This was assembled at home, the parts were all there and easy to put together. The dog however will take some adjustment. My dog is a English Mastiff xl, she weighs a 140 lbs. I'm not 100 sure if this is going to hold up