If you ever heard about interactive dog toys, I bet you won't be strange with the interactive outdoor dog toys, as well as the indoor interactive dog toys both of them can work as dog entertainment toys and dog brain training toys for your beloved dog normally.
Are you struggling to fit the proper indoor dog toys into your dog's schedule in his or her spare time, especially in the chilly winter? Or would your lovely dog be such a mess creator while at home alone? Or just being too lazy to go outside to do any exercises in the chilly days?
If so, you would not be alone then. Reducing daylight company hours for your dog, the chilly winter days mean that could be not that possible to give your beloved dog a chance with the interactive dog games each day, particularly outside the warm house. At the same time, that might be difficult to let your dog do some exercises without damaging your places while you are gone in the daytime.
A variety of problems may cause by lack of exercise on a dog you know? Aside from being crucial for the health of your dog, exercise could reduce boredom and could avoid some destructive behavior up to some points. As the winter is staying long as it shows up, so one of the best solutions is to get interactive dog toys for your dog.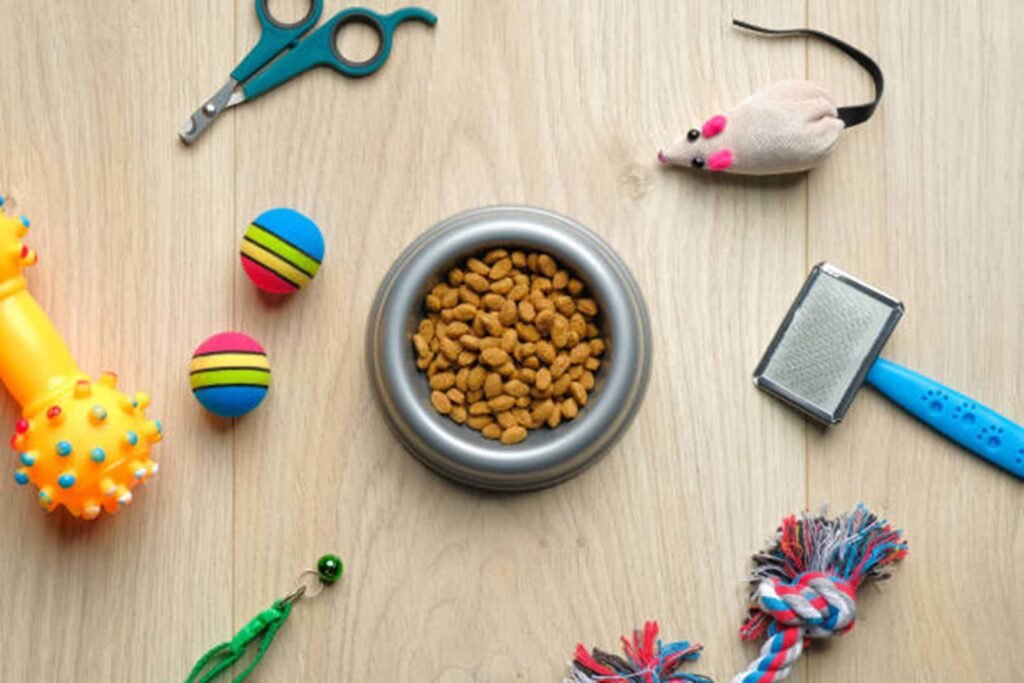 What indoor interactive dog toys are for?
Fortunately, there are so many types of self-play dog toys that can provide both mental and physical stimulation on your dog, consuming his or her extra energy while at home alone. Like the interactive smart dog toys, which can entertain your dog without you moving a little bit, or the educational dog toys, which can help your dog to develop the brain up to some points… And the most popular interactive dog toys should be the dog puzzle feeder toys not only due to the feeding feature but also could work as easy brain games for dogs. Isn't it cool?
After the years of trying with different interactive dog toys on my dog, it turns out that the best interactive dog toys for my dog are the LOOBANI Dogs Food Puzzle Feeder Toys because that not only good for IQ training but also helpful on feeding while he was playing with that dog interactive puzzle toys…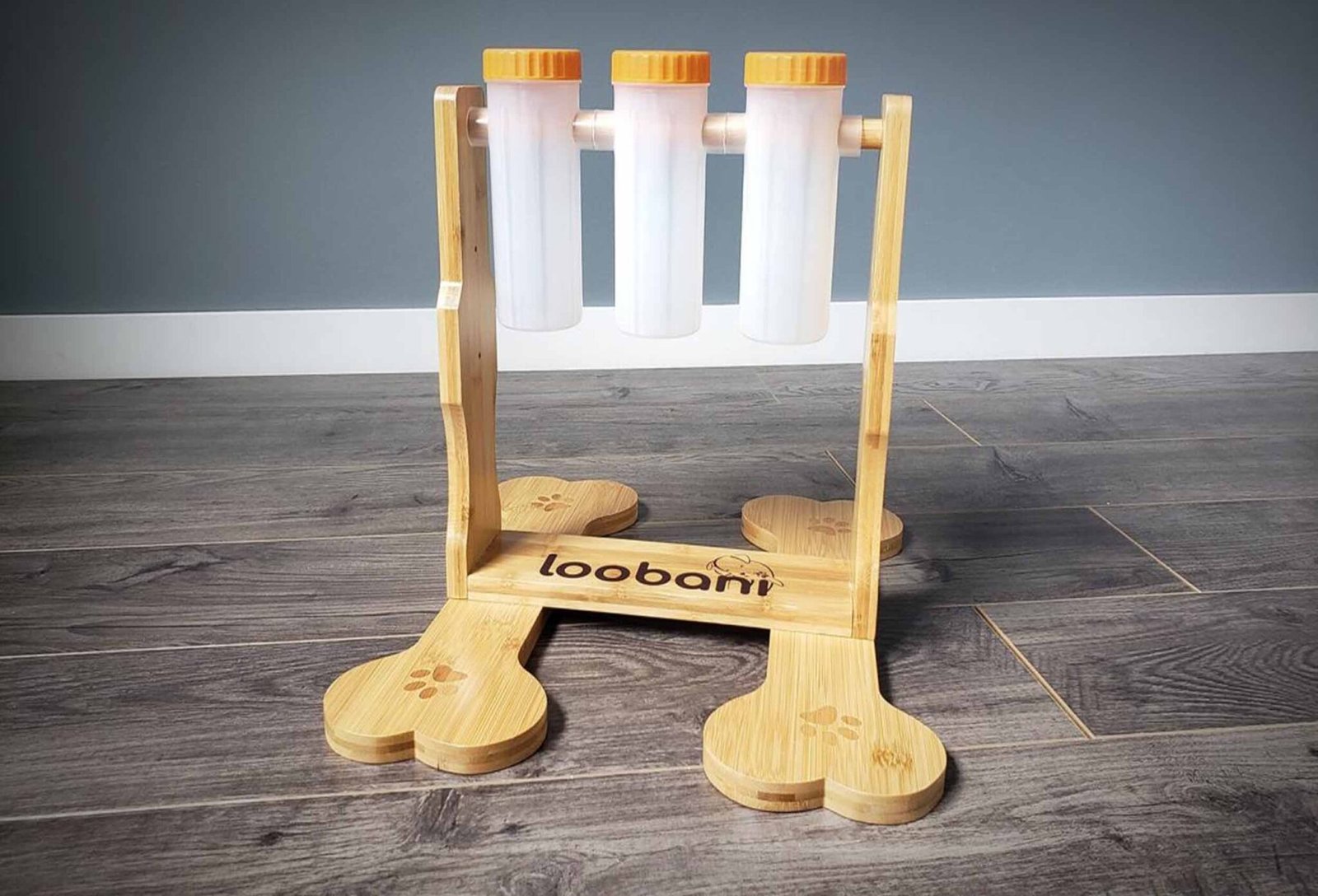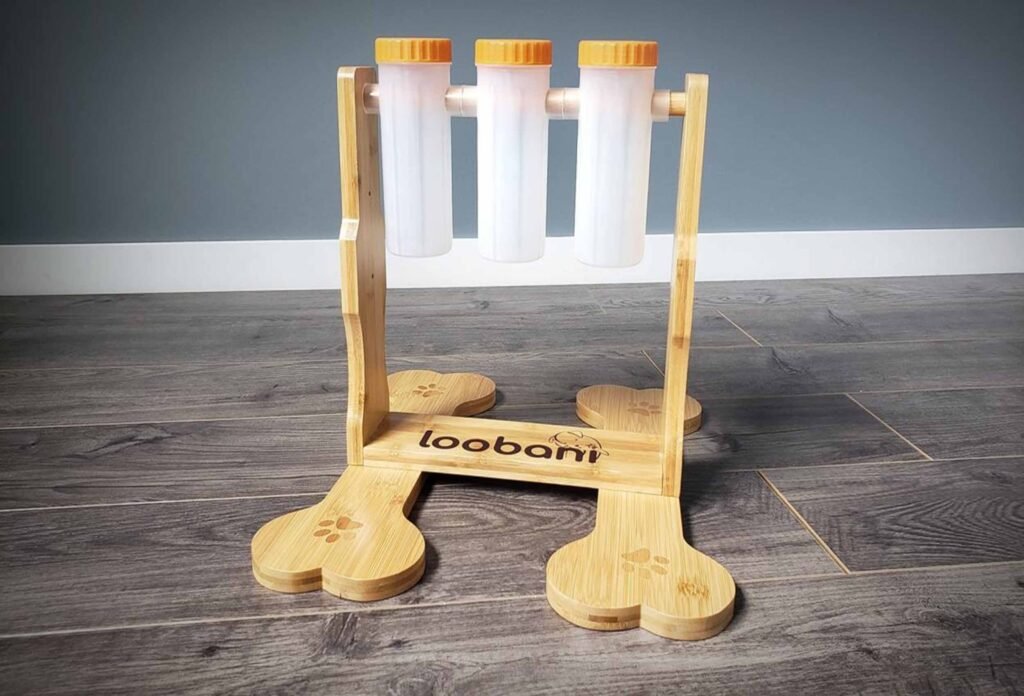 Interactive entertainment for your dog at mealtime
Just imagine that if you are using the interactive treat dispensing dog toys as simple as letting your beloved dog work for his or her food which is incredibly fulfilling at some points. You know that would be much better if you can put the food in the interactive dog toys with a slow feeding function instead of any interactive dog toys without treats. Like the LOOBANI interactive dog feeder toys could be a great option for dogs who always eat too fast, and are also full of energy all the time. This means almost every dog could benefit from the challenges from the interactive dog feeder toys, regardless you use them indoors or outdoors you know?
Mealtime also can turn from a five minutes gobble fest into a couple of hours game or even longer as if you try with the interactive dog food puzzle toy on your beloved dog once. Spinning the little bottles, again and again, is such an easy way to turn your dog's mealtime into entertainment stuffs up to a point. You can tell how simple with sprinkling your dog's meal around the interactive dog toy puzzles you chose for your dog and let him or her sniff out each morsel even without any instructions reading before, which is worth a shot you know?
Some sports for your dog
Offering your dog some sports is another good way to consume the extra energy on your beloved dog while you are not at home you know? The indoor active dog toys could be the best option, so you can look for some dog interactive stimulation toys your dog may enjoy. For example, the LOOBANI dog self-interactive toys are fun for every breed of dogs, especially exciting for some scent hounds like Beagles. In this kind of interactivity sport, your dog must target and spin little bottles to get the food inside, which not only letting your exercise more but also training the brain. That could be a brilliant way to help your dog live wiser up to some points because that could provide both mental and physical exercise for your dog at the same time you know?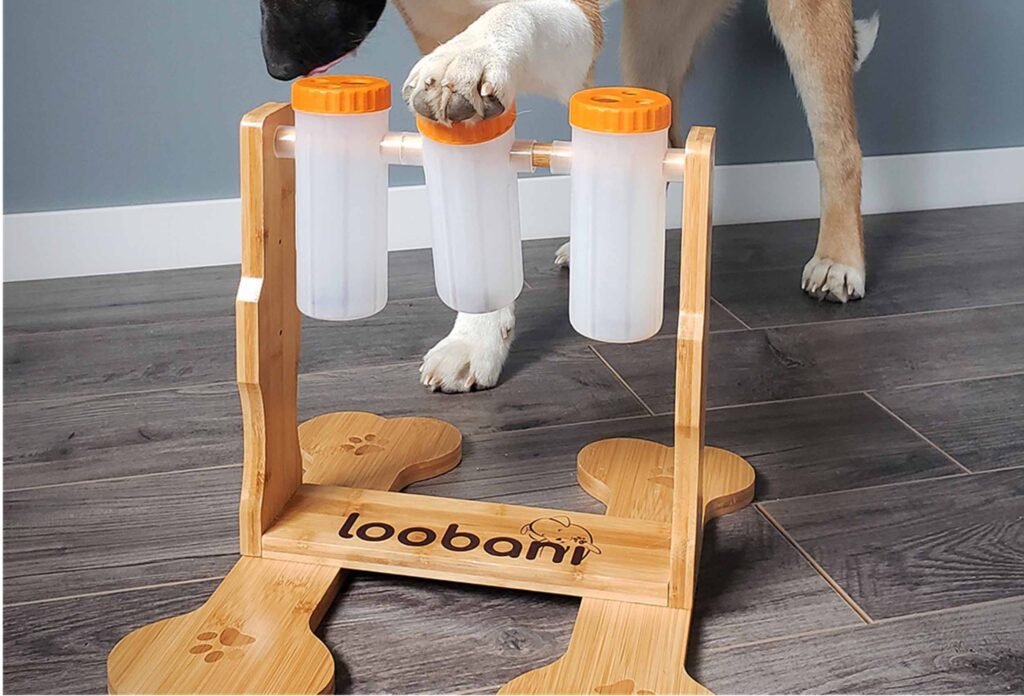 You may also do the interactive dog toy DIY for your beloved dog to enjoy at home or even outside if you want. For instance, you can choose simple but non-toxic fabrics to create chewy interactive dog toys for your dog for grinding his or her teeth if your dog is such a chewer all the time, or you can try to make the dog feeding toys with the materials of the safe bottle if your likes to play while eating…And the indoor interactive dog toys homemade could be fun as well, because that means you need to get to know your dog more and could spend more time with your beloved together, regardless during the hand-made process or just supervise your dog during the entertaining time, right?
Interactive dog feeder toys should be the best option overall
The interactive dog toys normally were filled with lots of yummies. You can see how a dog would have fun while playing with such items regardless of indoors or outdoors. Due to the advantages, we can check as follows:
Killing the boredom, loneliness, and stress. 
Most interactive dog feeder puzzle toys contain yummies inside which means could be much more beckoning than the regular ones. Therefore, your dog may not be bored as he or she would be busy with finding ways to get his favorite food out of the feeder puzzle toy. Having delicious treats is also very stress-relieving at some points. Thus, that is the good thing about interactive dog toys, which could help to decrease some discomfort on your dog. Such as entertaining your beloved dog while you are not around. And then your dog may forget about if he or she misses you or not, as he may be busy with a tasty and interesting dog toy.
Helpful for treating overeating and eat slowly. 
You can see that there are many interactive treats dispensing dog toys, like the LOOBANI dog feeding toys are large enough to be filled with a considerable portion of food inside and would kibble them before pouring out at some points. But as the process may take a little while, your dog needs to consume slower than usual normally you know? This may give you a hand with preventing some issues like overeating, bloating, vomiting, and so on… Therefore, the interactive treat dispensing dog toys are highly recommended for dogs that may prone to some digestive problems or obesity up to some points you know?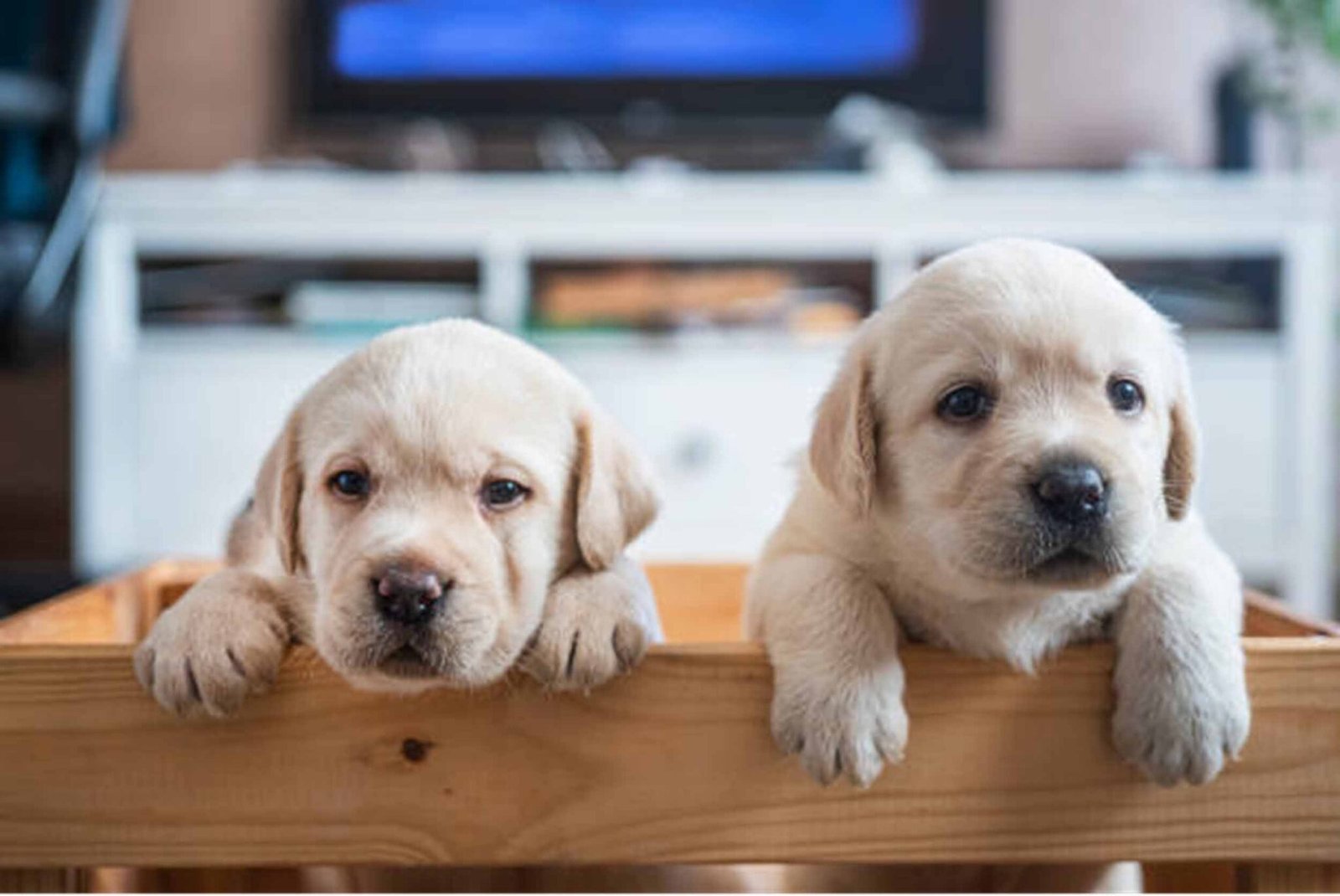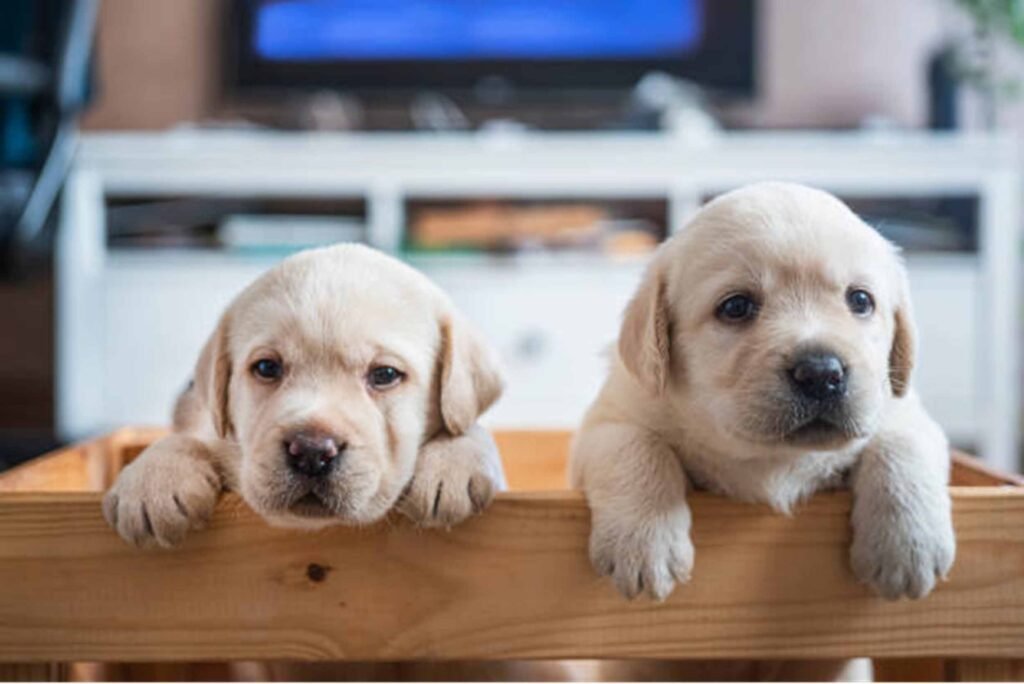 A lot of pets, particularly dogs like puppies, may develop faster and better if the pet-owners can make an effort on encouraging and boosting the processes. And the interactive dog toys could be very helpful in stimulating both physical and mental development. Because they could improve the witness, agility, and logical thinking on the pet at some points.
Apart from that, interactive dog toys could be exciting and interesting for most adult dogs at the same time. This could be the best solution to cope with the misbehavior or some issues else if you keep a very naughty dog. Keeping a dog's mind busy for hours is absolutely a great idea for you!
In this article, we talk about how and why interactive dog toys can be good for our dogs, and see how cool the most popular interactive dog toys-interactive treat dispensing dog toys out together. l hope it does make sense and you can learn or come up with something useful after you read until here. Good luck to you all!