As we all know, winter is super cold for all of us. We love staying indoors instead of going outside. That's so true. Well, have you ever think about that our beloved little furry friends also want the same thing with us in winter? And have you ever wondered why?
You really should read this article if you are also a dog person like us that wants to give the best paw protection for dogs. Because protecting dogs' paws in the winter is important. Well, let's check these dog paw protection in winter out together.
Why dog paws should be protected in winter?
Imagine our dogs running and playing in the snow in the backyard. Most dog paws all start cracking with an outdoor play date in the backyard in the middle of winter. Because our dogs always loved to play in the snow.
Sometimes, someone spots the first sign of bloody paw prints in the snow. This is not something that dog owners aren't used to seeing though. It is not a good situation you know? The blood of course means that one of the dog's paws cracks and also is bleeding in the snow.
The Reasons why dog paw cracks
Excessive paw licking
Allergies
Contact irritation
Snow and ice
Excessive wear and tear
Old age Hypercerero
Zinc deficiencies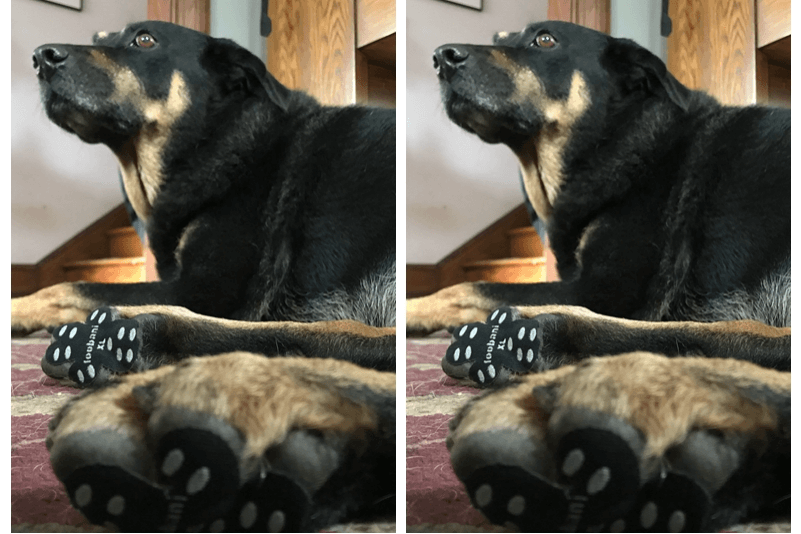 You should know that each of these issues above can cause our dogs' pads to crack. For example, snow and ice create problems due to the roughness of the snow or ice itself. What's more, ice can be extremely sharp and can cause cuts to the paw pads much easier than you can imagine.
How do we do dog pad protection?
How to protect dogs' paws? We know that protecting paws is very important. When it comes to figuring out how do we do our best to protect the dog paw to avoid our lovely dog get stuck in pain, it usually depends on the underlying cause of the problems. Some cracks go deep causing the paw to bleed if there are mild cracks. We need to address these issues right away more severe cracks can cause our beloved dogs to limp..
So here we have some tips for you to do some things for your cute little friends:
 1. Keep the dog paw hair trimming regularly
We can make a simile to it with the thatches that tend to grow out of the ears of elderly gentlemen they sometimes get. It can be funny, sometimes rather endearing with old men. We should do some things like trimming back in the winter months. For keeping the chilling snow from sticking or even turning into some clods of ice because that may end up clinging to our dogs' toes and feet. Don't you think this is a good way to help avoid frostbite, a serious cold weather malady for both humans and animals?
At the same time, we should choose the right tool, get our dogs used to the touch of their feet, and get them used to the trimming tools with their hair trimming job. Just wonder if we are cutting to our dog paws' skin and their pads closely, probably there is a chance we may cut into our dog when using a pair of scissors accidentally. Especially if it's a large pair. In our opinion, it's not impossible to cut the dog nails with clippers either. But it is much less likely. Do you agree with us?
2. Check on our dog paws regularly
Probably an obvious tip but one that all of us sometimes don't consider often enough is what we are going to talk about. First of all, we know that we need to take our dogs out on daily walks. It's just as important to check their paws regularly so that we can ensure that their pads are crack and abrasion-free. We should firmly but also gently grasp their paw in our hand, then inspect their pads for any injuries or abnormalities visually. And then we need to press down on the pads with our thumb gently. Meanwhile, make note of any pain or discomfort this action might register with our pet. Last but not least, do not forget to check between their toes for any lumps, stickers, cuts, or discoloration as well. Sometimes, the importance of maintaining proper feet' health for your pet can't be stressed enough, just like with humans right?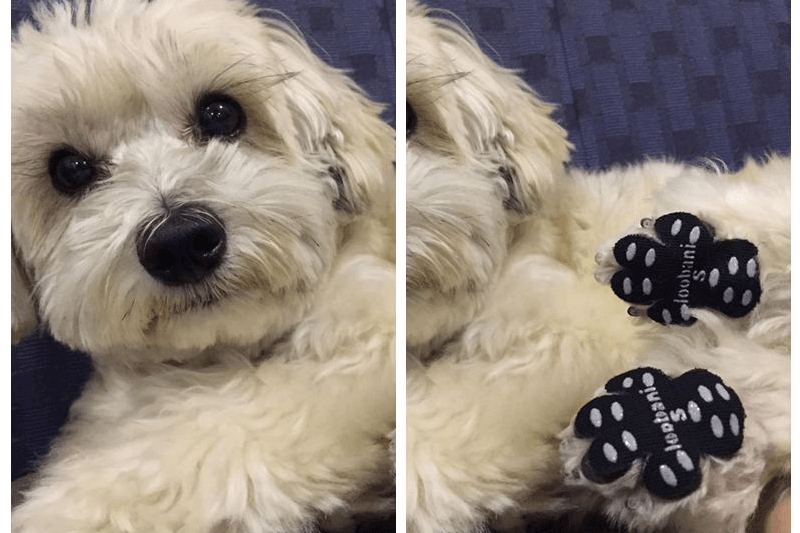 As we all know, we need to wash our dogs' paws whenever chemicals on the ground are suspected and check their paw pads after each outdoor walking session to see if there are signs of damage or injury. We need to have our dogs seen by the veterinarian at the first possible opportunity if we do see a problem after exercise or our dogs are limping or acting strangely after running around. We can save time through multi-tasking by washing and moisturizing the dog paws at the same time as your visual inspection in case time is an issue for us. 
3. Toughen up our dog's paw pads
Have you ever consider that groups of people can develop calluses on our hands and feet is for safeguarding our skin from repeated rubbing? So do our dogs! They'll also develop tougher paw pads that are more protected against heat, cold, and rough terrain you know? So we recommended walking our dogs on the sidewalk the maximum amount possible while the temperatures are comfortable. Then we will help toughen up the paw pads of our beloved dogs for an additional layer of protection from outsides. We want to gradually increase the length of the walks to gradually toughen up their paw pads if we've newly adopted dogs or something like that. 
Otherwise, we can use some paw protectants for dogs to keep their paws moisturized in any respect times. That's true that one of the foremost important things we will do for our dog's paws is to moisturize them. We can start with trying some DIY paw protection for dogs. For instance, dog paw wax or several balms and butter before we found the best paw wax for dogs. However, less is more for dog paw protection cream. We generally bet you don't want to urge the paws too soft because they'll get hurt easier, they mostly need a thick paw skin. Right?
4. Using some paw protection pieces of stuff
We can let our dogs wear some dog feet protectors to assist protect their feet without the awkwardness and fuss of booties if we've got a vigorous dog who loves going for walks or runs no matter the weather. Just apply a paw grip likeLOOBANI DOG PAW GRIPon and in between the dog's paw pads to assist protect their feet from the weather slight. How does this ever happen? Simply because these paw grips won't hurt our dogs' paws but can also provide some protection for them. The foremost important part is our dogs would feel so well when sticking these paw grips on because these dog paw covers for walking are manufactured from thick and cozy materials. Those dog paw protection pads would be the simplest paw pads for dogs if your dogs have an effort with them.
Furthermore, we are able to choose some styles of stuff else if our dogs are into it but it depends on different dogs. We will use dog shoes or dog boots to protect paws, etc. Protective dog shoes can protect our dog's paws from injuries concerning heat and cold. Not all dogs will wear them on should be the largest problem. The reality is you would possibly be able to get man's ally to cave and eventually concede if you with some patience and persistence. Anyway, we surely know that each single cute puppy has its habits and characters, we all know that what's best for our dogs is what they require, what they have.
We can do lots paw protection for dogs
These several tips to safeguard dog paws in winter may help our dogs stay relatively safe and uninjured from the hazards of ice, snow, frigid temperatures and cold, etc. Also please remember to form bound to keep an in-depth eye on our little dogs to test for symptoms of a chilly and to shield him or her from other else cold-related issues, like frostbite or overexposure. If you have got some studies before, you want to know dog paw problems can escalate quickly into a much bigger problem if not be treated early. We love our dogs. So we hope these tips of dog winter foot care for avoiding freezing paws tips can help us act with outdoor dog paw protection, keep our dogs happy and healthy get through the full long winter. Let's do the most effective paw protection for dogs in winter together.