Are you tired of having a leaky dog or a puppy that relieves itself inside the house? Indoor accidents are tests of patience if you have a pet dog. And then after-accident moments are even more terrible. You have to spend hours cleaning the house. But don't worry, guys. We have the solution; in this case, it's " potty training your dog".
In this guide, we'll discuss the steps involved in potty training in detail and how you can train a dog to use a pee pad. Besides, you'll also learn about dog pee grass pads and some disposable and reusable pee pads for dogs. Read it out and make potty training an easy task!
Why Should You Potty-train A Puppy?
Potty training your puppy is a necessity. After all, no one likes mess all around the house. Not only it keeps your house clean, but it also prevents you and your family from a lot of illnesses. Let's uncover some more benefits of this essential training session.
You would know when nature calls your pet. Hence, you can prevent accidents on your favourite carpet or furniture by taking it to the right spot.
Potty and other pet grooming sessions help them become a better part of society.
A potty-trained dog knows where to poop. Hence, it saves you from the embarrassment of having an accident in front of guests.
It saves you from daily cleanups.
You don't need to buy potty pads by taking the pet to outdoor toilets. Hence, you save a lot of money by not getting indoor pee pads for dogs.
All these reasons make potty training a must for your pups.
When Should You Potty-train A Puppy?
Have you just adopted a puppy, or did your bitch give birth to a litter of cute furballs? When should you start to potty-train them? And how much time does training a puppy require? These are quite important questions for new dog owners. Keep reading to get the answers!
The sooner you start investing time in potty-training your puppy, the better it is. The moment your pup is three months old, start training it. Don't delay it past six months. Though you can train adult dogs, it requires more effort and time.
Now let's move to the second question about the time required to train the pet completely. Well! It depends on your pup's age, learning capability, and mental strength. Some puppies are good learners and take only a few days to recognize their potty spots. Other takes months or even years.
Remember, training your pup for pooping at the right place is challenging. It will help if you keep on practising the sessions on your pup with kindness. And even if your canine still didn't learn anything after spending years, it's a red flag. It would be best if you take it to a vet immediately.
How To Train Dogs To Pee On Pads? --- A Step-By-Step Guide
How to a pee pad train a dog? Do you know what the right way to potty train a puppy is? If not, read the steps below.
1. Buy A Crate For Your Dog
A crate is a necessary tool every dog owner must have. It's your pet's space where it rests, plays, and sleeps comfortably. And you know what? Dogs don't do business at a place where they spend the entire day. When your dog is inside the crate, it holds the bladder for a long time.
When it's your pet potty time, take it out of the crate to the outdoor toilet. A crate is a great help in training dogs. You can even leave the pet unsupervised if it's in the crate. Not only will it prevent the pup from pooping inside the house, but it will also make it feel safer.
2. Stick To A Schedule
Follow a schedule. Specify a time and take your pet daily at the same time to do its business. The preferable time is after and before meals, sleeping, and playing. Circling on the floor, sniffing the ground, and scratching the door or furniture are all warnings that your dog needs to potty.
If you have a puppy, take it for potty breaks frequently, often with a gap of one hour.
3. Designate An Outdoor Potty Area.
Do you want your pup to empty itself in the right space? Specify a potty zone for the pet. Every time your dog wants to potty, take it to that place. If your pup is eight weeks old, allow it to choose the place itself. By then, they can already distinguish between different surfaces.
Let it select whether the pet wants to relieve on concrete, grass, bare soil, barks, or potty pads. Afterwards, take it daily to that spot, and soon it'll associate the area with the potty.
4. Use A Consistent Command.
Whenever you take your doggie out, there are a lot of distractions. Sometimes the dogs start chasing butterflies, birds, and squirrels on the way. So how can you make it stick to the business only?
The answer is to associate the word "go potty" with the emptying process. Keep repeating it while taking the pet out of the house, walking toward the designated area, and after reaching the spot. Doing this will ingrain the phrase with the action.
5. Celebrate The Success
When your dog reaches the potty spot, appreciate it by clapping. Once it has done with the business, celebrate the success by rewarding the pet with many treats.
6. Either Supervise Or Confine Your Doggie
When your dog is freely roaming in the house, keep an eye on it. Notice the signs of puppies needing to poop. Take the pet out immediately on the first sign. Don't waste time getting ready to go out. If you are cooking, stop immediately and take the dog out to relieve.
If you are not home or mostly busy outside, confine your canine companion inside the crate. A normal-sized crate for your pet is perfectly fine if you mostly stay at home. But if it's not the case, buy a bigger crate. Specify a small area as a toilet and the rest as your doggie's living space. Doing this helps you save the house from accidents.
7. Handle Accidents Wisely.
Suppose your pet had an accident on your favourite rug. What'll you do? How'll you handle such accidents? Here's what you need to learn!
Never yell at your pet or become violent. Shouting makes your dog afraid, and sometimes it can even attack the owner. Besides, pick up the potty using a scraper and use enzymatic cleaner for deep cleaning.
8. Have Patience And Show Consistency.
Potty training a puppy sometimes is quite frustrating. You will have to clean the accidents multiple times in a day before your pet is ready to potty at the right place. Patience and consistency are the two keys that'll lead you to success.
Keep following these steps. Soon your dog will be independent enough to go to the potty alone.
How To Use Bell To Potty-train A Puppy?
The basic steps for potty training sessions with the bell are the same as mentioned above. You have to hang it outside the main entrance of your house. When it's your dog's potty time, ring the bell to call it out.
Once the pet comes out following the ring, cheer it up and praise it as much as possible. Doing this helps the pet learn that the bell means it's time for potty. Regularly practising this will ingrain the habit in your furry. Soon the pet will ring the bell on its own to tell you, "it's potty my time".
5 Tips To Make Potty Training Easy
Take puppies on potty breaks 4-5 times a day or even more.

After 20 minutes of eating, drinking, sleeping, or playing, take your canine out on a potty break.

If you catch the pet red-handed, clap your hands loudly to make the pet realize it has done something wrong.

Don't become violent or adopt the punishment strategy.

Clean the accident area properly so there's no smell. Or else your pup will perceive it as a toilet.
Should You Potty-train A Dog To Use A Pee Pad?
Regarding potty pads, dog owners are mostly concerned and confused. We daily receive a lot of questions from the owners asking, "Can we use the pee pads for puppies?" So guys, buckle yourselves up! Here's the answer!
Of course, you can't take your puppy 5-6 or even more times out for a potty. Sometimes, the weather doesn't allow you to take the pet out, or you are too busy at work or elsewhere. In such situations, potty pads are the only solution. There's no harm in using them.
Now a great diversity of pee pads is available in the market ranging from grass dog pee pads to disposable dog pee pads. Moreover, a washable pee pad for dogs is available if you don't want to waste money buying disposable ones. In short, dog pee pee pads are a pet owner's great aid.
So, are you considering buying dog-training pee pads? Where can you get the best pee pads for senior dogs or puppies? Stop thinking too much! We've already covered it for you. Let's kick-off!
1.Dog Pee Pads Washable Instant Absorb Training Pads By Loobani

Are you considering buying extra large washable dog pee pads? Go for Loobani instant absorb training pads. Why are they the best dog-washable pee pads? Let's uncover it together!
The pads absorb the liquid so well. The inside waterproof layer prevents the liquid from reaching the floor. Hence, keeping it clean and dry. Besides, the pads are big enough to be placed under the dog's playpen. With Loobani's training pad, let your dog enjoy its playtime!
Besides, you can use the pad to protect your furniture or car seats from accidents. , spread the mat on the car seat or your canine's favourite sofa. By doing this, you'll be able to save your assets. Are you worried about the pad slipping on the car seat or floor? Relax, buddy!
The Loobani's training pad has anti-slip points on the bottom. It enables the mat to stay fixed in place. Furthermore, when the pads get dirty, you can even machine wash them. Cleaning up made it so easy! Though hand washing is also allowed with a machine, the process becomes more effortless. Also, you can order single as well as double mats.
Price: $31.99 – $ 51.99
Size: 41 X 41 inches
| | |
| --- | --- |
| Pros | Cons |
| The pad serves multiple functions. | Temperature higher than 149 F destroys the mats' fabrics. |
| They have anti-slip points so that the mat stays in place. |   |
| It is both machine and hand washable. |   |
2.Carbon Tech Puppy Training Pads By Bulldogology
The carbon Tech Puppy trading pads by Bulldogology are one of the best indoor pee pads for dogs. They are 3x thicker than other pads and have six layers of technology. When your dog pees on the pad, the liquid instantly turns into a gel and doesn't allow it to reach the bottom or the floor. Hence, in this way, these pads help you maintain the house.
Also, the pads have built-in attractants that drive the dog towards the pad. The smell lock technology neutralizes the pee odour. Apart from that, you can use the pads any time of the year. They are the best indoor and dog outdoor pee pads.
They are available in packs of 50, 200, 200 and 300 pads. Buy any and experience the pad with the best absorption and smell lock technology.
Price: $ 48.99 for a pack of 100 pee pads.
Size: 24×24
| | |
| --- | --- |
| Pros | Cons |
| The pads have mind-blowing absorption. | The adhesive tape with the pack leaves a mark on the floor. |
| The smell lock layer neutralizes the odour. | It's partially leakproof. |
| These pads have attractants.   |   |
3.Loobani Reusable Dog Playpen Mat
Loobani always impresses customers. This time we're up with its reusable pee pads for dogs, also known as playpen mats. The mat has a super absorbent surface that lets the liquid seep into the pad, preventing urine puddles. The fabric is quite comfortable, soft, and also tear-resistant. Hence, your dog enjoys doing business on it.
Besides, the pad is leak-proof and has anti-slip discs or points to keep the pad in place. It's an all-in-one pad that you can use outdoors and indoors. And also, the pad can be used as a potty pad, a dog's play-mat, and for protecting sofas and car seats. And you know what? The pads are in a pack of two. When one pad goes into the machine, replace it with the second one. These dog washable pee pads are easy to manage and a great aid for owners having a whelping dog or leaking senior canine.
Price: $69.99
Size: 72 X 72/ 65 X 48 inches
| | |
| --- | --- |
| Pros | Cons |
| The pad is eco-friendly. | The pad smells even after washing. |
| It is one of the cheapest dog pee pads. | They are partially leakproof. |
| It covers a large area and requires low maintenance. |   |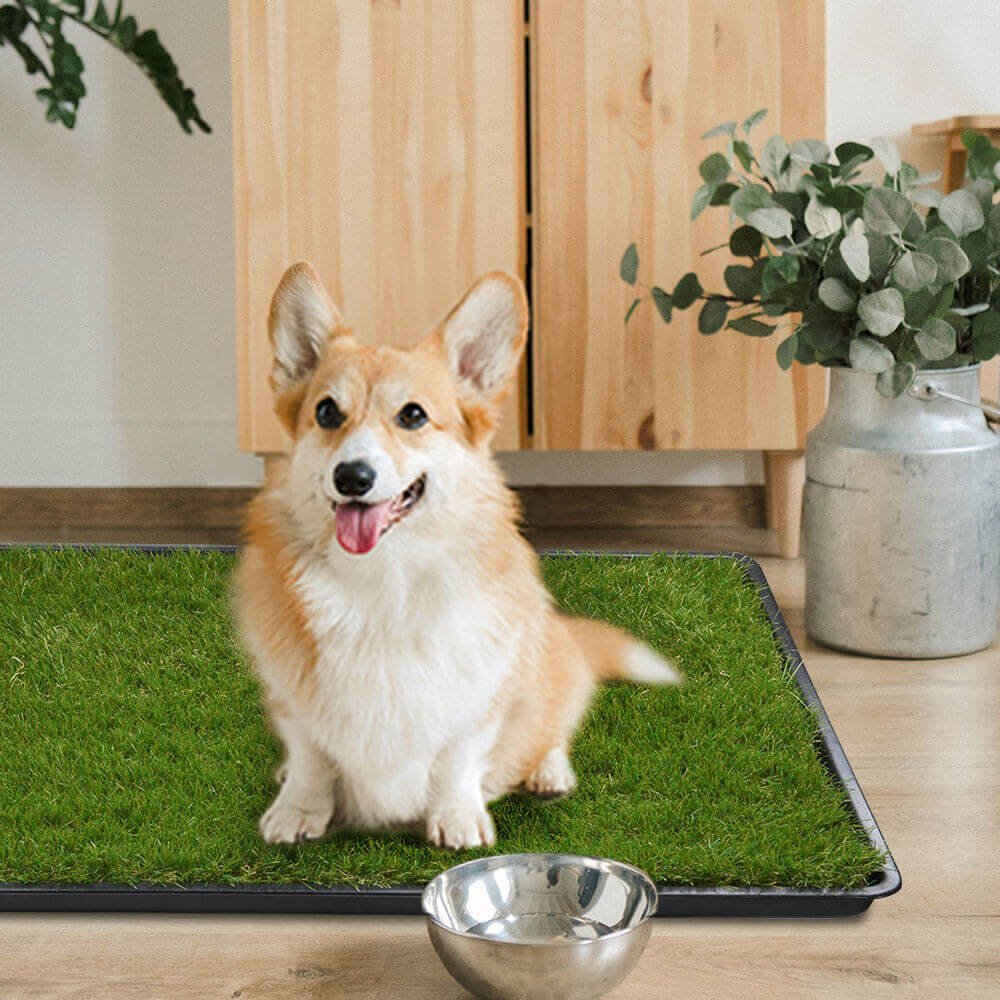 4.LOOBANI Large Grass Porch Potty Tray
Does your senior dog have mobility issues and can't go out on nature's call? No problem! Bring nature home. What does it mean? Dogs love to eliminate grass. It's in their instinct. And by bringing the Loobani dog grass pee pad system home, you provide the dog with a natural grass feel.
The grass dog pee pad looks like a real lawn. The artificial grass is woven so perfectly that it doesn't even come out on pulling. Besides, the underside has a lot of holes to drain the liquid in the dog pee pad tray underneath. When the tray is full or is about to overflow, empty it immediately.
Besides, cleaning and drying the grass pad for dogs is also easy. It would be best if you had a mild detergent and a lot of fresh water to clean it like new. For drying, hang it in the sunlight. Moreover, it's the best pee pad for a balcony, a sunroom, an apartment, an RV etc. The grass extra large pee pads for dogs are perfect for all your small or large dogs.
Price: $ 115.99
Size: 45 X 29 inches grass pee pad for large dogs
| | |
| --- | --- |
| Pros | Cons |
| The pad is suitable for all dog breeds. | The grass sheds with washing. |
| The pad comes with a try to collect the liquid. | It's not durable for teething pups. |
| You can use it as a dog indoor pee pad too. | The pad is slippery. |
| These balcony pee pads for dogs have excellent drainage. |   |
How To Attract A Dog To a Pee Pad?
You have bought expensive peeing pads for dogs, but it still does pee on the pad? Ever wondered, "why does my dog pee next to the pad?" Remember, dogs never pee on uncomfortable pads. Never settle for cheap pee pads for dogs. If the pee pad is of premium quality, comfortable, and according to your pup's size, some pups still pee on the pad. How to get a dog to use a pee pad? Here we've some amazing for you.
Take help from treats to take your pup to the pad.
If you introduce your dog to the pee pads for the first time, give it time to sniff and explore the item.
Use pads that are scented or have attractants.
If the pad is unscented, spray it with attractants.
Once your dog is on the pad, appreciate it and command "potty".
We've discussed potty training and pee pads, but how to use them? Is there any special place to keep them? Come on, let's learn together!
Dog training pee pads are not just for handling your canine's poop or pee inside the house. You can use them as dog pee pads outdoors too. Many dog lovers are travel enthusiasts and can take their furry with them. The outdoor dog pee pads will protect their car seats from any mess.
Furthermore, if you have an extra large dog pee pad at home, there's no need to buy a separate play mat for it. Instead, place the potty pad under your canine's playpen. It would be a wonderful experience for your pup.
You can also use extra large washable pee pads for whelping dogs. They are the best washable dog pee pads for dogs creating a mess while eating. Cover the crate with extra large dog pee pads before giving food to your messy dog. As the pad is reusable, cleanup would be relatively easy.
Some pee pads slip on the floor and increase the chances of accidents. Go for pee pad holders with sides a little high to avoid mess.
What If Your Dog Won't Go Potty?
If you have taken the pet to the potty spot, it is still hasn't eliminated, no problem. Take the pet back home. After 15-20 minutes, bring it back to the place and wait for the pet for 3-5 minutes. If still, your doggy is not in the mood to excrete, repeat it one more time. Usually, the dogs poop for the second or third time unless there's no health problem.
How Do You Refrain A Puppy From Peeing And Pooping In The House?
Let's face it whenever our dog creates a mess in the house, we feel bad and want to stop it immediately. But how do you do that?
We see the canine companion indulging in indoor potting, stopping it immediately by clapping his hand and saying, "Ah ha no potty at home". Pick them up from the area and take them to the potty site. Doing this will discourage the pup pooping in the house.
How To Train A Male Dog To Use A Pee Pad?
Training an adult dog to pee on the pee pad is tough compared to training puppies. The reason? Because dogs already have firm habits, changing them requires more time and hard work. But it's possible.
You have to set the male dog pee pads in an area designed as an indoor toilet. Take the dog on a leash to the spot and direct it toward the pad. When he steps on the pad, order him to potty. Wait for 3-5 minutes for the dog to do the business. When done, direct him to step out of the potty area. On your success, reward the dog with treats.
What Is An Ideal Age To Potty Train A Puppy?
The earlier your start, the better it is. Normally when the pet is around 9 – 16 weeks, you must start the training. Apart from that, adult dogs can also be potty trained, but it's more difficult to make them leave already-developed habits and switch them to new ones.
How Often Do Puppies Have To Go Potty?
On average, puppies have to go to the toilet after every one or two hours. It can range from 5-6 times to even more if the puppy is too tiny.
Why Won't My Dog Pee On The Pee Pad?
Why won't my dog poop on the pee pad? It's also a question dog owners often ask. There are many reasons for not doing business in the right place. If the dog training pee pad is uncomfortable or smaller than the size of your canine, your dog won't pee on the pee pad. One of the reasons could be early independence. Yes, your dog might need more practice, so keep doing that. Soon your dog will not pee anywhere else.
Why Is It A Bad Idea To Leave Your Pup Along With The Pee Pad At Home?
A dog tears up a pee pad when left alone, and some dogs consume it too. It contains polymers, so dog eating a pee pad is not good for the pet's health. Besides, you'll have a lot of mess to clean up if the pet has torn the pad after pooping. Your pet can also put itself in serious trouble. It's better to put it in a crate before leaving the house.
My Dog Ate Some Pee Pads. Should I Be Worried?
Yes, you should be worried because it contains absorbent material. The material absorbs water and gets bigger inside your pet's digestive system. It results in blockages in the pet's digestive system.
The Final Verdict
How to train dogs to pee on pads? It's the most asked question. Though everyone likes dogs as pets, no one likes accidents on carpets, bedsheets, or furniture. Not only do they create a mess, but they are responsible for many diseases. Therefore you need to potty train your dog. The steps mentioned above help train dogs to pee on a pad. Practice them right now and make your dog a civilized dog.
Besides, you can use pee pads too. Dog pee pads grass versions by Loobani are the best for indoor and outdoor areas.