An unavoidable aspect of existence is aging. All living things get older and face many problems, such as joint pain. We will eventually have to deal with our closest pet pals getting older. As dogs reach a particular age or degree of illness, it becomes difficult for them to move around comfortably.
We must make their time as comfortable as possible because we are their guardians and closest friends. Your dog may eventually experience back weakness due to an illness or injury or require assistance while recovering from surgery.
During these moments, a sling that raises his back and takes part of the weight off his hind legs may be helpful. The sling for dog is the best dog sling when your pet is dealing with this kind of problem. Do you want to know all about dog carrier sling? You are at the right place.
Before making a dog sling for an injured pet, you must understand how a harness can benefit your pet (and you), and where your dog needs the support. You will get all information about making a dog sling carrier here. So, let's start with the introduction of dog supportive sling.
What Is Dog Supportive Sling?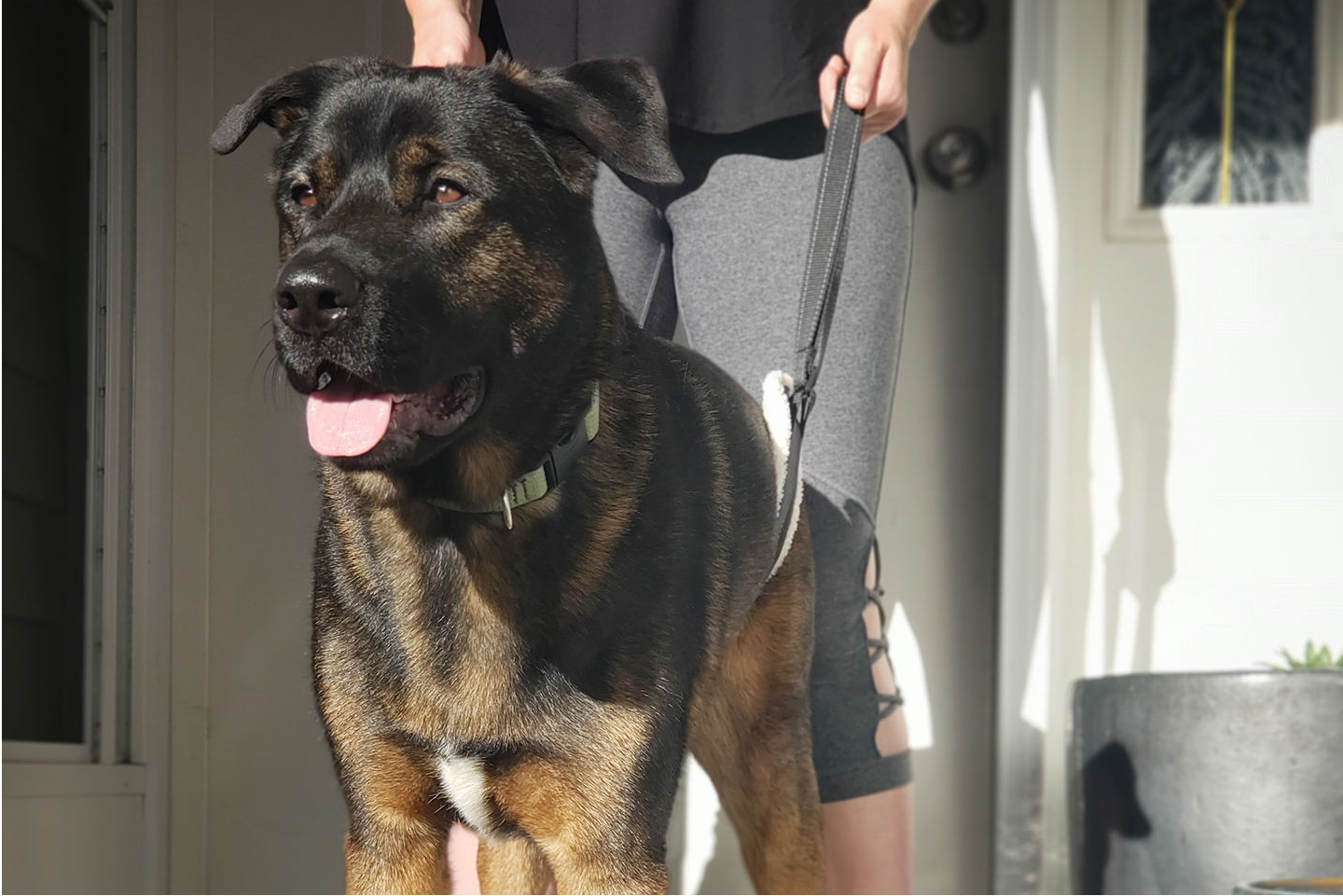 For those who don't know, a sling for a dog is just a long-handled sling that is wrapped around your dog's abdomen. You can gently pull up on the handle once you've wrapped it around your dog to relieve some of the pressure on its legs, hips, or spine.
The dog carrying sling allows you to support your immobile dog and assist her in moving around without using a full-on wheelchair. But different manufacturers employ various materials and designs, and some perform better in particular circumstances than others.
For instance, while most dog carrier slings are made entirely of flexible textiles, some have reinforced handles and other parts. Dog slings are gaining popularity due to their benefits for an injured dog.
Types of Dog Supportive Sling
Dog lift harnesses come in two main varieties:
Front lift harnesses

Back lift harnesses
It would help if you chose the ideal type for your pet because each has benefits and drawbacks. Larger dogs respond better to the front-lift configuration, whereas smaller dogs respond better to the back-lift version.
Reasons to Use Dog Supportive Sling
Several physiological or medical factors could make your dog need a strong dog carry sling. Some of the most common include:
Hip Dysplasia or Other Problems with the Ligaments
Hip dysplasia is when a dog's hip joint fails to develop normally, resulting in cartilage loss, discomfort, and limited movement. The additional support that dog sling carriers can provide is beneficial for dogs dealing with severe ligament and joint problems. The dog hip sling is the best solution if your dog is facing hip dysplasia.
Most procedures can leave dogs with movement problems after recovery. A lifting harness can lessen discomfort and guard against strained and worn-out muscles. Dog slings are beneficial when your dog is having surgery.
Using a lift harness as part of a multimodal strategy for pain management and improving mobility can help with the prevalent ailment of arthritis. Your dog can move comfortably with a supportive sling, even with arthritis.
Senior dogs may benefit notably from using a lift harness because they are more prone to several diseases mentioned above.
Are Sling Carriers Safe for Dogs?
If used properly, sling carriers are pretty safe for dogs. Just make sure to observe your pet closely the first few times you use it and watch for signs that he's getting anxious or feeling nervous – this may be a warning that he's about to try a jump for freedom.
Ultimately, as long as you stick to high-quality pet slings, the biggest X factor is your dog's personality. This is yet another example in which it is crucial to know your pet and the way he's likely to react to a specific situation. If your dog is calm, it is safe to use the dog sling.
Benefits of Dog-Supportive Sling
A lifting harness is a sling intended to be wrapped around your dog's body to support and facilitate movement for a dog with limited mobility. Depending on the style of harness you select, the harness has a handle you can use to gently pull up to relieve pressure and weight from your dog's legs, hips, spine, or shoulders, or a combination of all four (whole body or dog rear lift harness).
Dog supportive sling can beneficially support you and your dog by:
Minimizing discomfort and reducing the strain on muscles and joints when bending, walking, or climbing stairs.
You are enabling and expediting post-surgical recuperation.
You or your pet sitter can move larger dogs without lifting them by their total weight and risking back pain.
Helping dogs with general joint and leg limitations avoid harm.
Following our discussion of the many uses of a harness and how they might improve your pet's quality of life, choosing which kind is best for your dog is essential.
How to Make a Supportive Dog Sling?
People ask about making a supportive dog sling. It is not a very complicated procedure if you want a DIY dog-supportive sling. The following is a low-cost method of creating a cozy sling for your dog. This technique improves mobility and strength, allowing pets with hind limbs and lower back mobility concerns to move quickly. It can also be helpful for post-operative rehabilitation. Pets can move up and down ramps and stairs with the aid of the sling.
Reusable shopping bag
Scissors
Use a soft cotton bag, I repeat, use a soft cotton bag. Your dog will feel uncomfortable in the stiff plastic sacks. You only need a pair of scissors and a robust, dependable, and soft reusable grocery bag, both of which you can find in any supermarket.
It is Cheap. Is it not?
Method of DIY Dog Supportive sling
Here is the method to make a supportive dog sling bag you can follow to make it for your lovely companion:
Only a few steps are involved in making your dog sling carrier. Any type of fabric, including those with diverse designs, textures, and weights, may be used.
Place the bag on its side.
Cut the bag along the middle of each aspect from top to backside.
After slicing, the bag should be able to lie flat like this.
Wrap the bag lightly around the dog's lower tummy while supporting it with the handles.
You must lower the sling underneath your dog's hips and slide it under his abdomen. You can support your pet's rear end or lift him to assist with stairs by pulling up the handles. You can also slide it underneath the dog when lying down to help them stand up.
This method may also take the time, however in the end, your canine will understand that the sling is supporting him. Due to the fact the bag is product of a soft cloth, the sling won't reason him any discomfort. Use a cloth with some give to make a short carrier more comfortable for your dog. The stretch is less crucial if you make a more complex version.
How Do You Use a supportive Dog Sling?
The use of a dog sling provider is nearly as easy as developing one yourself. With the front pouch across your chest and the other end to your hip, put on the sling throughout your shoulder.
Place your puppy into the pouch after separating the two pieces of fabric. Your dog should sit in the pouch on its rear, and your dog's head should be on your chest.
Here is the procedure if you want to diy dog sling carrier or sew the dog supportive sling for your lovely pet:
Measure a piece of fabric starting at your shoulder, across your chest, and ending at your hip.
You will have enough fabric for your seam if you double the measurement and add a few inches so that it will fit around your body.
Make a half-circle out of the same material, taking seams into account.
You should repeat these methods on the materials of your choice if you're using different materials for the inside and exterior of your sling.
The long length of cloth that you have cut out should be attached to the half-circles. The front of the dog sling harnessshould have the half-circle fastened to it.
Line up the two materials you're mixing for the inside and the outside, and then use pins to secure them.
Your seams should all have a seam allowance of at least half an inch.
Sew around the edge of the fabric with a machine or by hand. You can do a double stitch if you want your sling to be more secure.
Turn the fabric inside out to reveal the right side, leaving a little area unfinished. After it is finished, hand-sew the tiny opening closed to provide security.
Advice for Making Your Own Dog Sling Carrier
It would help if you designed the carrier so that the person wearing it may wear it comfortably. If it does not fit the person wearing it properly, it may hurt them and not allow enough room for the dog to feel comfortable.
Those who want to keep their dogs warm or give them additional pillows to make them more comfortable frequently line the inside of their dog slings. If your dog tends to overheat quickly, try using a cotton fabric that will support the dog while still being more breathable than a fleece or polyester material.
Little dogs that weigh less than fifteen pounds respond best to dog slings. Although if you can make dog slings carriers for slightly larger dogs, you risk hurting your back or shoulder and possibly damaging the dog slings for large dogs you made.
To ensure enough space for your dog to sit comfortably, you can measure your dog before cutting the half-circle.
Things to Consider While Making or Buying the Dog Supportive Sling
There are many things to think about while selecting a dog walking sling. Because so many possibilities are available, you must know what to search for. Making a pick will be much simpler if you know what you desire in a carrier.
A sling dog carrier may be fashioned from just about any strong and flexible material, but the best ones are made from premium cotton or other fabrics that won't hurt your dog's skin.
You should also search for choices with extra padding and remember to think about the grips; you don't want to experience hand cramps or blisters when wearing the harness.
If you are considering buying a high-quality material dog sling for walking, visit LOOBANI. You can get the best quality dog sling by purchasing LOOBANI Dog Sling for back legs. It is perfect for injured dogs with walking problems. The dog sling for back legs is also comfortable with a soft inner liner with a nylon strap that is good for heavy dogs.
The dog slings for walking that supports your dog's body well without placing unnecessary strain on her joints or muscles is what you desire. Because supporting large or heavy dogs requires exerting a lot of force, the handle design is particularly crucial.
Consider other people's experiences with dogs comparable in size and form to your own to see if the design works well before making your purchase.
Choose a dog sling for grooming that will fit your dog well. It must be secure enough to keep it from slipping or escaping. In addition, it should ensure the dog has plenty of support to ease the pressure. Ensure the harness isn't too tight, doesn't irritate the dog's skin, or rubs against it.
Do you want to know the size of your dog, whether it is small, medium, or large? Let's see the chart to identify the size of your dog.
Table1: Different Dog Sizes with Their Weight
| | | | | | | |
| --- | --- | --- | --- | --- | --- | --- |
| Size | XS | S | M | L | XL | XXL |
| Weight(lbs) | 5-10 | 11-20 | 21-40 | 41-70 | 71-105 | 100-120 |
We hope you got information about the size of your dog. Let's see what dog-supportive sling size is best for your dog.
Table 2: Different Dog Sizes with the Dimensions of Dog Supportive Sling
| | | | |
| --- | --- | --- | --- |
| Size | Abdomen | Chest | Sling width |
| XSmall | 13-17" | 13-17" | 4" |
| Small | 18-22" | 18-22" | 6" |
| Medium | 22-26" | 22-26" | 8" |
| Medium/Large | 24-28" | 24-28" | 10" |
| Large | 29-35" | 29-35" | 11" |
| XLarge | 36-44" | 36-44" | 12" |
Consider the dog's comfort and how comfortable small dog sling carrier is for you. A sturdy, adjustable strap is recommended for those with back or shoulder issues. Also, if you want to be more comfortable carrying your dog in its sling, search for a padded strap.
Most carrier slings include a safety sling that you can insert onto your dog's collar. This is to prevent them from leaping out of the bag as you're moving. As an added safety measure, though, consider a bag that has at least some type of closure — a clasp, or button -to hold your dog in.
A well-fitted dog lift harness performs at its best. The models with adjustable dog grooming sling are a fantastic choice because they allow for more exact fitting.
The material and other elements, like rounded edges and thick strap padding, affect the harness's comfort.
Best Dog Supportive Slings
The small dog sling carriers and leg sling for dog are available from various brands. We have reviewed a number of the most popular and best dog sling carrier models to make things simple. You can choose one of them according to your pet's needs.
1.
Loobani Dog Sling for Back Legs: Best Overall
For dogs with orthopedic injuries, hip dysplasia, arthritis discomfort, or other painful ailments, the LOOBANI Portable Dog Sling offers an easy-to-use alternative. The handle of loobani dog sling has detachable padding to safeguard your hands and assure comfort while carrying the sling.
The LOOBANI sling for dogs back legs comes in three sizes, making it simple to choose the right one for your pet. Thanks to its three sizes, this sling for dog can fit dogs weighing 4 pounds up to 200 pounds. Our testing found that this amount was inflated because ours broke while toting a dog that weighed just over 100 pounds.
We suggest choosing the broadest one for your dog's comfort since it will disperse the pressure out across a broader area. Using smaller slings for dogs back legs like this, the pressure put directly on the bladder as you assist in lifting them might occasionally cause early urine.
Pros
Three sizes fit all dogs
Removable handle pads
For dogs from 4-200 pounds
Attractive design with durability
Cons
Not wide for comfort
Can cause  urination
2.
Handicapped Pets Dog Support Harness; Best in Budget
The Handicapped Support slings for small dogs are carriers made to help you help your dog. It enables you to carry a portion of your dog's weight and lessen the strain on his joints without having to bear all of your dog's weight.
It is available in large or extra-large. Due to its value and simplicity, sling for large dog is the most fantastic dog harness overall for supporting hind legs because it provides your dog freedom without impairing you. It is easy to use for all kinds of pets.
This is the best solution for a cost-effective small dog carrying sling with simple and beneficial features. You can try it for your dog's comfort.
Pros
Easy to use
Cost-effective
3.
The GingerLead GL-LF Dog Support Harness
One of life's greatest pleasures is taking your dog for a walk. These walks are still possible with the GingerLead dog rescue sling, even if your dog is recovering from an operation or an injury or has weak legs or hips.
The GingerLead dog sling carrier for large dogs is our premium pick, so you should expect to pay a little bit more for it, but it's a worthy investment. This sling to help dog walk offers accurate measurements to get the correct fit for your dog, even differentiating between male and female.
One of the most comfortable solutions for your dog is possible, even though it could be more challenging to find the correct sizing once you do. It comes with an integrated leash attached for comfort and control, but you can also use a chest harness if you'd choose.
Since the size of the GingerLead is so unique, we advise choosing an alternative harness if you intend to use it for more than one dog.
Pros
Good concerning comfort
It can be used for the chest and also
Ideal for hip, leg, or back injury
Adjustable for male and female dogs
Easy to put on
4.
Love Pets Dog Support Harness
This small dog carrier sling from Love Pets is the least expensive option we tested, making it appealing to many people just for that factor. It is also very straightforward and reasonably priced. Choosing the best dog carrier sling for your dog is simple because only two sizes are available.
We immediately observed that it rolled into a compact package with buttons closed for storage or transportation as soon as we received it. Although it doesn't impact how the harness is used, we appreciate this pleasant little addition. After putting the Love Pets Love harness on a dog, we understood why it was so inexpensive.
Pros
Affordable
Easy sizing
Easy to use
Cons
Not appropriate for giant dogs

5.
The Labra k9 Sling Lift
The Labra large dog carry sling contains a set of adjustable straps that let you change their length to fit your own body when lifting your dog. It also has a wide, soft, and sturdy fabric sling to gently support your dog's body. To add to the comfort, the sling's interior is lined with fleece.
Snap closure allows you to roll up the sling and keep it organized when not in use. The Labra K9 Sling Lift is black in four sizes (medium, large, extra-large, and extra-extra-large).
Pros
A good option for large dogs
Another helpful feature that most competing items lack is the fleece liner, which is included with this item
Cons
Material is not good enough

6.
HNYG Dog Supportive Sling
When selecting a dog lift sling, two primary considerations are strength and durability. Lightweight straps may be effective for dog sling carrier 20lbs but may be hazardous when a 120-pound mastiff is placed within. With their dog sling, HNYG takes the proper tack with this issue. This single-size harness may support mastiffs or dogs up to 120 pounds.
This pet slings for small dogs helps your dog walk or climb after suffering from severe disorders, including hip dysplasia, ACL tears, degenerative myelopathy, or other unpleasant conditions. Also, it has soft fleece to protect your dog, and you can fold it up and securely store it within a travel bag when not in use.
Pros
Suitable for most dog's bodies
No bending is needed to lift the dog
Cons
Some dogs are allergic to fleece.

Frequently Asked Questions
1.
Do Dogs Dislike
Slings for Dogs
?
A sling carrier for dogs is not dangerous to dogs. It helps people who have lost their movement due to old age or other conditions. They assist the owners in moving their dogs while allaying any security worries.
2.
What Style of Dog Sling Should I Purchase?
It depends on your wants and the demands of your dogs. The front or back legs may be supported or both, depending on the design.
3.
Do Pups Enjoy Wearing Dog Slings?
Being physically close to their owner makes dogs feel more secure and deepens their attachment. Modern dog slings are made to keep the dog's spine straight while letting its legs hang freely.
4.
How Come I Should Get a
Small Dog Sling
?
A sling can assist you in moving your dog around and enhancing their quality of life if they are having trouble moving for any reason.
5.
What Conditions Does a Dog Sling Assist with?
Each design has its specs, but generally speaking, hip dysplasia, amputated limbs, and other impairments that prohibit dogs from walking properly are the conditions where a large dog sling becomes useful.
6.
What Is the Most Comfortable Dog Carrier?
The dog carrier sling we think is most comfortable is the LOOBANI Pet Carrier. Its features include durability, variety in sizes, cost effective and many more.
These large dog sling carrier are intended to perform the same goal, aid your old doggo in walking around comfortably. Larger dogs that must gradually acclimate to walking can benefit significantly from using dog support sling as a recovery technique.
We have reviewed many brands of supportive dog slings; you can choose one according to your demands. Do you use a supportive sling for your dog? We hope you have got the best solution here. This tutorial gave you the idea to make your dog sling!