Try a dog hind leg sling on your dog
As all of us recognise, a dog sling can be very useful for helping your dog to walk, stand and do the other movements in each day life if he or she has the walking mobility for the moment. Besides, a dog rear leg sling has both practical values, like helping your dog to negotiate stairs, hop into the car, and go outside to walk or pee as well as the psychological value like you may be more faithful about your dog could walk confidently again, your dog also can be more faithful about himself or herself could do the daily routine and so on. So you should try a dog sling on your dog if your dog just happened in need like that, then you may be amazed about how effective are dog slings could be.
An alternative tool to a rear support chair up to a point
If you ever tried a dog back sling on your special dog, you may already know that how valuable when it comes to him or her in hand. We all know that a dog leg sling is a convenient, inexpensive, and safe alternative to a dog's rear legs support. A dog support harness could be promptly turned into helpful assistance which lets you lift your dog without any discomfort. You may know that a dog leg harness can be diverse, but mostly they work in the same way as a professional dog walking assistance, as it giving support but does not give too much pressure on a dog's belly or joints, etc…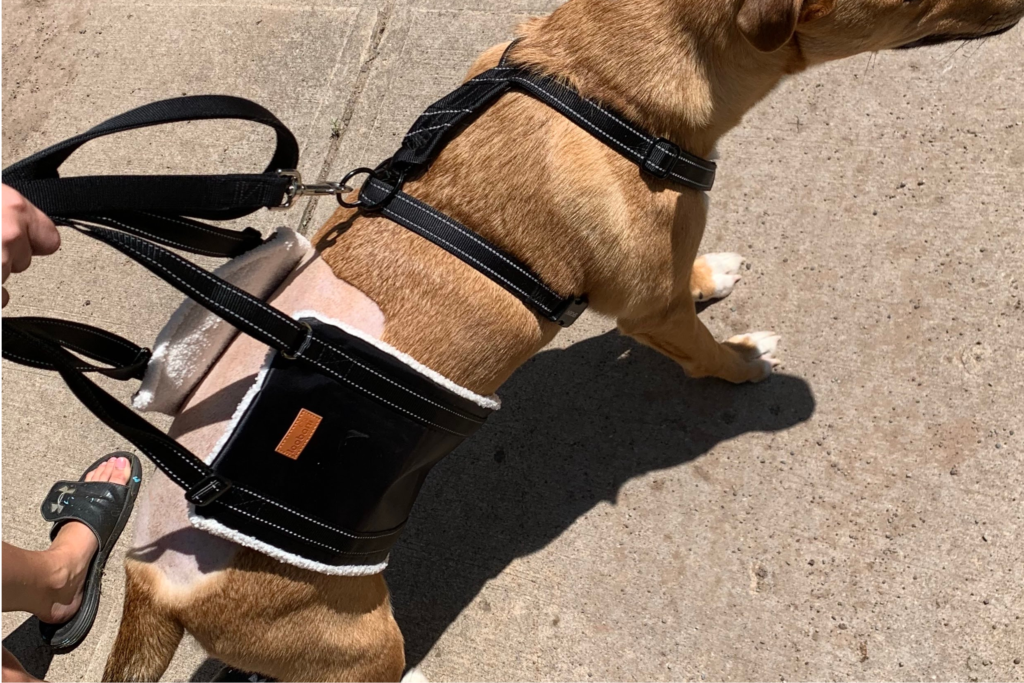 On the identical time, you need to recognize the professional critiques from your canine's veterinarian approximately have to you operate this kind of tool to help your dog come what may.. It depends on the dog's situation, so I think you may need some professional advice at the very first beginning. The canine sling you chose has to be long enough to go beneath the belly of your canine, also pull up on the top so you should grasp it securely right? Like the loobani dog sling which could help to stabilize and support the mobility of a dog with weak back legs or a dog recovering from knee or hip surgery.
When can a dog sling be helpful for your dog? 
There are a few medical conditions that may benefit from a dog sling such as the following:
Hip dysplasia
Knee injury
Arthritis in knees, hips, or back
Degenerative myelopathy
Recovery from knee or hip surgery
some other debilitating ailments
If your beloved dog just suffering any kinds of issues like above, you may need to consider taking your dog to the pet hospital and see the veterinarian, consult about the solutions that may be helpful first. Then I am pretty sure that the dog sling could play an important part during the whole healing process on your dog.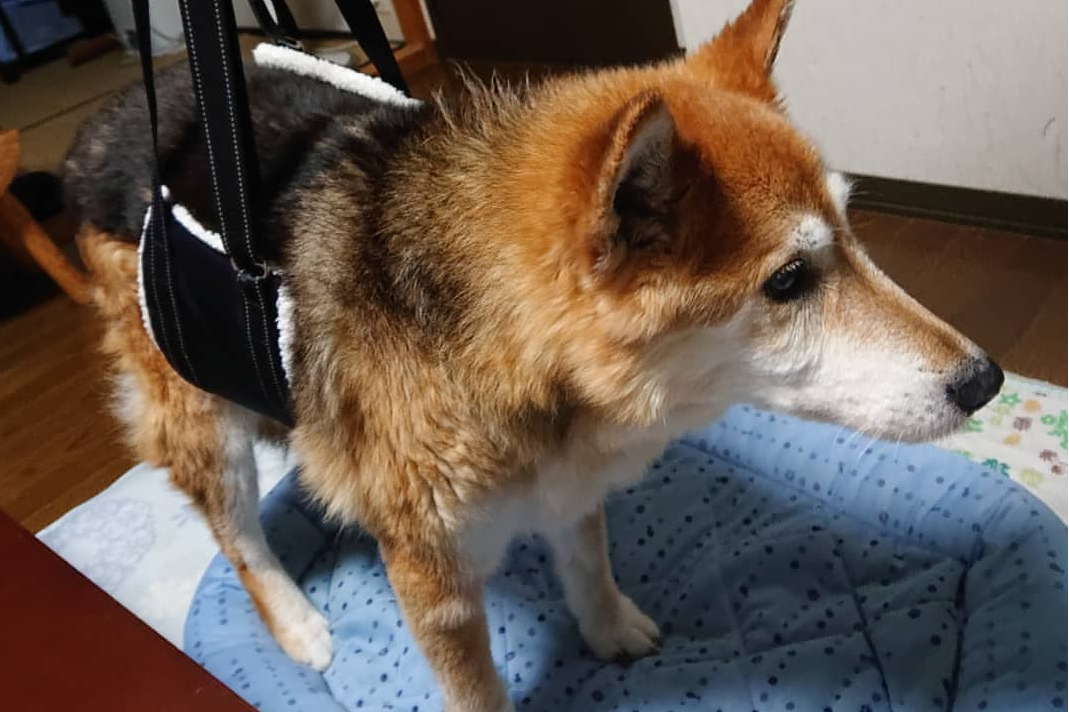 How effective a dog support sling can be
Providing some supports for a dog's weak back legs
For example, the loobani portable dog sling for back legs is a very good product you can take a shot of. Because of its soft lining and adjustable straps, sturdiness, and removable handle padding, which is also super easy to use, to store. The loobani dog sling can help your dog goes outside to walk or pee, hop into the car or even negotiate the stairs, etc… Apart from that, the soft fabrics can help to keep your dog warm when it is cold out there.
Helping your dog to stand easier and more confidently
For further description, if your dog's back legs were too weak to stand on his or her own, you can try a rear dog lift on him or her. Just simply put the comfortable inside part to your dog's belly and grab the two handles together gently to lift your dog. This move could be effective in helping your dog to stand easier and more confidently. Which is worth a try you know?
Helping your dog to move by lifting your dog without any discomfort 
Really that a canine elevate is one of the quality methods to help to lift your canine correctly. Normally a dog may feel supported, especially which just getting recovery after a miserable injury or surgery… In this case, your dog could get back to go for a walk with you more sooner if you could try something helpful like a dog lifter.
Helping your dog get on and off different types of vehicle
A dog carrier sling sometimes could be very helpful to assist your dog to get in and off your vehicles. And the operation is very simple, normally you just need to pull up the handles gently to assist your dog to get in or off the vehicles. Because the dog sling you used could undertake a part of your dog's weight off from his or her legs you know? 
Helping your dog going up and down the stairs
We all know that it is a daily activity that may be beneficial for a dog lifter is going up and down the stairs. You may try to help your dog go up or downstairs by holding the dog sling which is working on your dog's back legs so that your dog would no more worried about his or her back legs. In case your place also has stairs, then you may also need this to help your dog to negotiate stairs if you need to take your dog out. 
And if you are going outside to walk your dog and he or she wants to walk super fast, you may allow using a dog sling to slow your dog down, which is also quite important after serious surgery, or just recovering from some kind of dog leg injuries. Besides, if your dog is ready to do the bathroom break, then it's easy to drop the dog sling you were using on your dog. When your dog is done you just need to place it back again. Off you go, can back to the house happily.
A way to lift and move a dog in case of an emergency
Just imagine if your beloved dog accidentally gets hurt on the dog legs or you find a dog with dog legs' injuries when you are on the road and away from home. You may realize that a dog support sling may be your best friend at some point. Generally you could prepare a pet's first aid kit collectively with the canine lifter, the dog lifer approach is typically very tolerated and safe with the aid of a canine you recognize? Now and again this is just a superb way to hold a dog in case of unexpected accidents.
Carrying your dog in a dog sling can be more fun
You know that the older and special dogs may easily get tired on a walk, and if you always love to travel a long distance then I bet you may want somethings economical to let your dog staying safe and joyful by your side all the time, right? There are so many types of canine sling supports that can be quite bulky or even near impossible to carry with you while you going on a hike or bike you know? The loobani portable dog sling for back legs is a perfect solution to keep your hands free when keeping your special furry dog safe, also secure close to you. You can check how effective the loobani portable dog sling is upon its website, to see if it is suitable for your furry friend or not.
All in all, you may have already seen lots of different dog harnesses before, or you may readily know to effective the dog support slings are… But I still hope this article could be helpful for you, for the lovely dog you are keeping as well. We believe that we could create a better life with our furry family members because we are all dog lovers and dog owners who love dogs so much. Thank you very much for reading here. Good luck to all of you!