An inevitable aspect of existence is ageing. We will ultimately have to deal with our dearest pet pals getting older. Moving around comfortably becomes challenging when dogs reach a particular age or degree of illness. We must make them feel comfortable because we are their guardians and closest friends.
Do you own a dog that has mobility issues? With a dog support sling, you can assist your dog in standing up and walking while also saving your back. There are several different types of lifting harnesses; some assist with the back or front of the dog, while others hold the entire body. Lifting harnesses not only make it easier for owners to lift giant dogs, but they are also more convenient and helpful than picking up a dog.
You can assist their hind legs using a dog carrier sling to ensure your dog can move around pain-free and enjoy spending time with you. Many of these harnesses have undergone testing on our dogs, and we've reviewed ten of our favourites to help you choose the finest one for your cherished pet. After reading them, you can determine which harness will enable you to provide your pet with a comfortable final chapter in life.
What are dog lift harnesses?
A dog lift harness is a support sling dog carrier that helps the dog owners to lift their canines easily and comfortably. It allows you to lift your pet for more support because they have a handle on the rear. They are used for canines with restricted movement due to injury, disability, or age. They are also called dog carrier slings, harnesses, or mobility harnesses.
Lifting the weight of your pet's legs, hips, or back while it moves is possible with lift harnesses for dogs, which can also reduce or postpone the need for a dog wheelchair. These can assist dogs with disabilities with walking, going potty, climbing steps, and getting into vehicles.
A dog carrying sling or harness can help with a variety of mobility problems for your pet. Support harnesses are intended to relieve joint discomfort in older dogs, help injured animals remain mobile, and provide paralyzed animals with the support they require to alleviate tension in their hind legs.
Every paralyzed dog needs a dog rescue sling to get around the house. It would help if you comprehended how harnesses are used, how a harness can help your pet (and you), and where your dog requires support before you purchase a lifting harness for a paralyzed or injured pet. There are a wide variety of dog sling carriers available on the internet, you should buy a product that is durable and works well for your dog like Loobani's Dog Sling for Back Legs. To discover the best assistance for your pet, keep reading to learn everything you need to know.
How to choose the right sling harness for your dog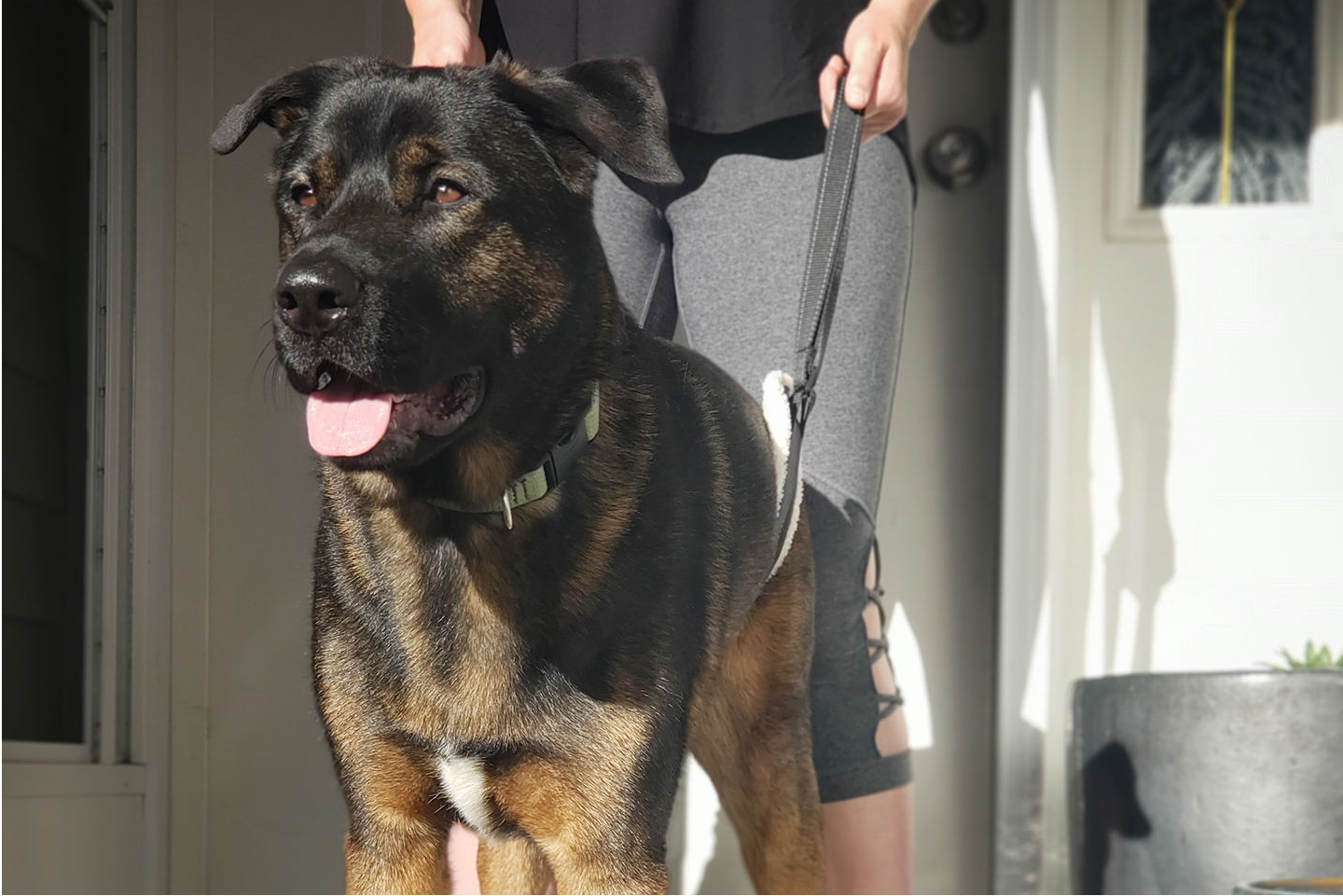 A dog hind leg sling harness is safer to guarantee your pet's comfort and safety while out for walks and exercise. There are many various types of harnesses on the market. Therefore you must often choose which best suits your needs and your dog's. You must decide which kind of harness best meets these requirements and take accurate measurements of your dog to determine its height.
Determine the intended use:
There are numerous dog sling harness designs offered. Even though most pet owners use harnesses for walking their pets only, not all are intended for this purpose. For walking, multiple designs are available, including the front clip, back clip, and fastening harness.
A sling for dog divides the dog's weight evenly so you can lift them effortlessly. They are used to assist dogs who struggle to move around, especially senior dogs. They are fitted similarly to walking harnesses, and your veterinarian will have suggestions based on the specific medical requirements of your dog.
Look for lighter-weight harnesses made of lightweight fabrics with no metal adjustment clips if you're using them for sports or training. Sporting harnesses are also available that enable you to include weight to them, strengthening your dog and increasing resistance.
The harness should be comfortable for both you and your pet to wear. If your pet will be riding in a vehicle, pick a harness that has passed crash tests. If your dog has an accident, these are less likely to break and cause extra damage. To prevent purchasing one that has undergone testing and failed, choose one that has passed crash tests.
Most dog sling harnesses are constructed from cushioned leather, polyester, or synthetic material. Nylon harnesses are preferable if you reside in a humid region with a lot of rainy weather because they are simpler to adjust. Both nylon and leather will work in arid conditions.
Another option is a harness with minimal cushioning. Thanks to this padding, your canine will find the harness more comfortable to wear. Cushioned harnesses are typically a little more costly, but spending the extra money on a good harness is worth it.
Back or front clip harness
If you pick a harness with a rear clip. The leash attachment hook on this harness is situated at the top of the canine's back. Because these sling harnesses are comfortable to put on and the harness will not tangle in the front legs, these harnesses are simple for pets to get used to.
You should pick a front clip strap. Leash attachments on front clip harnesses are located in the dog's torso rather than on the back. In this manner, if your dog pulls while you're walking, the slings for dogs give you more control over them. If necessary, redirecting a pet toward the owner also helps.
Select a strap that tightens. Harnesses can be adjusted in various ways, but every time your dog pulls, they all get tighter and put more weight on you. Your canine will lessen or stop pulling due to the tightening because it is uncomfortable for them. This kind of harness is beneficial with a determined puller who hasn't broken this lousy behaviour. You don't want to experience discomfort from some tightening harnesses. Ensure the dog lift sling does not harm your dog, as it can add a little uncomfortable tug.
Harness Measurement Guide

Dog Sling Size

Measurement

Dog size

Small

Length = 35″-55″

Width = 4″

Ideal for dogs weighing 5-25 lbs

Medium

Length = 41″-64″

Width = 6.34″

Ideal for dogs weighing 20-80 lbs

Large

Length = 49″-68″

Width = 7.54″

Ideal for dogs weighing 50-100 plus lbs
10 Best Dog Lift Harnesses For Mobility-Impaired Canines
Harness Comparison Guide

Brand Name

Durability

Material Used

Price Range

LOOBANI Dog Sling for Back Legs

Highly durable

Nylon

$21.99 – $26.99

HandicappedPets Dog Support Sling Harness

Durable

Denim

$29.95 – $75.99

Pet Friendz Dog Lifting Harness

Moderately Durable

Nylon

$15.99 – $17.95

GingerLead Dog Support Harnesses

Highly Durable

Nylon

 

$26.96 – $69.95

Walkabout Rear Dog Sling Harness

Moderately Durable

Neoprene

$37 – $58

Labra Sling Lift Straps Support Harness

Moderately Durable

Mesh

Starts from $17.95

Solvit PetSafe CareLift Rear-Only Lifting Harness

Highly Durable

Nylon

$25.37 – $26.95

Voopet Dog Sling Support Harness

Moderately Durable

Polyester

$13.99 – $17.99

Wodifer Dog Lift Harness

Highly Durable

Nylon

Starts from $26.85

Love Pets Dog Lift Support Harness

Highly Durable

Polyester & Nylon

$34.99 – $68.99
1.LOOBANI Dog Sling for Back Legs
The LOOBANI dog sling support harness comes in three sizes to suit dogs of all sizes, making it simple to choose the right one for your pet. This harness can fit canines weighing 4 to 200 pounds thanks to its three dimensions. It is one of the most affordable and durable dog carrier slings in the market. You will fall in love with this product touch and feel. It is soft and keeps your pet comfortable.
The dog hip sling is made for dogs who are recuperating from surgery or other crippling conditions and those whose weaker rear legs prevent them from standing. These dogs may be elderly or injured and gradually lose their capacity to move on their hind legs. With this soft dog car sling, it's simple to help your dogs climb steps, board vehicles, stand and go for walks, etc.
When it comes to our elderly and ailing dogs, they are easy to put on and provide full support. They use a thickening design, soft lining, and an exceptionally soft covering to give them the best treatment possible. The handles also feature detachable padding to shield your hands while carrying your canine, which is easy and comfy. If you are looking for the best dog carrier sling for your little furry friend, you won't find anything better than this product at such an affordable price.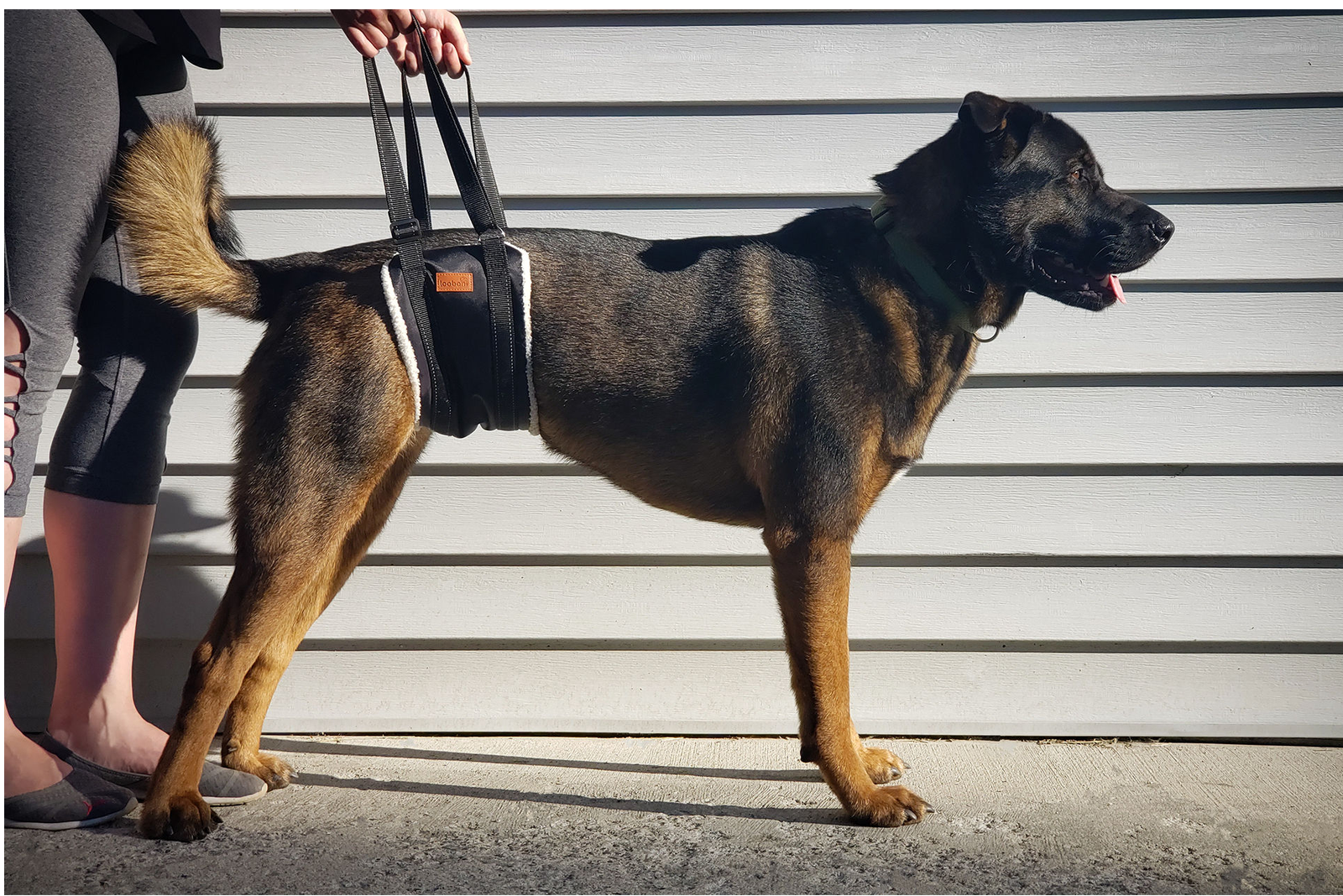 Pros:
It comes in all sizes and is good for every dog.
Bang product for your bucks.
Suitable for heavy dogs too and can be used for dogs up to 200 pounds.
Cons:
The sling is not wide enough for extremely large dogs.
2.HandicappedPets Dog Support Sling Harness
The HandicappedPets Dog Support Sling Harness is a dog sling carrier to help you support your puppy. It enables you to transport some of your dog's weight and lessen the strain on his joints without having to bear all of your dog's weight.
It is incredibly easy to use. Place the harness around your dog's midsection after unfolding it. You can secure the harness using a velcro closure for support and safety. You can adjust the sling once it is in position, and you are then good to go. If the exercise becomes too much, you can lift your dog and carry all of his weight for the remaining portion of the walk while using the sling to support some of your dog's weight. The sling is lined with fleece for additional warmth and padding and is made of denim, so it won't curl up.
It is available in large or extra-large size options. Because of its affordability and ease of use, it is the best dog sling overall for supporting back legs because it allows dogs to have freedom without impeding you.
Pros:
Denim will not crumple or ruffle.
Value for money
It can be used to hold onto all or part of their weight
Cons:
If the velcro belt is not fastened tightly enough, your dog can slip out.
3.Pet Friendz Dog Lifting Harness
The Pet Friendz Dog Lift Harness is an excellent dog harness for a dog recovering from an injury. Also, it is the perfect dog sling for walking. The sling-lift belt offers plenty of back support. The materials used in its construction are of the highest calibre and are both airy and cosy.
An eBook that is included with the harness gives you more information on how to use it. If you're unhappy with the harness, you can benefit from the money-back promise. Remember that this harness is designed for large dog breeds before you complete your buy.
This large dog sling carrier is available in two versions to fit dogs weighing 20 to 90 pounds. One of the simplest designs, it wraps around your dog while you grip both handles at the top. It's very simple and fast; no attachments are required, and no holes for the legs to pass through.
Pros:
Made from durable material
Easily adjustable and simple to wear
It has reflective straps
It doesn't slide from the dog's back while walking or running.
Cons:
It is not appropriate for small dogs.
4.GingerLead Dog Support Harnesses
The GingerLead Dog Support Sling has received outstanding reviews from customers whose dogs' lives have been considerably enhanced. Whatever the underlying cause of your dog's mobility problems, a sling frees you from having to leave your pet at home while going on family excursions! GingerLead is a small dog sling carrier that dog owners will love.
It only takes a few moments to wrap the GingerLead support harness around the canine quickly. Because it is cosy and heavy, you shouldn't be worried that it will hurt. Since GingerLead's sizing is so specific, we suggest picking out a separate harness if you plan to use it for more than one dog. However, it is difficult to equal its overall level of comfort and quality, so it placed third on our list and was given our premium choice recommendation.
Pros:
Well-padded for the comfort of the dog
Also, useable when a torso harness is present
Leash with integrated handle
Simple to put on
Cons:
Extremely costly
Specific sizes available
5.Walkabout Rear Dog Sling Harness
The Walkabout Harness has been recognized as one of the most reliable and effective dog hip slings because of its effectiveness. Using this unique dog harness, you can effortlessly and comfortably raise your dog when necessary, regardless of whether they are slowing down as they age, recovering from surgery, or suffering from an injury.
It can be used to securely get your dog in and out of cars, onto and off furniture, or just to help out while walking. This harness also prevents you from hurting your lower back when you need to give your pet an extra push, which is another advantage.
Walkabout Harness is one of the best slings for dogs' rear legs, providing great support while walking, running, lifting, and guiding your dog. It is an ideal product for small dogs. If you have a little buddy, who needs support in its rear legs, this is the right product to buy.
Pros:
The development of walkabout harnesses began with clinical examinations of dogs in top veterinary and rehabilitation centres.
The materials are very soft because of the cushioning that protects against harm.
Affordable product.
Cons:
They are not apt for larger dogs
6.Labra Sling Lift Straps Support Harness
Despite being more expensive, it is a support sling that is undoubtedly one of the finest ones available regarding endurance and materials. Both its comfort and durability have improved. This well-liked Labra canine sling provides more comfort for pets and their parents.
It is incredibly gentle on the canine, thanks to its soft wool padding. The thick, extremely wide pad provides a sturdy and even lift. On the other hand, the adjustable strap makes it unnecessary for you to stoop when helping the dog rise or walk or when lifting the dog.
The Extra-Large dog lifting sling is exceptionally well made and spans 33.5″ x 9.5″. For medium and large dogs, there are also two smaller versions offered. Pet owners are overjoyed with acquiring the Labra Dog Canine Sling Lift, which veterinarians have approved. People even gaze at them with admiration when they walk their dogs.
Routines like taking dogs to therapy sessions, ascending steps, or using the restroom have been made simpler by this best dog support sling. It can be tucked away or placed in a suitcase because it turns into a cute little thing.
Pros:
A heavy-duty, extra broad pad provides a strong and stable lift.
It includes a flexible strap
Rolls up for simple storage and movement
Cons:
Occasionally slips out of position
A few sizing problems

7.Love Pets Dog Lift Support Harness
One of the more affordable choices we tested is this support harness from Love Pets Love, which alone will be attractive to many people. With only two sizes offered, finding the ideal fit for your pet is straightforward. It can be transported or folded into a compact package with buttons fastened.
You will appreciate this nice little element, even though it does not affect how the harness should be used. We placed the Love Pets Love harness on a dog and realised why it was so cheap. Since it is padded more than many competitors, it is less comfortable for your pet. This sling also liked to slide around, never wanting to stay in one place.
When you use it with your dog, it may bunch up around the rear legs. Additionally, the biggest canines would not fit this dog sling for back legs well. Owners of large dogs will need to seek them elsewhere because it isn't sturdy or big enough to hold them.
Pros:
Inexpensive product
Fits every dog.
Cons:
Slips frequently from dog back legs.
Not good for extra large dogs.
8.Solvit PetSafe CareLift Rear-Only Lifting Harness
The PetSafe Solvit CareLift harness' distinctive design would make it stand out from the competitors in terms of performance. Its weight was immediately apparent to us; it was quickly several times that of other dog slings carriers we tested. This harness can be kept on all day without causing problems for dogs who cannot move around much alone.
It comes off very quickly if you aren't holding the handle while putting this harness on a pet with independent mobility. It has also been noticed that it wasn't quite cushioned enough for the comfort of our dog, even though we believed the design put less pressure on sensitive areas than the sling design of most of the other carriers we tried. Overall, it could use some improvement to increase the ranking, but it could take the top three spots if it were more cushioned and held position better.
Pros:
It is comfortable enough to keep on all day.
Cons:
Inadequate cushioning
It doesn't hold on well
It's heavier than alternative choices
9.Voopet Dog Sling Support Harness
The Voopet Dog Harness's straps can be adjusted to fit various canine breeds or your height. You can use the canine lift rehabilitation harnesses. No more stooping! The robust straps were created especially for larger breed canines. The sturdy canine carrier sling is completely covered in reflective nylon straps for maximum exposure at night.
This dog walking sling comes with a lifting handle that makes it easy for your canine companion to go for walks, stand up, climb steps, enter and exit vehicles, climb onto furniture, and go outdoors for a bathroom break.
If your older senior canine has arthritis, degenerative myelopathy, or other disabling conditions, this dog mobility harness is specifically designed for him to climb and travel. It is a perfect rehabilitation aid for dogs recovering from hip, leg, or back injuries following orthopaedic surgery.
Your dog will be relaxed using the dog hoist. For the support of the hind legs of small, middle, and large breed canines, the dog torso sling carrier is made of nylon, which is very durable. The thick, fluffy lining of the rear lift dog harness is delightful for your puppy to wear and won't scratch your dog's abdomen.
Cons:
Thin straps are Less comfy
Backslides frequently
It cannot be used if it gets wet or pees.
10.Wodifer Dog Lift Harness
The Wodifer dog lift harness, which wraps around the dog's back and has two handles for you to grip, is a straightforward choice for large dogs. Smaller dogs require a different harness because it is only suitable for dogs over 50 pounds. We recommend a much wider harness for dogs this size because it spreads the pressure across their belly. Additionally, this dog carry sling had significantly less padding than rivals, diminishing our dog's comfort.
It also appeared to be a little too long, making it challenging to get the right lifting leverage. Although it's a good harness, it simply falls short of the standards established by comparable and even less expensive products, which is why it's at the bottom of our ranking.
Pros:
It easily rolls up for storing

Cons:
It only fits dogs over 50 pounds
Not enough width for maximum ease
Less cushioned than competitors
Summarising the Best Dog Life Harness For Dogs
These dog support harnesses are designed to serve the same purpose—to make it easier for your elderly dog to move around. After reviewing these products, we hope you can decide which option is best for you and your companion. Overall, the Loobani Dog Sling for Back Legs is the best slings for dogs back legs.
1.
 

Are dog slings good for dogs?

Yes, dog sling carriers are good for dogs of all sizes. Simply put, using a harness to attach your pet's back is the safest, safest, and most cosy option. A good harness will lessen pulling, give you more control over your dog, and alleviate joint and neck strain.
2.
 

How do you consider a harness to be the best dog carrier sling?

You should look for material, size, and price of the product when looking for a dog carrier sling. It should be constructed from sturdy materials like heavy-duty canvas or nylon. It should also be simple to clean, with detached, washable material and a water-resistant inner lining in case of spills.
3.
 

Can leg sling for dogs work for pets with arthritis?

A lifting harness is essential, especially when lifting a dog with arthritis. Dog lift harnesses will support your dog's joints and help lessen the pressure. When moving slowly and delicately, raise your dog. To get guidance on how to treat your dog's arthritis the best way possible, be sure to speak with your doctor.