Dogs love road trips as much as you do. Some dog owners let their pets free in the car during car rides which can be pretty dangerous. If you are a pet owner who wants to take your pup on road trips, consider using high-quality dog barriers for safe traveling.
A dog car barrier, as its name indicates, is a physical boundary that keeps your dog safe while you are driving. Car barriers make possible safe road trips and beach visits. Whether you are going fast or slow, a dog barrier is a primary safety tool for your pup.
Take a deep breath if you find it hard to find the best car dog barriers because we have already figured it out for your ease. So, let's start.
What Are the Benefits of Dog Car Barriers?
Dog car barriers allow you safe drive while you have a pup in your car. 65% of dog owners admit that they get distracted while driving with their puppy in the car. 23% use their hand to keep a dog in their place, and 19% prevent their pup from jumping from the back seat to the front seat through their arms or hands.
Let's have a look at how these pet nets for cars are beneficial for you and your pet:
Keeps Your Pup Out of Your Way
Your pup can distract you while you are driving, which can lead to accidents. Dogs usually want to jump in the front seat or snuggle in your lap during car rides which can be hazardous. Therefore, netting for a car to keep pets back in the back seat or an open trunk in the case of an SUV is helpful.
Keeps Your Vehicle Clean
Also, some barriers, like dog hammocks, help keep your car clean by serving as a seat cover. However, some barriers are convertible into dog car seat cover and work both ways.
Besides, the car pet barrier safety net prevents your pup from falling off the back seat when you apply brakes.
Helpful for Organization
Hammocks provide full coverage to floor space in the back seat. That's why they are suitable for dogs who like to stay organized. You can store whatever you want under the hammock, and your pup can enjoy the ride comfortably. Moreover, some barriers also have pockets to keep treats and your pet's toys.
Best Dog Barriers for Cars and SUVs
If you are confused between various options for these dog car barriers, here's a list of some of the best options:
Loobani Dog Car Net Barrier
Rabbitgoo Pet Car Barrier
Bushwhacker Cargo Area Dog Barrier
Wellbro Dog Car Backseat Barrier
SCENEREAL Vehicle Barrier
BarksBar Original Pet Sear Cover and Hammock
HANSPROU Non-slip Car Hammock
MidWest Pet Barrier Wire Mesh Car Barrier
Veetos Car SUV Dog Barrier
Pawple Dog Car Barrier
Loobani Dog Car Net Barrier
If you a looking for a complete coverage car pet net barrier, check this Loobani Dog Car Net Barrier. This pet safety net for cars prevents your pup from entering the front seat and is available in two sizes for cars and trucks.
This pet-safe car net barrier has the following features and is available at Loobani.com: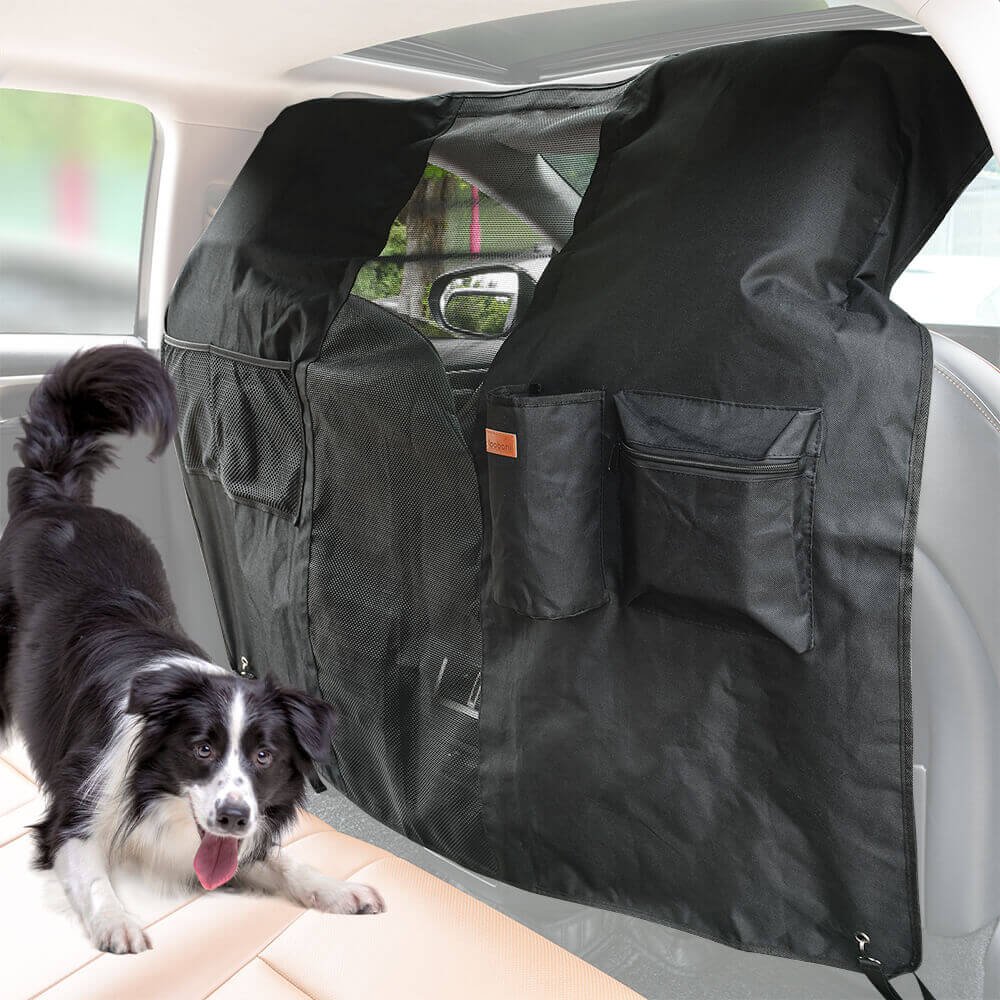 Easy Installation- This car net for pets is easy to install and doesn't need any tool to do the job right. Place the mesh head cover over the car headrest, and adjust the strap tightness according to your choice. After that, fix the rope at the seat bottom, and that's it.
Breakable and Durable Material- This car pet net barrier is made of durable Oxford cloth, which is scratch- and tear-resistant. Unlike soft car barriers that tear easily, it is tough to tear or scratch. It keeps your pet safe behind the car's front seat and even protects the back of the front seats from scratches.
Air Breathable Mesh- The top and middle of this barrier for SUVs is composed of durable and breathable mesh. That's why it allows the AC or heater air to pass through it to your pet easily. The buckles are strengthened to avoid the tangling of your pet.
Enough Storage Space- This pet net for cars also has four pockets that provide enough storage to organize things.
Available in Two sizes- The barrier is available in two sizes. The smaller size is suitable for small to medium SUVs, and the larger one fits Large SUVs and trucks.
Before buying this barrier, it's better to measure the height and width of the front seats. Also, measure the space between the back of the headrests of the front seats of your car.
| | |
| --- | --- |
| Pros | Cons |
| Well-ventilated |   |
| Easy installation |   |
| Anti-scratch and seat dirt-proof |   |
Rabbitgoo Pet Car Barrier
One of the best choices is Rabbitgoo Pet Car Barrier which is made of stainless steel. According to makers, this barrier is universally fit, as it works for any van and SUV. It is easy to assemble and doesn't need tools for installation.
Here are some features of this car barrier that makes it the best choice:
Easy attachment- This barrier can easily be attached to the car's headrests through a nylon strap and metal buckle. Besides, it is easy to remove and doesn't need tools for installation.
Fully adjustable- You can customize this barrier according to your vehicle. It has a large main panel (35.8 inches x 25.9 inches) and two small additional panels (16.5 inches x 11.8 inches).
Simple and sleek- This barrier contains a black steel and wide square grid that doesn't cause air obstruction. Besides, you can easily see through your rear-view mirror without any problem.
| | |
| --- | --- |
| Pros | Cons |
| Easily adjustable | This barrier couldn't fit in some cars |
| Easy installation |   |
| Nice appearance |   |
Bushwhacker Cargo Area Dog Barrier
Do you want an option other than a cage barrier? Go for a net barrier;  Bushwhacker Cargo Area Dog Barrier is the best option.
This car pet net barrier was built to limit dogs in the cargo area. However, it also works best for the front seats.
Check out this pet net for a car at Amazon for these unique features:
Mesh Material- It contains mesh material and doesn't obstruct the airflow in the car. Your pup won't get warm as the AC air can easily reach him.
Four attachment points- The mesh car netting barrier for pets contains two nylon straps to fix the car headrests. Two additional straps at the bottom wrap of this barrier provide extra security.
Scratchproof- The barrier is composed of tear-resistant material and won't get damaged even if your pet scratches it.
Lightweight metal frame- The metal frame is lightweight, durable, and a substantial addition.
This pet car cargo net barrier is 50 and 56 inches for more giant trucks and SUVs.
| | |
| --- | --- |
| Pros | Cons |
| Extra security features | The frame gets disassembled |
| The net-style design keeps dogs safe | The mesh is close-woven which can be problematic |
Wellbro Dog Car Backseat Barrier
Next comes the stylish Wellbro dog car backseat barrier  , a net protection windows pet car safety barrier. It has two mesh windows for visibility and airflow. It is a center console pet car net barrier that provides top and bottom attachments for extra security.
Here are some features of this pet car window net barrier:
Nylon fabric– The barrier is composed of nylon fabric which can bear a pet's scratching and is machine washable.
Mesh Windows– You can easily see your pup through its top window. Besides, your puppy also feels safer in your presence. On the other hand, the bottom window is suitable for ventilation.
Extra wide– This pet car safety net barrier is 24 inches from all sides and covers the car's middle space.
| | |
| --- | --- |
| Pros | Cons |
| Scratch-resistant barrier | It's not tall enough; therefore, your pup can jump over it |
| Easy-to-wash |   |
SCENEREAL Vehicle Barrier
Are you looking for an affordable and easy-to-store pet car net barrier? Check out the SCENEREAL Vehicle barrier that contains multiple pockets for storage. It is 33 inches by 32 inches; therefore, it's unsuitable for a cargo area. So, you should put this barrier if you allow your dog to sit on the back seats.
This pet safety net car barrier has the following features:
Flexible- It is a flexible barrier but maintains shape because of a foldable rod.
Pockets-This car pet barrier safety net contains numerous pockets at the front and backside. Therefore, they provide enough storage room to keep your pet's toys and treats.
Breathable mesh fabric- Its mesh fabric is perfect for ventilation, and you can easily see your pet because of looser-woven stitches.
| | |
| --- | --- |
| Pros | Cons |
| Easy installation | Easy-to-break barrier |
| Enough storage |   |
BarksBar Original Pet Sear Cover and Hammock
This simple hammock dog car barrier prevents your pup from crawling under the seats. Among the pet cargo nets for cars, it is a great choice and protects your car from your dog.
This car pet safety net barrier has the following features:
Machine washable- If this barrier gets muddy because of your pup, you can easily wash it in the machine.
Waterproof- This pet car seat net barrier is waterproof.
Bench Style Seat Cover- You can easily fold this barrier into a seat cover when your dog is not in the car.
| | |
| --- | --- |
| Pros | Cons |
| Easy installation having buckles and Velcro as main fasteners | The material is not scratch-resistant |
| Contain flaps to protect the sides of the car's seats. |   |
HANSPROU Non-slip Car Hammock
This HANSPROU non-slip car hammock is a full-coverage barrier that provides better car protection than others. It contains multiple pockets and covers your car's seats blocking the center console. Besides, this dog car barrier has side flaps to protect the doors.
Let's see what the features of this dog car barrier are:
Waterproof Cushion- The barrier has a waterproof cushion, making it a perfect choice. You can use it for your arthritic or big dogs, as there is no suitable option than this barrier.
Transformable- This barrier can also be used as a cargo liner. Amazing! Right?
Non-slip- This hammock contains a non-slip material so your wet pet won't slip on the back seat after a lake trip.
| | |
| --- | --- |
| Pros | Cons |
| Protect cars from a wet, dirty furball | Dogs can jump over it |
MidWest Pet Barrier Wire Mesh Car Barrier
Next comes the MidWest Pet Barrier Wire Mesh Car Barrier that works best for SUVs and costs $87.97. It keeps the dog in the trunk instead of the back seats and is ideal for vans or SUVs. The barrier improves your visibility while driving and has a black e-coated finish. The mesh is present beneath this surface and is made of durable wire.
But what makes this barrier the best choice?
Adjustable- The barrier is pretty flexible and is composed of string metal mesh. It fits securely by placing between your car's ceilings and floor.
Strength- The wire mesh and heavy-duty steel bars give strength and rigidity to the barrier. 
Coverage Area- Its coverage area is 27.88″ W x 23.5″ H. However, it can expand to 70″ W and 50″ H.
| | |
| --- | --- |
| Pros | Cons |
| Cover a large area | Installation takes a longer time |
| Easy to adjust | Zip ties and pipe insulation is used to protect the barrier |
Veetos Car SUV Dog Barrier
The next on the list of best dog barriers is Veetos Car SUV Dog Barrier. It is cost-effective, universally fit, and can be stored easily. This barrier is undoubtedly the best choice because it can be extended according to vehicle size.
Let's see what the strengths and weaknesses of this barrier are.
| | |
| --- | --- |
| Pros | Cons |
| Extendable fit | Not much stable |
| Easy to store | Not ideal for small vehicles |
| Cost Effective |   |
Pawple Dog Car Barrier
This pet car divider net barrier keeps your dog safe during the car journey away from the front seats. Its high-strength wire mesh is easy to install and requires no tool. There are side panels, and the main panel is secured on the seat headrests through brace pads. This excellent barrier prevents fur shedding and is resistant to your pup's scratching.
The barrier provides full coverage, and your pet won't wiggle through the space due to secure attachment.
| | |
| --- | --- |
| Pros | Cons |
| Ideal for SUVs and hatchbacks | Installation is difficult |
| Ensure pet safety |   |
| Complete coverage of cargo area |   |
How to Install a Net Pet Barrier for Cars?
First, hold the net in the car and place the grid headcover over the car headrest. Then, adjust the buckle of the barrier at the headrest and tight it of your choice. Then, buckle the bottom of the adjustment rope on the metal buckle, and you are ready to go.
How to Wash the Pet Net Car Barrier?
First, brush off some loose dirt with the help of a dry brush. Then, clean the barrier with cold water, soap, and a damp sponge. Hang the barrier to air dry.
Don't use harsh detergents while washing the barrier, and avoid machine-dry.
Types of Dog Car Barriers
Numerous options for dog car barriers are available, with pros and cons. Ensure to choose the one that best suits your pup.
These dog car barriers are of the following types:
Cage- Cage barriers are usually metal that attaches to the backside of the front seats. They cover the space between the front seats because of a grid-like fence. So, these barriers prevent your dog from seat-hopping. Some cages contain bars rather than grids, which are best fit for smaller dogs that can squeeze through.
Net-Net pet car barriers work similarly to cage barriers and are composed of cloth or mesh. The material is usually scratch-resistant and not easily torn, even if your pup tries.
Hammocks- Hammocks are pet nets that go between your car seats and prevent your dog from jumping on the front seats. They also prevent your pup from falling off the back seat when you apply brakes. Most hammocks are washable and waterproof and work best for muddy dogs.
Fabric- These barriers are composed of polyester and stretchable fabrics and won't tear easily. They effectively block the gap between the front and back seat areas. Such barriers are effective for small as well as large dogs.
Barriers are helpful to keep your pup relaxed during car rides by making boundaries. However, remember these barriers don't provide other safety features or protect your puppy during accidents. That's why it's better to use seat belts or a crate for your puppy. But a car barrier is a better option if you cannot use any of it for your pup.
Also, remember those dogs who get over-excited or stressed during a car journey need extra protection. These dogs want to stand rather than sit and even try to escape the vehicle, which is pretty dangerous. Therefore, seat belts that attach to harnesses and crash-tested crates are suitable for dogs to keep them safe during accidents.
Buying Considerations for Dog Car Barriers
Everyone has a choice, but when buying a dog car barrier, you should choose the one that looks good. However, ensure that the barrier you choose works best how you need it to.
While buying a dog car barrier, consider the following things:
Material- Do you want a waterproof and scratch-resistant dog car barrier? Take it easy, as numerous options are available in the market that fulfills your needs.
Dog Barrier Size- Another thing to consider while buying a dog car barrier is the size. It will only be a waste of money if it is too large or too small for your car. Some barriers have a universal design and can fit in any vehicle. However, for maximum effectiveness, choose the barrier according to your car.
Remember to measure your vehicle's interior for an excellent fit dog car barrier. Doing this involves the space between the front seats and the height between the seat top and the ceiling.
Storage Capacity- Considering the barriers with storage compartments or pockets is better. You can find various options in the market in this regard. During car rides, you can keep your pet's treats or toys in these compartments.
Space Covering- Space covering means how much space the barrier protects in the vehicle. A barrier will be more effective if it covers more significant space. If you have an over-excited pup, opt for the barriers that cover more space. On the other hand, there is no need to cover all the space if you have a well-behaved dog or a small breed.
Ease of Installation and Removal- Choose a dog car barrier that is easy to install and can be removed regularly. It's better when you don't take your dog on frequent car rides and only need a barrier sometimes.
Durability– Lastly, durability is an essential fact that is affected by materials and the item's quality. A durable dog car barrier lasts longer and protects your lovely pet. A durable option is ideal if your dog is prone to scratching the barrier. Usually, metal barriers are more durable.
Dog Car Barriers- Things to Consider While Buying Online
If you are shopping online, these dog car barriers, remember to keep these things in mind: 
Quality
The quality of the product is essential to consider, and it can't be compromised. Product quality is usually related to the brand; therefore, some brands believe the long-term use of the product as their primary focus. In contrast, others consider the product service as necessary to focus on. Therefore, consider each brand's vision and then choose the product.
Features
Also, consider the product's features while shopping for these dog car barriers online. Go through the product description and the customer feedback to know others' reviews on the product. Also, compare the product's price on different websites and get where you find it budget-friendly. 
Customer Reviews
Online websites like Amazon have a section on customer feedback and pictures of the products sold. These reviews will help you decide whether you should buy a product. 
FAQs Regarding Dog Car Barriers
Are Dog Barriers Safe to Use?
Pet nettings for cars are safety tools that keep a dog owner focused on the road while driving. These barriers also keep the pet confined to their space from danger.
Will My Pet Be Able to Get Through the Barrier?
Your pup can only get through it if your car barrier is not in the right place and of the correct size. It's better to consider a more substantial barrier if you have a big strong dog who can tear a soft mesh.
Are the Barriers Easily Removable?
Usually, barriers are easily removable. Some are difficult to install; however, a pet net dog barrier for cars is usually a good match.
Which Dog Car Barrier is Safe for Pets against Shocks?
A reinforced fabric barrier or pet net mesh car barrier for dogs best works against shocks. These soft barriers keep your pup safe from injuries in the back seat. Although steel barriers are best fit to keep large dogs confined in the cargo space, they don't protect against impact.
Why Should I Use a Pet Barrier for Cars?
A car or SUV pet barrier is beneficial in numerous ways:
The barrier prevents your pup from jumping on the front seat and distracting you.
Car barriers help your puppy remain still and safe during car rides.
Using a dog car barrier prevents canines from leaving dirt and hair on the front seats.
Dog car barriers have a wide variety and are budget-friendly safety tools.
Are Vehicle Barriers Effective for Any Size Vehicle?
Pet barriers have a size suitable to fit almost all cars. These barriers are adjustable and can fit in:
Sedans
Crossovers
SUVs
Hatchbacks
Vans
Ensure to measure the car interiors and review the manufacturer's recommendations before purchasing these car barriers.
Will Dog Car Barrier Leave an Indent in My Headliner?
An indent in the headliner can be risky when the barrier is between the car's ceiling and floor. However, many barriers are designed to minimize this effect and are available in the market.
What Are the Best Dog Car Barriers for an SUV?
The best dog barriers for SUVs depend on your need, your pet's size, and your pet's temperament. Some best choices are cargo barriers and backseat barriers that benefit in their way. Backseat barriers keep dogs in the backseat composed of breathable mesh and heavy-duty fabric materials.
In contrast, cargo nets and metal cargo barriers are the best choices for bigger and rowdier dogs, for instance, SOLVIT pet car cargo net barrier. This SOLVIT pet car seat net barrier is perfect for keeping your pup in the backseat.
Where Should I Place My Dog Car Barrier? 
Place this safety tool where it is designed to place and follow the installation instructions carefully. A backseat car barrier is usually placed between the front seats. On the other hand, a cargo barrier is kept behind the back seats to block the cargo area. 
Which is the Best Car Pet Net for Honda Civic?
The best car pet net for Honda Civic 2013 is the ERGOTECH car net which helps transport luggage and dogs.
To sum up, dog car barriers ensure your pet's safety during car rides and keep you focused while driving. These washable barriers are the best solution for removing your pet's fur and dirt. They make your life easier because of their unique features.
Numerous dog car barriers are available in the market. You can select the best one according to your need from the above list; each has pros and cons. And who doesn't want his pet's safety during a car journey? So, keep your puppy safe and enjoy road trips to the fullest.