Recently adopted a dog and want to train a housebroken dog to pee on a pad? Dog pee or training pads are the best options for potty training your four-legged furry friend. Dog pee pads will quickly become your favorite tool as you work on housebreaking and potty training dogs to use a pee pad.
Teaching your dog consistent patterns is essential for successful potty training. The right puppy pad enables good habits at some stage in burglary training and makes cleanup as smooth as throwing the pad away and getting a brand-new one.
We tested more than 50 outdoor dog pee pads, and each pee pad was tested thoroughly for, among other things, leaks, dryness, odor-masking, and urine absorption. Reviewing all of them, we have ended with the best six leakproof dog pee pads as below:
| | | | | |
| --- | --- | --- | --- | --- |
| Product Name | Eco-Friendly | Sizes | Value For Money | Price Range |
| Loobani Washable Pee Pad | Yes | 41 X 41 inches | Yes | Starts from $35 |
| Bulldogology Premium Pee Pad | No | 24 X 24 inches | Yes | Starts from $0.60 per pad |
| Frisco Dog Training Pads | No | 21 X 21 inches | Yes | Starts from $0.20 per pad |
| Bark Charcoal Training Pads | No | 22 X 22 inches | Yes | Starts from $0.25 per pad |
| Kirkland Signature Leak-Proof Dog Pee Pads | No | 30 X 23 inches | Yes | Starts from $0.44 per pad |
| Max & Neo Reusable Pee Pads | Yes | 30 X 36 inches | Yes | Starts from $19.99 |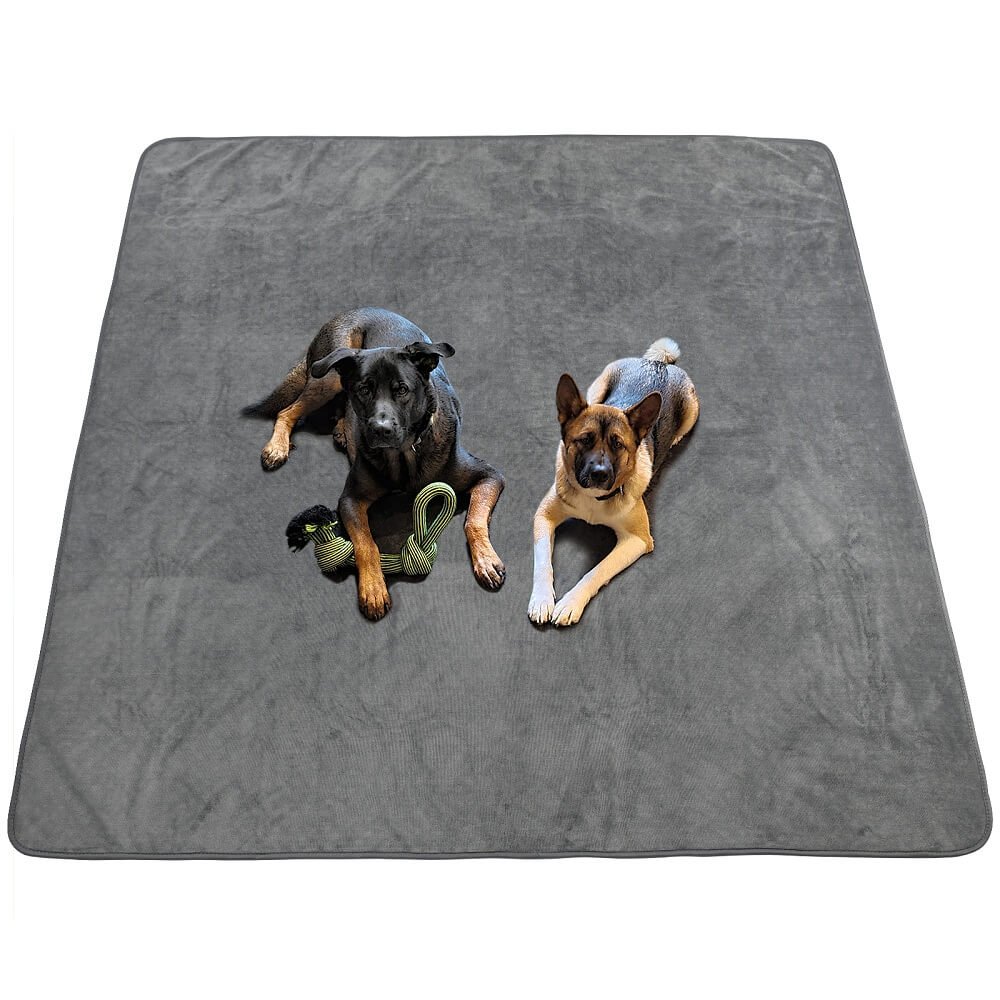 Low Ingestion & Chew Risk

Durable, machine-washable fabric makes cleanup easy.

Absorbent, leakproof design locks in moisture and odors

A cost-effective and eco-friendly alternative to disposable dog pads

Multi-functional washable pee pads are also the dog playpen mat
Our top recommendation for the best washable dog pee pad is Loobani's Washable Dog Pee Pad. These pee pads are at the top because of many reasons. It is one of the best washable pee pads for dogs with an anti-slip feature, anti-scratch fabric, anti-leak bottom, and much more. Like us, you will also love these great pee pads. Say goodbye to the disposable pee pads you have been using and putting your money in the trash. These pads are made with eco-friendly material and can withstand challenging environments too.
These pee pads offer large floor covering and fewer floor-related issues. These are simple to set up and large enough to tuck the edges under to prevent pulling by the puppy. When compared to disposable pet pads, it's a significant financial decision. Machine washing and reusing are supported for the dog pee pad. TPU waterproof coating ensures that dog pads withstand repeated washing or urine soaking, maintaining the same good leakproof function even after several washes.
These pee pads are the best protection for floors, carpets, sofas, vehicle seats, dog crates, playpens, and litter boxes. Little puppy paws may quickly grasp the cloth for breastfeeding, making it comfortable for them to crawl on.
Product Features:
Anti-slip bottom: This machine-washable dog mat's base is embedded in non-slip features to prevent it from sliding. Perfect for slick tile and wooden floors is the gripping texture on the bottom.

Available in 7 different sizes:

All dog owners can choose from a wide selection of sizes, from the smallest at 31′′ x 36′′ to the largest at 72′′ x 72′. They have sizes for dogs of all breeds, whether Chihuahuas or Golden Retrievers. Your ability to develop a play and living space for your dogs under the playpen is also made possible by its larger size.

Anti-leak and fast-absorbing pad:

Thanks to the quick absorption of these washable pee pads, you don't have to be concerned about urine stains left on the mat. The TPU waterproof coating layer keeps your flooring dry and clean by preventing pee from penetrating.
What We Like
Wide range of size variations.
TPU waterproof coating
Anti-scratch fabric
What We Didn't Like
Price comparatively higher.
2. Bulldogology Premium Pee Pad
6 LAYER ABSORBENT

ADHESIVE STICKY TAPE

ODOR CONTROL

BUILT-IN ATTRACTANT

110% MONEYBACK GUARANTEED
We unequivocally recommend Bulldogology Puppy Training Pads. They can convey numerous cups of liquid without losing a drop and are especially absorbent. Also, they are strong and do not rip or sag even when employing a mixture of liquid and solid material. These are the best pee pads for apartment dogs, whether large or small.
In Bulldogology Premium Puppy Training Pads, two layers absorb liquids and draw them into the center of the pad—the outside "attractive fabric" layer and another layer that locks in scents. However, the superabsorbent polymer (SAP) in the pad's center, which turns liquids from a powder into a gel that won't drip on the floor, is most effective at absorbing and holding liquids.
Product Features:
Adhesive sticky bottom:

These are the best dog training pads for housebreaking that don't move and leave a big mess on carpets or tiles. It is optional to use sticky adhesive tape as it can be very sticky and need more effort to remove.

6 layers of protection:

Its six-layer technology helps protect your belongings and prevent mishaps. Bulldogology Bullsorbent polymer, combined with absorbent pee pads in either normal white or black with an additional layer of charcoal, immediately absorbs urine and transforms it into gel to safeguard rugs and flooring.

Packs available in different sizes and quantities:

Bulldogology Puppy Training Pads are available in various sizes, materials, and quantity options. The standard pee pads are offered in packets of 50, 100, and 150 pieces of 24 x 24-inch size. Moreover, 24 x 35-inch XL pee pads for dogscome in packages of 40, 60, 180, and 360.
What We Like
More significant than the majority of comparable training pads
The dry edge surrounding the pad makes it simple to pick up.
Odor control quality
A version with charcoal is also offered.
Available in a variety of sizes and portions
Optional sticky tabs can hold the pad in place on all corners.
What We Didn't Like
Adhesive tape at the bottom can leave residue on the floor.
It can be challenging to tell which side is absorbent in dim lighting, as both sizes are white.

3. Frisco Dog Training Pads
Leak-Proof Protection

Pee Pads Suitable for Dog All Stages

Designed with 5 Premium Inner Layers

Super Absorbent Puppy Pee Pads

Good Choice for Puppy Training Pads
With many helpful features in our other favorites, including introducing a fragrance to entice your dog to the pad, Frisco Dog Training & Potty Pads performed just as thoroughly as our top picks. They have the same leak-proof plastic liner and dry paper margin as several of our other favorites. The Frisco pads are now offered in both scented and unscented varieties.
The wildflower aroma of the Frisco pad was "quite light and not at all harsh," making it our favorite of the scented pads. These pads are dependable after three months of field testing, with no leakage or tears. The scent can mask the urine smell. Many unscented pads were just as effective at completely absorbing solid odors, so using scented pads is optional.
If you are looking for a scented pee pad for dogs, Frisco Dog Training Pads are one of the best options available. With pee pads from Frisco, you can relieve your dog at home. They feature moisture-locking technology, absorbent layers, and a leak-proof liner to safeguard your floors. With these disposable pee pads, you may teach your dog to relieve himself only in designated areas.
Please keep your activities in the center of the pad, as peeing on the edge may cause your items to run off. It's so easy to replace a pad when it needs to be replaced; throw the old one in the garbage and buy a new one.
Product Features:
Moisture-locking technology:

Thanks to leakproof, disposable, odorless pads, your dog can relieve itself in the proper location. Liquids are turned into a gel by moisture-locking technology to protect your flooring and facilitate cleanup.

Dog attractant:

This attractive decorative pad is incredibly absorbent and perfect for prolonged indoor visits. After your dog has performed their duties, the quick-drying quilted top layer helps avoid sloppy trails. Each pad includes a dog attractant to entice your pet to relieve himself in the same location.

Scented & unscented options available:

This is the only pee pad that qualifies on our list and has scented variants. The mild wildflower scent attracts the dog to pee on the pad.
What We Like
Its mild wildflower aroma
It has an excellent standard size (22 x 23 inches)
Fantastic absorption
What We Didn't Like
4. Bark Charcoal Training Pads
NEW & IMPROVED LEAK-RESISTANT FOLDED EDGES

ABSORBS PET URINE AND ODOR

5 LAYERS OF LEAK-PROOF PROTECTION

PHEROMONE ATTRACTANT

ADDITIONAL HOUSEHOLD USES
Even though the Bulldogology pads are 2 inches larger and provide a few other small advantages, most puppy parents would be equally satisfied with the Bark training pads. The Bark Charcoal Training Pads outperformed the Bulldogology ones in our testing. Also, they are less expensive than the charcoal version made by Buldogology, costing roughly $0.25 per pad as opposed to $0.58.
Yet being able to get them is the biggest challenge. Training pads from Bark are available in basic and charcoal varieties and come in three sizes. Nevertheless, as of the time of publication, its BarkShop only offers one of the six alternatives for purchase. Orders additionally take 5 to 10 days to arrive. Please don't count on seeing Bark's pee pads on safe shelves, even supposing they're from time to time offered on Amazon. Instead, expect to buy them directly from Bark. But if you can easily buy Bark's pee pads, those are probably your best bet.
Product Features:
No-slip adhesives:

These pads are adhered to your floors by sticky tabs, reducing the possibility that either you or your pet will slide and fall. Furthermore, it helps stop them from biting on the pads.

Made from activated carbon charcoal:

These pads include odor-neutralizing activated charcoal built into their design to ensure that your dog uses the restroom discreetly. Dogs use pheromones to assist them in navigating their environment, and the activated charcoal will lead your dog to pee on the pad.

Multipurpose:

These pads are excellent options if you need a pee pad for training an older dog. This multipurpose product is ideal for small and adult dogs and can be used as a crate liner. If your dog has bladder issues, you can use these pads as they are highly absorbent and lock in the urine smell.
What We Like
It is a high-quality product that also includes a training manual.
Adhesive tapes at the bottom for sticking to the floor.
High level of liquid absorption.
What We Didn't Like
Mostly remain out of stock
Limited retailer availability

5. Kirkland Signature Leak-Proof Dog Pee Pads
Kirkland Signature Extra-Large Absorbent Pads lock in wetness with a quilted top layer for around-the-clock odor control

The poly backing protects against leaks, and the quick absorption reduces splash and tracking
Quick absorption reduces splash and tracking
100 Count – 30 in L x 23 in W pads
Use for training, bedding, messy jobs
The Kirkland Extra-Large Absorbent Pads are the ideal solution because they provide a box of 100 at a reasonable cost. These are the only options you should consider for those with giant breeds like a Golden Retriever, Mastiff, Saint Bernard, or Labrador.
Kirkland pee pads for dogs are handy if you have an adult dog who, for example, needs to use pee pads due to age, bladder issues, or an injury. With the wide 30′′ by 23′′ size, they are convenient to use, and you are less likely to encounter pee on the floor.
You will be thrilled to learn that the Kirkland Pee Pads can absorb 4.5 cups of urine without spilling when your dog relieves himself on them. Even while that is lower than the 6 cups Kirkland offers, it is comparable to other extra-large pee pads of this size that we have examined. These are the best big dog pee pads we have tested.
Product Features:
Quick absorption:

It can hold up to 4.5 cups, equivalent to urine, which makes it ideal for senior dogs. It quickly absorbs the liquid and transforms it into gel to keep the top layer fresh and dry every time.

Poly backing:

Its bottom is a plastic liner, protecting your floor and carpets from getting wet.  

4 layers of protection:

This pee pad has four layers: an upper absorbent layer, a tissue layer, a gel polymer, and a plastic liner. Each layer is vital in preventing urine from spoiling your floor. The urine stays in and protects the dog owners from mess from top to bottom.
What We Like
It can withstand a windy environment.
Highly absorbent
Best pee pads for large dogs
What We Didn't Like
No odor neutralization
Not suitable for small breeds.
6. Max & Neo Reusable Pee Pads
Four Innovative Layers

Superior Absorbency 

Adorable, Pet-Friendly Pattern

Washable and Easy to Clean
Slip Resistant Bottom
Whether your dog has sporadic accidents or you want to stock up, washable pee pads are a terrific option. These work well in crates or with an older dog who has mastered going outside for the most part. At 30 X 36 inches and waterproof and leakproof, the Max & Neo pads are more significant than the standard. We've discovered that washing them repeatedly won't cause them to lose effectiveness. You can purchase these washable pee pads for dogs at Amazon for just $19.99.
If you have more than one young puppy that has to go potty a gazillion times per day and you have to change the pads hourly, they aren't convenient. Moreover, washable pads are not ideal if small puppies frequently struggle with intestinal sludge. But, they are helpful for more than just pups and are excellent to keep on hand for messy eaters, giving medication, older dogs, and following surgery. Also, we adore this business since they donate a product to a rescue organization for each item you purchase.
If you are looking for adult dog pee pads, Max & Neo's reusable ones are the best options. These are the cheapest pee pads for dogs on our list. Besides their low price, the quality of the pads is top-notch and highly durable. Wash the pee pad in lukewarm water and tumble dry it on low, or hang it to dry for maximum durability. This sturdy pad guarantees up to 300 washes and uses.
Product Features:
4 Layers of protection:

These 30″ x 36″ Pee Pads are constructed of three highly absorbent layers:
A top layer that dries quickly.
A core layer that retains moisture.
A bottom waterproof barrier that protects surfaces from liquids.
Reusable up to 300 washes:

Never again stress about purchasing small disposable dog pee pads. These poop pads have a high absorption rate and can withstand 300 machine washes.

Non-slip bottom:

The bottom of the pee pad is made from a non-slip material. You can prevent accidents and don't have to worry about repeatedly tripping over pee pads.
What We Like
They donate a pack to a dog rescue group for every product sold.
High-quality material is used.
Affordable pricing.
Reusable and easy to wash.
What We Didn't Like
Limited size options are available.
What to Look in Pee Pee Pads for Dogs
With the bountiful disposable and washable dog pee pad products available online, choosing the best dog pee pad becomes overwhelming. But if you know what parameters to check a product, you can get the best pee pads for small or large dogs. We've listed a few factors you can consider while buying pee pads for your paw pal:
Most pee pee pads for dogs are disposable; they are only intended to be used for a day or a few hours before being thrown away. Reusable, washable dog pads are made to be thrown in the washing machine as they get dirty. While non-disposable options employ various techniques, some more effective than others, disposable pee pads made of superabsorbent polymer powder consistently absorb the pee.
However, while reviewing different pee pads, we observed reusable pads made with fabric are super absorbent, and others were not. One of those reusable ones, the best dog reusable pee pads, is Loobani washable training pads. They are the ultimate option if you are looking for leak-proof, highly absorbent, and washable pee pads for senior dogs.
If a pee pad is not durable, it will not absorb the urine effectively and will end up leaving a mess. Whether disposable or reusable, indoor dog pee pads should be stable. Otherwise, the pad will rip off easily and be useless.
Your dog will unlikely pee on a pad that stinks or has a strong and repulsive odor. Therefore, if you want your dog to pee on pads, it should have odor control quality. Else your dog will be reluctant to pee on it. Scented pee pads for dogs are also available in the market. Some owners consider them the best pads for dogs to pee on as they smell great and encourage dogs to use them.
A hydrogel polymer powder is typically used in disposable puppy pads, layered between several other layers, including a pillowy top layer that absorbs liquid like a towel and a waterproof plastic bottom layer that prevents liquid from soaking your floor. As water comes into contact with the polymer powder, the liquid is absorbed and transformed into a gel, avoiding splashing or leakage.
Most puppy training pads contain enough powder to soak up three to five cups of water. This is a lot more poop than most puppies produce in a day. Although several veterinary sources give slightly varying guidelines, dogs should typically have between 0.4 and 0.85 ounces of urine per pound daily. A 10-pound dog may urinate up to a cup each day.
| | | | | |
| --- | --- | --- | --- | --- |
| Product Name | Disposable or Reusable | Durability | Absorbency | Odor Control |
| Loobani Washable Pee Pad | Reusable | Highly Durable | Superabsorbent | Yes |
| Bulldogology Premium Pee Pad | Disposable | Comparatively Less Durable | Highly Absorbent | Yes |
| Frisco Dog Training Pads | Disposable | Highly Durable | Highly Absorbent | Yes |
| Bark Charcoal Training Pads | Disposable | Highly Durable | Very Highly Absorbent | Yes |
| Kirkland Signature Leak-Proof Dog Pee Pads | Disposable | Comparatively Less Durable | Moderately Absorbent | No |
| Max & Neo Reusable Pee Pads | Reusable | Highly Durable | Moderately Absorbent | No |
Practical Tips for Using Dog Pee Pads
Dog pee pads can be convenient for managing your dog's indoor elimination needs. To ensure their effectiveness, learning how to use them properly is essential.
Choose a consistent location for the pee pad within your home. This helps your dog establish a routine and prevents confusion. Avoid moving the pad frequently, as it may disrupt your dog's understanding of where to eliminate it.
Positive reinforcement and training
Use positive reinforcement techniques to train your dog to use the pee pad. If your dog uses the pad, reward them with treats and praise. Consistency and patience are crucial to reinforcing this behavior.
Monitoring and prompt replacement
Regularly monitor the pee pad and promptly replace it when soiled. Dogs are more likely to use a clean pad, and keeping it fresh helps maintain hygiene and prevent odors in your home. Maintain a schedule for pad replacement based on your dog's elimination habits.
Outdoor pee pads for dogs
Consider using outdoor pee pads in addition to indoor ones, especially if you have a patio, balcony, or limited access to outdoor spaces. Outdoor pads provide a more natural environment for your dog to eliminate and can be a useful option for potty training.
Following these practical tips and techniques, you can successfully train your dog to use pee pads and manage its elimination needs. Remember to be patient and consistent, and reward your dog for its progress. With proper training and use, pee pads can be a convenient solution for dogs of all ages, including older dogs or those with limited mobility.
Washable dog pee pads are a cheap solution to the mess if you have peeing puppies, sick dogs, elderly dogs who leak, or dogs who get car ill. Therefore, that one pee pad, our top recommendation, is washable dog pee pads from Loobani. The leak-proof, absorbent material helps keep moisture and odor in. You can easily clean this pad because it is made of machine-washable fabric, and you may use it again because it is built to last.
Besides, the other recommendations are good options for your dog, whether small, large, or giant breeds. Depending on your usage and requirements, you can make the right choice among these pee pads.
1. Can you train an older dog to use pee pads?
Yes, you can educate an older canine to apply pee pads. It's a common belief that you can't teach an old dog new tricks, but we beg to differ! You can train your older dog to do anything with the correct equipment. You can even train an old dog to use a pee pad.
2. How to train an older dog to use a pee pad?
Initially, it would be best if you had pee pads for large dogs to start the potty training. Pick a place to put a pee pad for your dog and take it to relieve itself daily. This will create a habit of peeing on the pad every time it urges to urinate. It might take a few weeks but be consistent and patient. Your older dog will learn to pee on the pad eventually.
3. How long should puppy pads be used?
Puppy pads are often only used temporarily when puppies are still very young. If you finally want your puppy to go potty outdoors rather than on a puppy pad within the house, it's better to move away from puppy pads as soon as possible. However, pee pads are great companions if you live where it is impossible to take your puppy outside.
4. Why my dog won't pee on the pad anymore?
Check the pee pads. They might smell bad. If the pee pad stinks, the dog will be likely to stay away from the pee pad. It's crucial to have your dog checked out by a veterinarian if they previously used their toilet pads without missing any and are now doing so intermittently. Medical conditions like urinary tract infections may occasionally be to blame.
5. How to stop my dog from eating pee pads?
Say "No!" if you see your dog eating pee pads. It will pay heed to this and immediately drop the pad. By giving your pet a chew toy, you can keep them off the pad. This tactic teaches your pet that the training pad is off-limits and diverts its focus from engaging in the more playful activity.
6. Can dogs get sick from eating pee pads?
When exposed to humidity, the absorbent substance inside the pee pad expands to a capacity many times greater than its dry volume. As a result, if the puppy consumes some of that chemical, it may grow in his intestines. You should consult a veterinarian immediately because intestinal obstruction is a significant risk.
7. How to train a dog to pee outside after pee pad training?
Place the pee pad outside. To avoid confusing your puppy, only move it a short distance each day. Work gently to the final outside position after moving towards the entrance leading outside. After the pee pad is outdoors, start using a smaller pad.